These Fluffy Homemade Biscuits are Perfect with Any Meal!
I have realized that I don't bake biscuits often enough. They are the perfect little side of bread for almost any meal but here at my house we seem to only eat them for biscuits and gravy or with fried chicken. It wasn't until I made them recently to go with some chicken pot pie soup because I didn't have time to make rolls (or rather, defrost my frozen Rhode's rolls and bake them ha! ;) )  I thought to quickly whip these up instead and I'm so glad I did! Biscuits are really fun and easy to make and I love this recipe today from Natasha's Kitchen because it only has six ingredients that I always have on hand so you can whip up biscuits for any meal really quickly.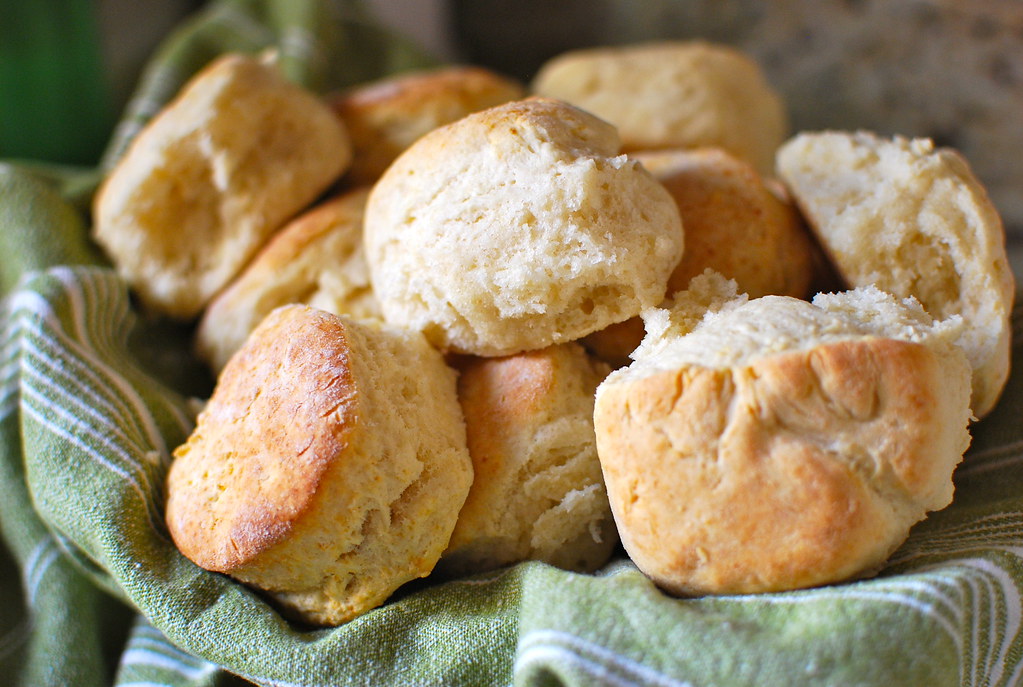 Biscuits are really fun to make and are a great thing for kids to help with because it is so fun to mix that cold butter into the flour mixture and break it down until the bits are pea sized. It is a fun transformation!
Here are some tips to make the most awesome biscuits:

1. To avoid hard biscuits,
do not overmix the dough. This causes the strands of the gluten to release and causes the biscuits to be tough. Make sure to mix your dry ingredients well and only mix in the milk until just incorporated.
2. Do not overbake
or your biscuits will be dried out.
3. Can I make biscuits in a food processor?
Absolutely! Just add your dried ingredients, then add chilled diced butter and pulse until the largest pieces are pea sized. Then add your half and half and pulse until just combined. 
4. To get the flakiest layers
make sure to do a clean cut straight up and down with a biscuit cutter or knife. If you use a sawing motion to cut around and shape your biscuit, you will not get those flaky layers we all love so much.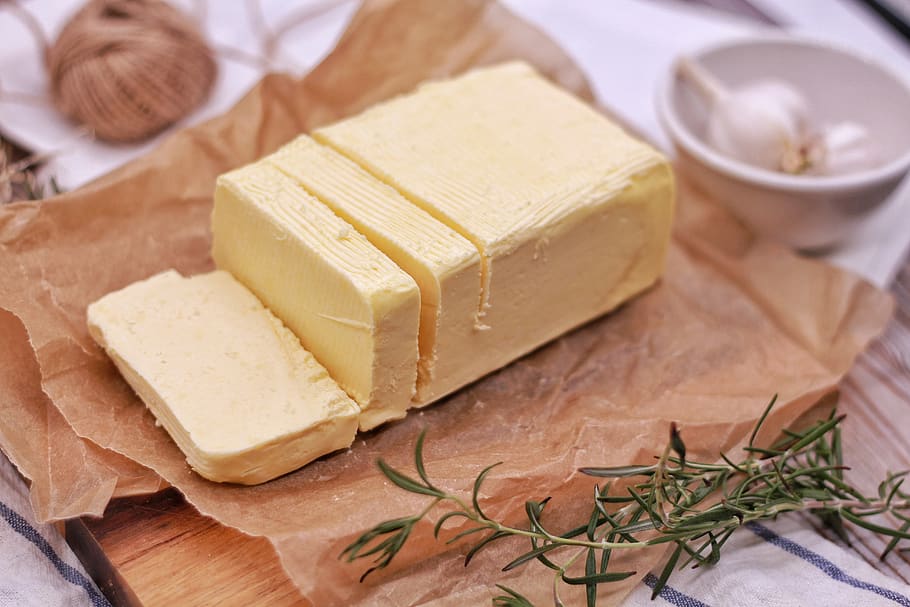 5. You do not have to use a biscuit cutter.
If you don't have a round biscuit cutter, you can use a knife or a bench scraper to cut the biscuits into squares, just make sure you cut straight down, as mentioned before. Alternatively, I remember my mom using a tin can to cut her biscuits with, so you could wash and dry out a can and use that as well.
6. I don't have half and half--can I substitute something else?
Half and half is equal parts milk and cream so you could stir together ½ cup cold heavy whipping cream and ½ cup cold milk. I even read a few comments on the recipe where in a pinch some people use evaporated milk and had great results, so you could use that as well.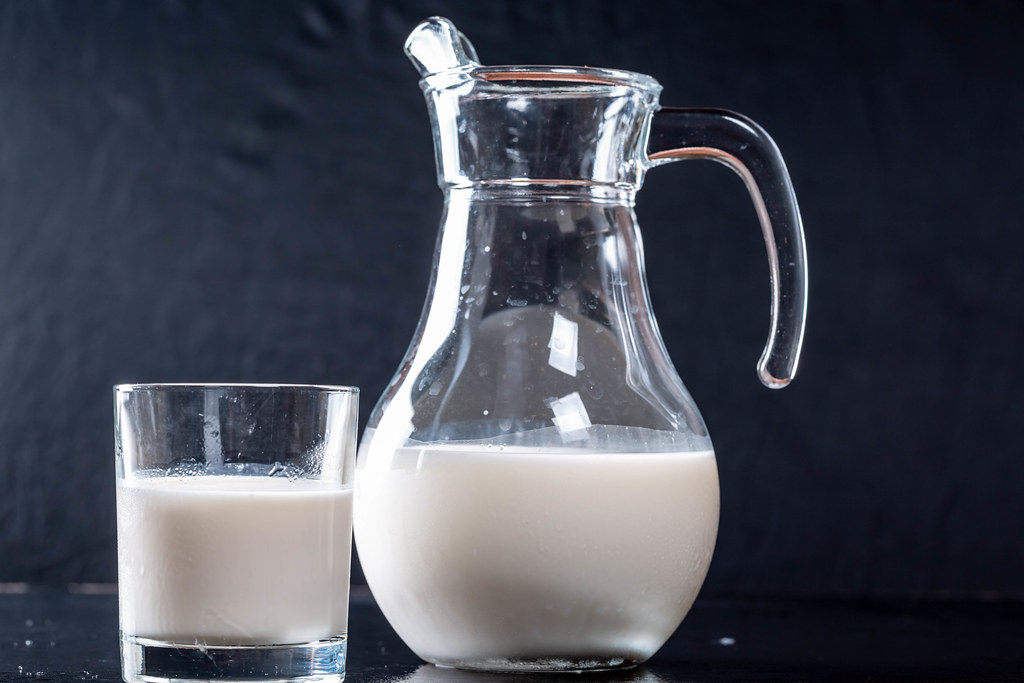 Here is an awesome recipe that is really easy to whip up and with ingredients you likely have on hand (especially if you remember that you can use heavy whipping cream and milk if you don't have half and half on hand). 
Do you make biscuits often? What are your favorite meals to eat them with? Please share your thoughts in the comments below.
Fluffy Homemade Biscuits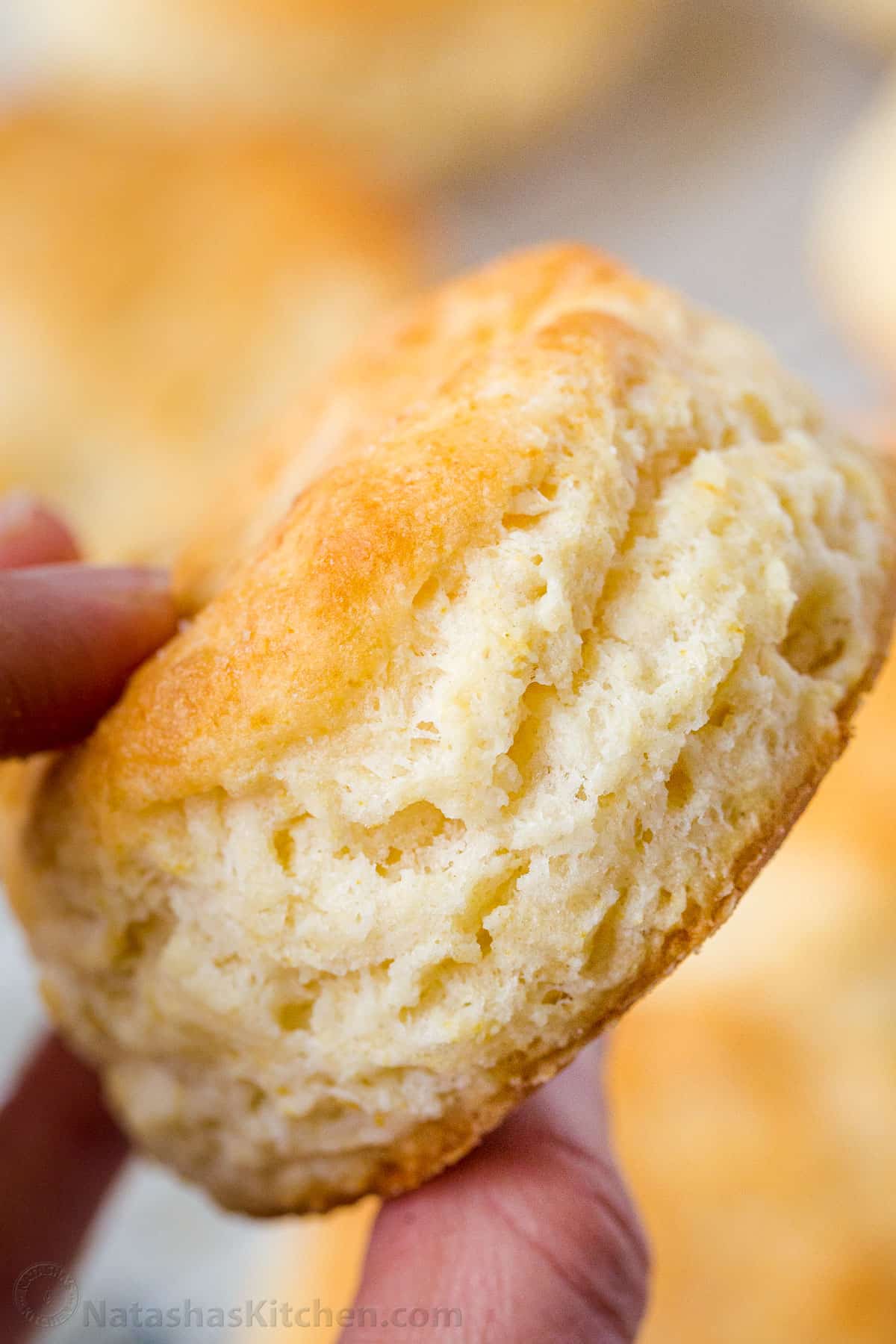 This is the only Biscuit Recipe you will need. Homemade Biscuits are super soft and these are quick and easy to make with just 6 ingredients. Author: Natasha Kravchuk Recipe Type: $2-$4 Total Time: 25 minutes
Prep time:
Cook time:
Serving size:
10
Calories per serving:

195




Ingredients:
2
cups
all-purpose
flour
1 1/2
tablespoons
baking powder
(aluminum free)
1
teaspoon
granulated sugar
3/4
teaspoon
salt
(we use fine sea salt)
1/2
cup
unsalted
butter
(8 tbs, cold)
1
cup
half and half
(minus 2 tbs)*
1/2
tablespoon
melted
butter
to brush the baked biscuits
Directions:
Make the Biscuit Dough:
Dice butter into 1/2" cubes and refrigerate until needed.
In a large mixing bowl, combine flour, baking powder, sugar and salt. Whisk thoroughly.
Add diced cold butter and cut it into the flour using a pastry blender (or two knives or a fork), until the largest butter pieces are pea-sized.
Add 1 cup – minus 2 Tbsp of Half and Half all at once and stir until mixture comes together and is mostly moistened. Do not over-mix.
Fold Dough and Cut Biscuits:
Turn dough out onto a floured surface. If dough is very sticky, lightly sprinkle the top with flour.
Pat dough into a rectangle then fold it in half and pat into another rectangle. Fold a second time and pat into a 5"x10" rectangle or 3/4" thickness. Dip a 2 1/2" round biscuit cutter into flour and cut out 8 biscults. Pull together scraps and form into a rectangle to cut an extra 2 biscuits.
Bake Biscuits:
Place biscuits on a parchment-lined baking sheet 1-inch apart and bake at 450 degrees F for 12-15 minutes or until tops are golden brown and biscuits are baked through. While bicuits are hot, brush tops with 1/2 Tbsp melted butter. Transfer to a wire rack to cool 10 minutes then serve.
Recipe Note
*Notes on Half and Half--you can substitute with equal parts heavy cream and milk. In very humid climates, reduce the amount of half and half to ¾ cup.
Source:
natashaskitchen.com

Recipe formatted with the Cook'n Recipe Software from DVO Enterprises.
Add Recipe to Cook'n
Sources:
www.pixabay.com
www.flickr.com
www.natashaskitchen.com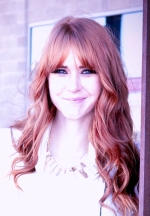 Mary Richardson
Weekly Newsletter Contributor since 2014
Email the author! mary@dvo.com
---
Subscribe to Cook'n Premium and get newsletter articles like this each week!