This is the time of year when canned milk is on sale, big time. Since it's such a good buy, I thought it would be interesting to explore some of the things that can be done with this product. Little did I know…

Crumb Coating:
For a firmer, tastier coating, roll foods in crumbs or flour mixture, shake lightly and dip into canned milk before rolling in crumbs again.

Binding:
Because of its consistency, undiluted canned milk is perfect for binding ingredients for fish patties, meat loaves, hamburgers, etc.

Creaming:
Use canned milk for soups. It also enriches sauces and gravies.

Whipped Topping:
Canned milk whips up to 3 times its volume! Just pour ½ C chilled canned milk into a chilled bowl, whip until begins to thicken; add 1 Tbsp lemon juice and whip until very stiff. Fold in 1 Tbsp sugar and a few drops vanilla. Serve at once as a topping for puddings, fruit pies or other desserts. Remember though, whip it just before serving—it won't sit around well.

Creaming Potatoes:
Use canned milk instead of butter, and beat spuds until creamy. Add salt and pepper to taste.

As Milk:
When a recipe calls for milk, dilute canned milk with an equal quantity of water and use as the recipe directs.
Now, here are a few recipes incorporating canned milk:
FROZEN LEMON CRUNCH
(Serves 6-8)
This is an unusual way of serving a lemon flavored dessert. Surprisingly easy to make, your family will love the refreshing taste, the creamier texture of this nourishing, sherbet-like sweet.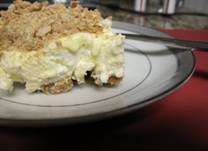 Filling
1 C canned milk
1/3 C lemon juice
2 eggs
½ C sugar
½ tsp salt
1 Tbsp grated lemon rind
Crunch topping
½ C finely crushed cornflakes
2 Tbsp melted butter
3 Tbsp sugar
Chill canned milk in ice cube tray until soft ice crystals form around edges of the tray (15 to 20 min.). Whip until stiff (about 1 min.). Add lemon juice and whip until very stiff (about 2 min. longer). Beat eggs, ½ C sugar and salt until thick and creamy (about 4 min.). Fold in whipped canned milk and grated lemon rind. Spoon into 8x9 pan. To make topping, mix cornflakes, butter, and 3 Tbsp sugar together in a bowl. Sprinkle over top of filling. Freeze until firm (about 2 hrs) and serve cold.

Download this recipe.
CRUNCHY SALMON CASSEROLE
(Serves 4-6)
A delightful contrast of crisp, tasty breadcrumb topping and smooth, creamy salmon filling. Can be prepared will in advance prior to serving.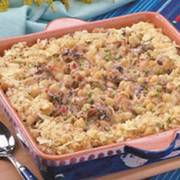 2 Tbsp butter
3 Tbsp flour
1 tsp dry mustard
¼ tsp salt
¼ tsp pepper
1 large can (14 ½ oz) undiluted canned milk
2 C (1 ;b can) well-drained salmon
2 Tbsp lemon juice
1 C diced celery
1 C soft breadcrumbs
2 Tbsp butter, melted
Melt butter in a saucepan over low heat. Add flour, mustard, salt and pepper. Stir until smooth. Slowly add canned milk. Cook until thickened (about 10 min), stirring constantly. Remove skin and bones from salmon. Add flaked salmon, lemon juice, celery to the white sauce. Mix well. Spoon into buttered 2-qt. casserole. Mix crumbs with melted butter. Top salmon mixture with buttered crumbs. Bake at 350° for 25-30 min. Serve at once. This is delicious!

Download this recipe.
---
(If YOU have a smart idea, won't you share it? Life is so much easier and we accomplish so much more when we pool our resources. And after all, we're all in this together. So email
patty@dvo.com
or
alice@dvo.com
with YOUR Smart Ideas!)
---
Contribute to the Cook'n Club!
DVO would love to publish your article, prose, photography and art as well as your cooking, kitchen and nutrition tips, tricks and secrets. Visit the Newsletter Submission / Win Win for All section in our Forum for more information and details.
---