We hope that you all had a wonderful day of Thanks-Giving! As I write this I am reveling in the opportunity to visit with friends and family around the "heart of the home" — the dining room table. So much happens here, doesn't it? Homework, late night talks, coffee/tea with neighbors, crafts, sewing and left-over turkey dinners!
If your refrigerator is bulging with the leftover bounty of Thanksgiving, and you want to make something besides turkey sandwiches with warmed up potatoes and gravy, (nothing wrong with that, mind you), here are a few ideas on how to use up what you have, in a creative way.
Cranberry Carrot Muffins
Serves 12
Food Network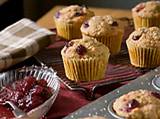 2 cups all-purpose flour
2 teaspoons baking powder
1/2 teaspoon salt
1/2 teaspoon ground cinnamon
1/4 teaspoon ground nutmeg
1/4 teaspoon ground ginger
1/2 cup (1 stick) unsalted butter, at room temperature
3/4 cup sugar
2 large eggs, at room temperature
1 cup pureed cooked carrots
Zest of 1 orange
1/2 cup leftover cranberry relish
2 tablespoons Demererra or granulated sugar, for sprinkling
Preheat the oven to 375degrees F. Line a 12-portion 1/2-cup muffin tin with paper liners.
In a large bowl, sift the flour, baking powder, salt, cinnamon, nutmeg and ginger together.
In a standing mixer fitted with the paddle attachment, or with a hand-held electric mixer in a large bowl, cream the butter on medium speed until lightened. With the speed on low, slowly add the sugar. Increase speed to medium high and beat until light and fluffy, about 4 minutes. Add the eggs, one at a time, beating between each addition and scraping down the bowl as necessary with a rubber spatula. Add the carrot puree and orange zest and beat until well combined. With the mixer set on low, slowly add the dry ingredients and mix until just combined; do not overbeat. Remove the bowl from the mixer and with a rubber spatula, gently fold the cranberry relish into the batter until evenly distributed.
Evenly divide the batter among the lined muffin cups and sprinkle a little sugar over the top of each. Bake in the center of the oven until light golden brown and a toothpick inserted in the center comes out clean, 25-30 minutes.
Cool in the pan on a rack for 10 minutes. Remove muffins form the pan and transfer to a rack to cool completely. Serve warm or at room temperature.
The following is a wonderful soup which can be made and frozen for "turkey dinner memories" later on!

Download this recipe.
Turkey Vegetable Soup With Stuffing Dumplings
Serves 6
Wes Martin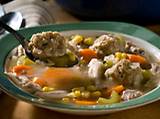 Carcass from one 12-14 pound roasted turkey, picked clean
2 large onions, one quartered and one chopped
4 peeled carrots, 2 coarsely chopped and 2 sliced
4 stalks celery, 2coarsely chopped and 2 sliced
6 garlic cloves, 4 smashed and 2 chopped
1 bay leaf
10 whole black peppercorns
1 tablespoon extra-virgin olive oil
2 large eggs
6 tablespoons all-purpose flour, plus more as needed
1/2 teaspoon salt, plus more as needed
Freshly ground black pepper, to taste
2 cups leftover stuffing
2 sprigs fresh thyme
2 cups shredded leftover turkey meat
1 cup leftover corn kernels
Put the turkey carcass, quartered onions, coarsely chopped carrots and celery, smashed garlic, bay leaf, and peppercorns in a large stockpot and add enough cold water to just cover, about 2 quarts. Bring the water to a boil, and then reduce the heat to maintain a gentle simmer and cook for 1 hour. Remove from the heat and strain the solids from the broth. Pour the liquid through a fine mesh strainer and reserve; you should have about 10-12 cups broth.
Meanwhile, in a small bowl, whisk the eggs, flour, 1/2 teaspoon salt, and some black pepper together until smooth. Add the stuffing and mix until well combined; cover and reserve.
Wipe the stockpot clean with a paper towel. Heat the oil in the pot over medium heat. Add the chopped onion and garlic and cook until soft and translucent, about 6 minutes. Add the sliced carrots and celery, thyme sprigs, and reserved broth and bring to a simmer; cook vegetables are just soft, about 10 minutes.
Roll level tablespoons of the dumpling mixture into balls with wet hands (see note) and drop into the simmering soup; cook until dumplings float, 3-4 minutes. Gently stir in the turkey meat, corn, and season with salt and pepper, and simmer until heated through. Serve immediately.
Note: Moistness of stuffing can vary; if the dumpling dough is too soft to roll, add flour a teaspoon at a time until it is firm enough to hold its shape while rolling.
---
Contribute to the Cook'n Club!
DVO would love to publish your article, prose, photography and art as well as your cooking, kitchen and nutrition tips, tricks and secrets. Visit the Newsletter Submission / Win Win for All section in our Forum for more information and details.
---
---