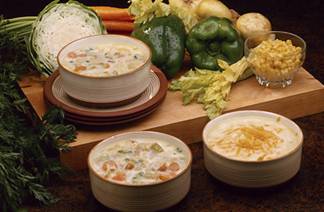 Warming, nourishing soup makes the perfect starter for a special harvest meal, and soups also give us an easy one-pot reprieve during the holiday season when we don't want to spend hours fussing in the kitchen. And we like the way soups are so portion-manageable—something anyone with blood sugar issues truly appreciates.
Try these hearty, satisfying classics: Roasted Butternut and Acorn Squash soup with sherry and ginger, richly creamy Pumpkin Corn Chowder, sweet, spicy Squash, Cider and Apple soup, and elegant Creamy Sage and Onion soup that is baked and served in a pumpkin, a gorgeous way to begin the Thanksgiving feast. All four recipes deliver deep autumn nourishment:
ROASTED SQUASH SOUP
(Serves 6)
(Adapted from Vegetarian Planet, by Didi Emmons, Harvard Common Press, 1997).
This smooth and creamy soup combines flavorful winter squashes with onion, spices, sherry, and fresh ginger to make a soup that will entrance family and guests alike. It's simple to make, since the squash roasts in the oven while you cook other things. You could even make it a day ahead, if you like. Either way, this is a lovely soup to warm the heart, filled with minerals, carotenes, and autumn harvest flavor, a soup to be thankful for!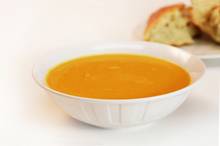 1 small butternut squash (about 1 1/2 pounds), cut in half
1 acorn squash, cut in half
1/2 spaghetti squash (about 1 1/2 pounds)
3 tablespoons butter or olive oil
1 large onion, chopped
3 garlic cloves, minced
1 tablespoon minced fresh ginger
1 teaspoon curry powder
2 Granny Smith or other tart apples, peeled and cut into 1/2-inch chunks
2/3 cup cooking sherry
5 cups water or vegetable stock
1 teaspoon salt
Fresh-ground black pepper to taste
Pinch cayenne (optional)
Preheat oven to 400F. Lay the squash halves cut side down on baking sheets, and roast them for 45 minutes or until the flesh is soft (the spaghetti squash may take a bit longer). When the squash has cooled a little, scoop out the seeds and discard them. Then, with a large spoon, scoop out the flesh of the squash into a bowl.
Heat the butter or oil in a medium saucepan over medium heat. Add the onion. Cook for 5 minutes, stirring frequently, until the onion softens. Add the garlic, ginger, and curry powder, and cook, stirring, for 1 minute. Add the apples and the sherry, and simmer for 10 minutes, or until the apples soften.
Puree the squash flesh with the water or stock in batches in a blender or food processor. Transfer the squash puree to a large saucepan, then puree the apple-sherry mixture, and add this to the pureed squash.
Heat the soup, and season it with the salt, pepper, and, if you like, cayenne. Ladle the hot soup into bowls, and serve.

Download this recipe.
PUMPKIN CORN CHOWDER
(Serves 6)
(Inspired by Witch In the Kitchen, by Cait Johnson, Inner Traditions, 2001).
This creamy, satisfying soup has everything we need to warm us up on a chilly autumn night. Chowders have been a favorite New England one-pot supper for hundreds of years, but this is a chowder with a difference: here, beta-carotene-rich pumpkin and sweet potato replace the usual white potato, combining with corn, onion, and cream (vegans may substitute soy or rice milk, or nut butter) to make a wonderful bowl of real, deep nourishment.
Served with a salad and some cornbread or biscuits, Pumpkin Corn Chowder makes the perfect fall supper. It's easy to make, too!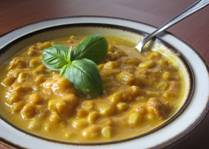 3 tablespoons butter or olive oil
1 medium onion, peeled and chopped
2 to 3 garlic cloves, minced
1/2 cup well-scrubbed sweet potato, cut into 1/2-inch chunks
6 cups vegetable broth
1 cup pumpkin puree
1 cup corn, frozen or cut from the cob
1/2 teaspoon dried thyme
1/2 teaspoons crumbled dried sage
1/2 cup light cream or half-and-half (vegans may substitute soy or rice milk or 2 tablespoons nut butter)
salt and freshly-ground pepper to taste
Heat butter or olive oil in a large soup pot over medium heat. Add onion, garlic, and sweet potato. Saute, stirring to coat the vegetables with the butter, until onion is translucent, just a few minutes. Add vegetable broth and bring to a boil. Reduce heat to low and cook, covered, 30 minutes, until sweet potato is tender. Add pumpkin puree, corn, and herbs. Bring back to a boil, then reduce heat again and cook over low heat for 10 minutes. Stir in cream and remove soup from the heat. Puree half the soup in a blender and return it to the pot, stirring well to combine. Add salt and pepper to taste.

Download this recipe.
SQUASH, APPLE and CIDER SOUP
(Adapted from Soup Makes the Meal, by Ken Haedrich, The Harvard Common Press, 2001).
I like to mix storage vegetables, like carrots and squash, with fruit in soups. The result is often a sweet-and-savory soup that I find very satisfying, and that many people find surprising.
This has to be one of my favorites in the genre: butternut squash mixed with apples and reduced cider. (You can, of course, use another winter squash; delicate squash is wonderful here, too.) The real flavor kicker comes from the reduced cider mixture — just pour it into a skillet or wide saucepan and let it boil down while the vegetables cook.
The finished soup is laced with cinnamon and clove and, at that point, the aroma becomes too much to resist.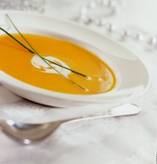 2 tablespoons unsalted butter
1 large onion, finely chopped
3 cups peeled and diced butternut squash
2 large apples (any kind), peeled, cored, and chopped
3 cups chicken or vegetable stock
¼ teaspoon salt
1 bay leaf
1 ½ cups fresh cider
2 tablespoons firmly packed light brown sugar
¼ teaspoon ground cinnamon
Large pinch of ground cloves
Melt the butter in a medium-size pot or large saucepan over moderate heat. Stir in the onion, cover, and sweat for 10 minutes. Add the squash, apples, stock, salt, and bay leaf to the pot. Bring to a boil, reduce the heat to moderately low, cover, and simmer the soup until the squash and apples are very soft, about 20 minutes. Remove from the heat. As the soup simmers, pour the cider into a medium-size skillet, bring to a boil, and reduce to 4 or 5 tablespoons; you don't have to be too precious about it. Remove from the heat.
Remove the bay leaf from the soup, then spoon the solids into a food processor. Process the mixture until smooth, then stir it back into the broth. Add the reduced cider. Reheat the soup, stirring in the brown sugar and spices. Serve piping hot.

Download this recipe.
ONION AND SAGE SOUP BAKED IN A PUMPKIN
(Serves 6)
(Cait Johnson, author, with Maura D. Shaw of Celebrating the Great Mother, Inner Traditions, 1995).
We owe the idea of baking things in pumpkins to the Native Americans. These indigenous people honored the sun's return out of the longest night of the year, and the baked pumpkin – with its roundness and warm color - can remind us of the sun as we celebrate the winter solstice.
The dish makes such a festive presentation straight out of the oven: just place the baked pumpkin on a platter and surround with greens. And because our recipe makes use of the tender baked pumpkin flesh along with the simple, creamy soup, it is packed with perfect vitamin-rich winter nourishment.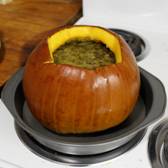 1 4 - 5 pound pumpkin
1 tablespoon olive oil
1 medium yellow onion, chopped
1 medium carrot, diced
2 teaspoons dried sage
3 cups good-quality vegetable broth
sea salt to taste
½ tablespoon butter, softened
3 tablespoons fresh parsley, chopped
1 cup light or heavy organic cream
freshly-ground white or black pepper to taste
Preheat oven to 350. In a large saucepan, cook onion in olive oil over medium heat until translucent and softened. Add diced carrot and stir to coat with oil, then cook until slightly softened, about 5 minutes. Sprinkle vegetables with sage, stirring to coat. Add vegetable broth and salt and bring to a boil. Cut top off pumpkin and scrape out seeds and strings. Prick cavity with a fork and rub with softened butter. Place pumpkin in a shallow baking pan and pour broth and vegetables into pumpkin cavity. Add about half an inch of hot water to the bottom of baking pan. Bake for 1 ½ hours or until pumpkin is tender, adding water to pan as necessary to avoid sticking.
Carefully remove pumpkin from oven when done and add cream, parsley, and pepper, stirring gently before serving. Scrape some of the delicious tender pumpkin out to serve in the broth, being careful not to break the shell.

Download this recipe.
---
Contribute to the Cook'n Club!
DVO would love to publish your article, prose, photography and art as well as your cooking, kitchen and nutrition tips, tricks and secrets. Visit the Newsletter Submission / Win Win for All section in our Forum for more information and details.
---
---