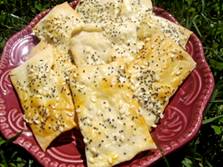 Don't you just love crackers? They're so versatile and such a great snack. Here's why I bring the subject up: I like to offer crackers and cheeses, etc. as a part of my appetizer spread for Thanksgiving dinner. But this year we're on a tighter budget than usual due to my husband's pending layoff (he's an electrician and the job he's been on is coming to a close), so there's not as much money for this big meal.
When you look at the typical Thanksgiving menu, it's easy to see one thing we could do without is crackers (they are expensive for what you get). But hah hah! I remembered my Aunt Annie used to make her own and so I went looking for her recipe. I found it (hurrah—no giving up the appetizers and the budget survives)! Even though when you read this, Thanksgiving dinner will be over, you might like trying these recipes anyway, just for the fun of it!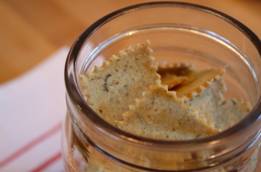 Expense aside, homemade crackers are more delicious and healthier. Who needs all the chemicals and preservatives that store-bought crackers contain? And nothing beats the bragging rights you get when you tell your guests that you made these delectable morsels yourself. Also, what's very cool about this is that it doesn't take long to make a batch (prep time is about 15 minutes, on average), cook time is about 12 min., and you don't need any razz-ma-tazz ingredients—they call for everyday staples.
Lastly, because they are sturdy and hearty, you can use them with dips, pates, fondues, cheese slices, or just on their own. These are so good, I'm thinking seriously of giving them as gifts to my neighbors for Christmas! Here is the basic recipe my Aunt Annie used back in the 1940's that I feel really lucky to have:
HOMESTEAD CRACKERS
(Makes 3-4 dozen)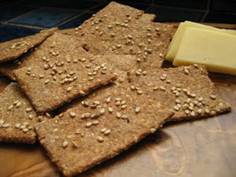 2 Cups flour
1 tsp. baking powder
3/4 tsp. salt
2/3 C warm water
1/3 C extra virgin olive oil
¼ C sesame seeds, toasted
Preheat oven to 400°. Grease two large cookie sheets. Combine all dry ingredients. Add water and oil. Mix until dough is smooth. Divide dough into two large balls and press each ball onto cookie sheet. Using fingers or rolling pin, spread dough as thin as possible. Score dough into even squares (with sharp knife or pizza cutter). Brush lightly with an egg wash (one egg white and 2 Tbsp water) or spray lightly with olive oil. Sprinkle top with toasted sesame seeds and perhaps a little sea salt. Bake 10-12 min until crackers are golden and crispy. After baking and cooling, crackers will easy split apart if they haven't pulled apart during backing. Store in airtight container. If they ever pick up moisture and lose their crispness, just pop them into a 250° oven for a few minutes. Here's a recipe I found that is also very good!

Download this recipe.
"SAY CHEESE!" CRACKERS
(Makes 5 dozen crackers)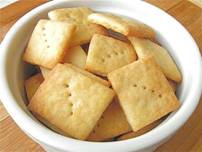 1/3 C milk
1 Tbsp cider vinegar
1 ¼ C whole wheat flour
¼ tsp soda
½ C wheat germ
½ C butter
½ C sharp cheddar cheese, grated (I only had mild cheddar, and these were terrific anyway)
Combine milk and vinegar and set aside. In mixing bowl, knead rest of ingredients until it resembles coarse meal. Add milk mixture and mix only enough to combine. Turn out on a floured boards and knead briefly. Roll out ¼ " thick, and cut in 2" pieces. Place on greased cookie sheets and prick crackers with a fork. Bake at 375° for about 15 min (watch closely—you only want them golden).

Download this recipe.
---
Contribute to the Cook'n Club!
DVO would love to publish your article, prose, photography and art as well as your cooking, kitchen and nutrition tips, tricks and secrets. Visit the Newsletter Submission / Win Win for All section in our Forum for more information and details.
---
---