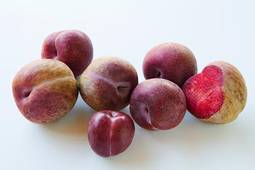 Plums are in season now and our neighbors' trees are filled with ripe Satsuma, Santa Rosa, and Elephant Heart plums.
Over the last several years we have experimented with several batches of plum preserves - some with more success than others. One thing we discovered by accident was plum "leather", which is what happens when you let the plum sauce cook too long.
Plums are fun to work with—it's hard to fail with them. Here are some wonderful recipes one of our neighbors shared for this great fruit. She could not remember where they came from, so we are unable to give proper credit. May the Grand Poobah of All Things Recipe forgive us.
Plum Upside Down Cake
4 individual servings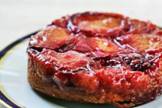 1 1/4 stick butter (10 Tbsp or 1/2 cup plus 2 Tbsp), softened
1/4 cup plus 2 Tbsp brown sugar, firmly packed
4 plums, pitted and sliced
5 Tbsp buttermilk OR 4 Tbsp milk plus 2 teaspoons milk and 1 teaspoon lemon juice
3/4 cup cake flour
1/2 teaspoon baking powder
1/8 teaspoon baking soda
1/4 teaspoon cinnamon
Pinch salt
1/2 cup granulated sugar
Zest of 1/2 an orange
1 egg
1 teaspoon vanilla extract
Four 10 or 8 ounce ramekins
Preheat oven to 350°F. Butter the insides of the ramekins. Melt 3/4 stick (6 Tbsp) of the butter in medium saucepan over medium heat. Add brown sugar and whisk until smooth. Pour into the bottoms of the buttered ramekins, dividing the sugar butter sauce evenly among them. Arrange a layer of plum slices at the bottom of each ramekin.
If you are not using buttermilk, combine milk and lemon juice in a small bowl (the mixture will curdle), set aside. In a separate bowl, sift together the cake flour, baking powder, baking soda, cinnamon and salt.
Use an electric mixer to beat together the remaining 1/2 stick (1/4 cup or 4 Tbsp) butter with the granulated sugar and orange zest. Add the eggs and vanilla, mix to combine. Alternately add the dry flour mixture and the buttermilk (or lemon soured milk) mixture to the batter.
Divide the batter among the ramekins. Place the ramekins on a rimmed baking sheet and put in the oven on the middle rack. Bake for 35 to 40 minutes, until cakes are firm to the touch, and a toothpick or skewer inserted in the center does not come out with raw batter on it. (Might be wet from plum juice.) Turn the baking sheet around half-way through the baking to ensure an even baking for all the cakes.
Remove from oven and let cool on a rack until no longer hot to the touch. Run a paring knife around the edges of the ramekins. Invert onto a plate and gently lift off of the plate. Serve alone or with whipped cream or vanilla ice cream. Makes 4 individual servings.

Download this recipe.
Plum Sorbet
Makes a little less than one quart of sorbet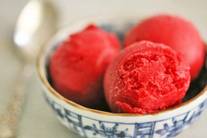 2 1/2 cups of sliced plums, pits removed
1/4 cup + 2 tablespoons of sugar
1 teaspoon of lemon juice
Pinch of salt
Place the sliced plums, sugar, lemon juice, and salt in a blender and purée until very smooth. Push the plum puree through a fine mesh sieve to catch and large pieces of skin and discard them (no skin to discard though, if you're using a Vita Mix, Blend Tec, or other heavy-duty blender).
Place the purée in an ice cream machine and churn according to instructions, for approximately 25 minutes. Serve immediately or place in an air tight container and put in the freezer for two hours to firm up.

Download this recipe.
Plum Galette
Serves 6
The amount of sugar needed depends on the tartness of the plums. If all you have are fairly ripe, and therefore fairly sweet, plums, use a little less sugar and add a little lemon juice.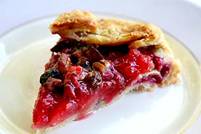 1 recipe pate brisee pie crust (below)
6-8 tart plums, pitted and sliced (about 1 1/4 pounds net)
1/4 cup raisins (preferably golden)
1/4 cup chopped pecans
Zest from one lemon
2 Tbsp flour
1/2 cup sugar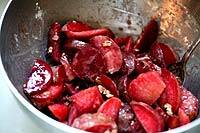 In a medium sized bowl, gently toss the plum slices with the raisins, pecans, lemon zest, flour and sugar.
Preheat oven to 375°F. If you are using homemade chilled pie dough, remove it from the refrigerator to let stand for 10 minutes before rolling out. Lightly flour a clean surface and roll out the pie dough to a 13-inch round of even thickness.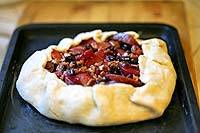 Place rolled-out pie dough in the center of a small-rimmed, lightly buttered baking sheet. Place plum mixture in the center of the pie dough round, leaving a border of 2 inches on all sides. Fold the edges of the pie crust up and over so that circle of the filling is visible.
Place in the middle rack of the oven. Bake at 375°F for 40-50 minutes, until the crust is lightly browned and the filling is bubbly. Cool on a rack for an hour before serving.

Download this recipe.
All Butter Crust for Sweet and Savory Pies (Pâte Brisée)
Pâte brisée (pronounced paht bree-ZAY) is a standard all-butter pastry dough used for making pies and tarts.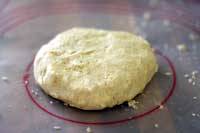 1 1/4 cups all-purpose flour, plus extra for rolling
8 Tbsp (1 stick) unsalted butter, very-cold, cut into 1/2 inch cubes
1/2 teaspoon salt
1/2 teaspoon sugar (increase to 1 1/2 teaspoons if for a sweet recipe)
2 to 4 Tbsp ice water, very cold
Start by cutting the sticks of butter into 1/2-inch cubes and placing in the freezer for at least 15 minutes (preferably longer) so that they become thoroughly chilled. In a food processor, combine flour, salt, and sugar, pulse to mix. Add butter and pulse 6 to 8 times, until mixture resembles coarse meal, with pea size pieces of butter. Add water 1 Tablespoon at a time, pulsing until mixture just begins to clump together. If you pinch some of the crumbly dough and it holds together, it's ready, if not, add a little more water and pulse again.
Remove dough from machine and place on a clean surface. Carefully shape into a discs. Do not over-knead the dough! You should still be able to see little bits of butter in the dough. These bits of butter are what will allow the result crust to be flaky. Sprinkle the disc with a little flour on all sides. Wrap the disc in plastic wrap and refrigerate at least 1 hour.
Remove the crust disk from the refrigerator. Let sit at room temperature for 5-10 minutes. Sprinkle some flour on top of the disk. Roll out with a rolling pin on a lightly floured surface to a 12 inch circle; about 1/8 of an inch thick. As you roll out the dough, use a metal spatula to check if the dough is sticking to the surface below. Add a few sprinkles of flour if necessary to keep the dough from sticking. Gently fold in half. Place on to a 9-inch pie plate, lining up the fold with the center of the pan. Gently unfold and press down to line the pie dish with the dough.

Download this recipe.
---
(If YOU have a smart idea, won't you share it? Life is so much easier and we accomplish so much more when we pool our resources. And after all, we're all in this together. So email
patty@dvo.com
or
alice@dvo.com
with YOUR Smart Ideas!)
---
Contribute to the Cook'n Club!
DVO would love to publish your article, prose, photography and art as well as your cooking, kitchen and nutrition tips, tricks and secrets. Visit the Newsletter Submission / Win Win for All section in our Forum for more information and details.
---