Alice's husband walked in the kitchen after work and did NOT like what he smelled: fish broiling. Have you had a similar experience? Cooking fish, spicy food and exotic recipes can leave a lingering funky smell in the kitchen and all over an air-conditioned home.
You can wait for the smell to eventually dissipate (which wouldn't happen quick enough in Alice's case), OR you can also do something now to remove the unpleasantness right away. Here are some simple ways to get rid of cooking odors from your home that we found on the site eHow: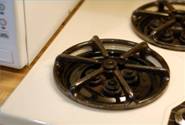 Wipe down oil and food spatter.
No matter how careful you are, even if you use spatter screens, frying causes oil to splatter on the stove, countertop and backsplash surfaces. Unless the oil and food spatter on these surfaces are wiped clean, the cooking odor will remain strong. Use a rag or sponge dipped in degreasing dish detergent to clean all surfaces close to the stove and then rinse with a damp towel. Don't forget the floor area just in front of the stove.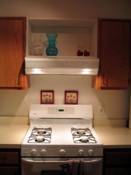 Ventilate your home.
Odors will remain locked inside your home unless you air them out. Open windows on opposite sides of the house to generate an air flow. An exhaust fan or hood over the stove will help.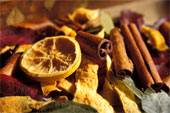 Simmer a potpourri.
Mix water, citrus peels or slices, a few cloves, a cinnamon stick and rosemary in a small pot and simmer for a couple of hours. Add water as necessary to prevent drying out. Substitute with your favorite fragrant herbs and spices. Here's a good recipe a neighbor gave us that you might like:
Potpourri Simmer
3 1/2 cups anise star, whole
1 3/4 cups allspice, whole
1 3/4 cups dried or fresh orange peel
1 3/4 cups juniper berries
2 nutmeg, whole
2 cups cloves, whole
3 1/2 cups cinnamon chips
1 3/4 cups lemon peel
3 1/2 cups rosehips
3 handfulls bay leaves, whole
Oil fragrances
Add drops of oil fragrances such as french vanilla, old world spice and vanilla. Start by adding about 5 drops, mix into potpourri; add more to liking. Makes 25 cups. Mix 2 to 3 Tbsp with 2 C water and simmer. Watch pan closely so it doesn't evaporate dry.

Download this recipe.

Simmer vinegar and citrus slices.
Mix equal parts vinegar and water with a slice or two of your favorite citrus in a small pot and simmer for a couple of hours. The evaporating vinegar molecules will neutralize the odor molecules that have settled on kitchen surfaces. After simmering, leave the vinegar solution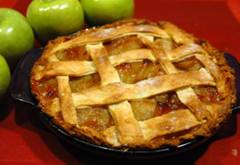 Brew coffee or bake pastries.
The delicious aroma of brewed coffee, chocolate cookies, apple pie, banana nut bread or caramel cake can quickly overcome any unpleasant cooking odor lurking in the home.
---
Contribute to the Cook'n Club!
DVO would love to publish your article, prose, photography and art as well as your cooking, kitchen and nutrition tips, tricks and secrets. Visit the Newsletter Submission / Win Win for All section in our Forum for more information and details.
---
---