Mushrooms add a rich deep savory flavor for very few calories and are almost as indispensable as onions in cooking. Think of the difference mushrooms make to stroganoff, risotto, omelet, stir-fries, salads. And of course, think of stuffed mushrooms. It's all due to their high content of glutamate, the naturally occurring version of the favor enhancer monosodium glutamate or MSG. They also have significant quantities of another key flavor compound, salicylate.
At only 23 calories per 1½ cups, mushrooms have what's called a low 'energy density' – they have few calories for their weight or their volume, a big plus today when so many of our snack foods and fast foods have a
high
'energy density'.
When it comes to nutrition, there are even more bonuses. They have no fat but heaps of B vitamins, especially riboflavin, niacin and pantothenic acid, which, along with some vitamin D if they have been briefly exposed to sunlight, sets them apart from other vegetables. If they are grown on a compost of horse or chicken manure, they add some vitamin B12 which is often difficult for strict vegetarians to obtain. Being a fruit of a fungus and not a true vegetable, they have little vitamin C or beta-carotene, but are rich in the mineral potassium.
A recent US study published in
Appetite
found mushrooms to be an ideal way to cut calories without losing out on flavor or a sense of fullness. You eat well and eat less!
Researchers from Johns Hopkins Bloomberg School of Public Health found they could drop the calorie content of a lunch meal by half if they substituted minced white button mushrooms for ground beef in familiar dishes like lasagna, 'Sloppy Joes'and chili. When asked about palatability, appetite, satiation (post meal fullness) and satiety (general fullness), the study participants didn't rate the mushroom meals any differently from the beef meals. And despite consuming fewer calories with the mushroom meals, they didn't compensate by eating more later in the day.
Don't know about you but we'd certainly be happy to double the amount of mushrooms and cut back on the meat, chicken or pasta – and save 20 g of fat and all those calories without feeling any pain. While we wouldn't want a dish composed entirely of mushrooms, a 50:50 mix of beef and mushrooms in casseroles sounds appealing.
(Courtesy: Dietitian, Catherine Saxelby, author of Zest and Nutrition for Life)
Here's a mushroom-based, low glycemic index recipe that's representative of what we're preaching here:
Mushroom and Asparagus Noodle Soup with Sprouts and Chili
(Courtesy: Veronica Cuskelly, author of Heart Food.) Don't be dismayed by the length of the ingredient list. The flavors combine to create a truly mouth-watering soup! And consider working smarter, not harder: make a double batch and freeze half for those no-time-to-cook days.
Serves 4; each serving contains 3 servings of vegetables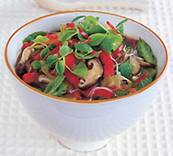 1 tablespoon peanut oil
3 large cloves garlic, chopped
4 cm/1½ inch piece ginger, chopped
½ cup sliced green onions (shallots)
1 cup thinly sliced carrot
1¼ cups thinly sliced red sweet pepper
1½ cups sliced flat mushrooms
1½ cups sliced shitake mushrooms
4 cups water
1 bunch asparagus, trimmed and sliced
3½ oz rice vermicelli noodles
3 teaspoons oyster sauce
2 teaspoons brown sugar
2 teaspoons lime juice
1 cup tightly packed mint leaves
3½ oz snow pea sprouts
2 small red chilies, sliced
Heat oil in heavy based saucepan over medium–low heat. Add garlic, ginger and onion; cook, stirring, for 1–2 minutes. Add carrot, red pepper and mushrooms and stir for 2–3 minutes. Add water, cover and bring to the boil, then reduce heat and simmer for 10 minutes. Add asparagus and continue cooking for 1–2 minutes or until the asparagus is cooked. Stir oyster sauce, sugar, lime juice and mint leaves into the soup.
Meanwhile, place vermicelli in large bowl. Cover with boiling water and leave to stand for 2–3 minutes. Stir to separate the noodles. Drain.
Ladle noodles and soup into bowls and top with sprouts and chili.
Per serving:
Energy 933 cal; Protein 9 g; Fat 5 g (includes 1 g saturated fat); Carbohydrate 34 g ( 2 exchanges) ; Fibre 7 g ; Sodium 195 mg

Download this recipe.
---
(If YOU have a smart idea, won't you share it? Life is so much easier and we accomplish so much more when we pool our resources. And after all, we're all in this together. So email
patty@dvo.com
or
alice@dvo.com
with YOUR Smart Ideas!)
---
Contribute to the Cook'n Club!
DVO would love to publish your article, prose, photography and art as well as your cooking, kitchen and nutrition tips, tricks and secrets. Visit the Newsletter Submission / Win Win for All section in our Forum for more information and details.
---