Can you have Fall without pumpkins? Its bright orange color is a dead giveaway that pumpkin is loaded with an important antioxidant, beta-carotene. Beta-carotene is one of the plant carotenoids converted to vitamin A in the body. (In the conversion to vitamin A, beta carotene performs many important functions in overall health.) So that reason alone tells us, "NO—we can't have Fall without indulging in pumpkin!
Current research gives it HIGH marks as one of the best foods we could eat, also. A diet rich in foods containing beta-carotene reduces the risk of developing certain types of cancer and offers protect against heart disease. AND beta-carotene offers protection against other diseases as well as some degenerative aspects of aging. Consider this:
Pumpkin Nutrition Facts
(1 cup cooked, boiled, drained, without salt)

Calories 49
Protein 2 grams
Carbohydrate 12 grams
Dietary Fiber 3 grams
Calcium 37 mg
Iron 1.4 mg
Magnesium 22 mg
Potassium 564 mg
Zinc 1 mg
Selenium .50 mg
Vitamin C 12 mg
Niacin 1 mg
Folate 21 mcg
Vitamin A 2650 IU
Vitamin E 3 mg
So here are two great recipes to start your pumpkin indulgence, and a sweet potato recipe just for kicks (because it's loaded with beta-carotene as well):
Spiced Pumpkin Cookies

2/3 cup whole-wheat pastry flour
2/3 cup all-purpose flour
1 teaspoon baking powder
1/2 teaspoon baking soda
1/2 teaspoon salt
1 teaspoon ground cinnamon
1/2 teaspoon ground ginger
1/4 teaspoon ground allspice
1/4 teaspoon freshly grated nutmeg
3/4 cup canned plain pumpkin puree (or make your own from a real pumpkin)
3/4 cup packed light brown sugar
2 large eggs
1/4 cup canola oil
1/4 cup dark molasses
1 cup raisins
Preheat oven to 350°F. Coat 3 baking sheets with cooking spray.
Whisk whole-wheat flour, all-purpose flour, baking powder, baking soda, salt, cinnamon, ginger, allspice and nutmeg in a large bowl.
Whisk pumpkin, brown sugar, eggs, oil and molasses in a second bowl until well combined. Stir the wet ingredients and raisins into the dry ingredients until no traces of dry ingredients remain. Drop the batter by level tablespoonfuls onto the prepared baking sheets, spacing the cookies 1 1/2 inches apart.
Bake the cookies until firm to the touch and lightly golden on top, 10 to 12 minutes, switching the pans back to front and top to bottom halfway through. Transfer to a wire rack and let cool.

Download this recipe.
Southwestern Pumpkin Burgers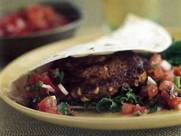 6 teaspoons extra-virgin olive oil, divided
1 medium onion, chopped
1/2 cup finely chopped red or green bell pepper
1/2 cup fresh or frozen corn
2 cloves garlic, minced
2 teaspoons chili powder
1 teaspoon ground cumin
Fresh Tomato Salsa, optional
1/2 cup canned unseasoned pumpkin puree
1/2 cup shredded Monterey Jack or Cheddar cheese
1/2 cup toasted wheat germ
1/2 cup fine dry breadcrumbs
2 tablespoons chopped fresh parsley
1/2 teaspoon salt
Freshly ground pepper to taste
6 (8-inch) flour tortillas (soft-taco size)
2 cups shredded lettuce
Heat 2 teaspoons oil in a large nonstick skillet over medium heat. Add onion and cook, stirring often, until softened, 5 to 7 minutes. Stir in bell pepper, corn, garlic, chili powder and cumin; cook, stirring, until fragrant, about 2 minutes more. Transfer to a large bowl; let cool to room temperature, about 10 minutes.
Add pumpkin, cheese, wheat germ, breadcrumbs, parsley, salt and pepper to the onion mixture; mix well. With dampened hands, form the vegetable mixture into six 1/2-inch-thick patties, using about 1/2 cup for each.
Preheat oven to 325°F. Stack tortillas and wrap in aluminum foil. Place in the oven for about 15 minutes to heat through. (Alternatively, stack tortillas between two damp paper towels; microwave on high for 30 to 60 seconds, or until heated through.)
Using 2 teaspoons oil per batch, cook 2 to 4 patties at a time in a large nonstick skillet over medium heat until browned and heated through, about 4 minutes per side. Adjust heat as necessary for even browning. Wrap the patties in tortillas and serve immediately, garnished with lettuce and Fresh Tomato Salsa, if desired.

Download this recipe.
Oven Sweet Potato "Fries"
Close cousin to the pumpkin and loaded with the same nutrients!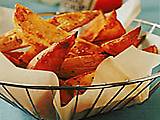 1 large sweet potato, peeled and cut into wedges
2 teaspoons canola oil
1/4 teaspoon salt
Pinch of cayenne pepper
Preheat oven to 450°F. Toss sweet potato wedges with oil, salt and pepper. Spread the wedges out on a rimmed baking sheet. Bake until browned and tender, turning once, about 20 minutes total.

Download this recipe.
---
Contribute to the Cook'n Club!
DVO would love to publish your article, prose, photography and art as well as your cooking, kitchen and nutrition tips, tricks and secrets. Visit the Newsletter Submission / Win Win for All section in our Forum for more information and details.
---