Blanch ingredients with a tea kettle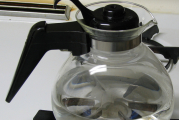 We groan a little whenever we see a recipe that calls for "blanching"—basically, you're waiting for an entire pot of water to boil just to dunk something in it for a few seconds, or maybe a minute. Instead, with recipes that call for blanching spinach, beans or a small amount of anything, put a good amount of water in a whistling tea kettle and set it on high, and place whatever needs blanching in a colander. You'll be able to hear when your water's ready, and you can slowly pour the water over the ingredient to give it a quick cook.
Keep important ingredients handy with ice cube trays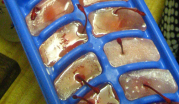 If you've got the freezer room, you can save a lot of money and time with the humble ice cube tray. Make pasta sauce, pesto (no cheese) or stock in advance, or pour your leftovers in them, then simply yank a few out and melt them down when needed. Unused fresh herbs can also be locked away with just enough water to lock them in, and wine that might be handy for sauces later can also be saved. Since most regular-sized ice cubes are just about 2 tablespoons, it's easy to dole the ingredients out later.
Each regular sized cube holds basically two tablespoons of liquid. This means that 2 cubes equals ¼ cup, 4 cubes equals ½ cup, etc. This comes in really handy when recipes call for a specific amount of liquid for a recipe.
Putting the effort into this is worth the time in my opinion. A gallon freezer bag of cubes lasts a reasonably long time, depending on how often you use the product, and provides an enormous savings of time as well as money. Also, considering all you need to do is ladle the liquid into the trays and freeze, it's not a great deal of time to begin with. It's one of those "once-a-month-cooking-for-actual-real-people" projects. Those of us with a normal amount of time can actually use this strategy without carving out several extra days a month to make it happen.
Working with garlic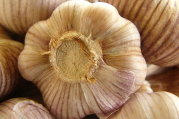 A huge number of good recipes call for garlic, and if you're not fussy, buying jars of pre-minced garlic might be a real time-saver. For those who feel some allegiance to tradition, here are a few tips for the most common garlic maneuvers:
Peeling: To take on multiple cloves at once, place them in a small re-sealable bag and smack the bag lightly with a jar or onto a hard surface. You can also microwave the cloves (not in a bag) for 10-15 seconds if the skins are especially tough to remove.


Paste: If you don't have (or believe in) a garlic press, use the bottom of an unglazed, flat-bottomed dish to smear a clove into a fine paste


Chopping/mincing: To keep young, ripe garlic from sticking to the sides of your knife, sprinkle a few drops of oil on the cloves before starting—it saves scraping time, and keeps your fingers away from the blade.

Work clean

Watch "Ratatouille," read "Kitchen Confidential," or listen to any serious chef discuss their craft, and the best advice you'll get is the simplest — messy counters, messy mind. The more stuff that piles up around you, the harder it is to concentrate on what happens next, and the harder it is to find anything you need, costing you more time and mental frustration than it would take to stay clean. Buy a cheap pack of small cloth towels and use them to wipe down surfaces and clean up spills.

Take Rachael Ray's advice and designate a "garbage bowl" to toss your larger food refuse in. Put dishes away quickly and clean as you go, and you'll feel in control and enjoy time-saved at the end of the meal.

(Ideas courtesy of LifeHacking)













---
Contribute to the Cook'n Club!
DVO would love to publish your article, prose, photography and art as well as your cooking, kitchen and nutrition tips, tricks and secrets. Visit the Newsletter Submission / Win Win for All section in our Forum for more information and details.
---
---