Chocolate Guacamole:
A Marriage of White Chocolate, Avocado and Strawberries
Last fall my granddaughter, Megan, and her mother, Jill, went to New York City. Megan's school had the opportunity to sing at Carnegie Hall. What a wonderful experience that was! While in NY they were able to visit some of New York's unique and interesting shops and restaurants. One such place that they visited was "Chocolate by a Bald Guy." While they were checking out his shop / restaurant, they bought the cookbook, "Chocolate: A Love Story." We have tried some of the recipes and have loved them all. We are particularly fond of the Chocolate Guacamole. This recipe combines white chocolate, avocados and strawberries into a decadent dip.
Max Brenner, the owner of the shop and author of the book, has his own philosophy about chocolate and it shows through in his artsy book. His cookbook not only has extraordinary recipes that are to die for delicious, but it is also an engaging read. Let me share with you what he has to say about chocolate, because I think it is a perfect definition.
Chocolate is not just about taste. It is not just about mixing exotic spices or creating delicate mousses. It is absolutely not just an excellent gourmet product.
Chocolate, much more than other food is associated with different aspects of life. It is a symbol of contradictory emotions and sensations.
On one hand, it is the most romantic gift; on the other, a commodity that is traded in the bourse.
It is sold like precious jewelry that is picked carefully from a crystal glass, but also is an addictive snack in every corner kiosk. It is tasted like a fine wine and licked straight from the bowl.
It is sexy. It is nostalgic, and it's a fantasy object for children and grown up children.
Megan shared this recipe with our family and we loved it and I want to pass it along to you.
---
Chocolate Guacamole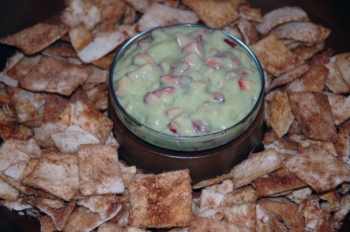 Ingredients
2/3 cup heavy cream
6 ounces white chocolate, chopped*
2 soft avocados, pitted and peeled
1/3 cup granulated sugar
1 tablespoon fresh squeezed lemon juice
5 strawberries diced*
*We made two modifications to Max's recipe: We substituted white chocolate chips for the chopped chocolate. And, instead of using only 5 strawberries, we used 2 cups of finely diced strawberries. The Chocolate Guacamole would probably have tasted even better with a finer grade of white chocolate. We believe the extra strawberries were a great addition!
Directions:
Bring the cream to a simmer and pour over the white chocolate in a heat-proof bowl. Let sit until chocolate begins to melt, about 1 minute, and then stir until smooth. Let cool.
Blend avocados, granulated sugar, and lemon juice. Add to the white chocolate ganache, mixing until smooth.
Gently add the diced strawberries.
---
---
Max Brenner has a recipe for All-in-one crackling coconut Tortilla Chips. We made then and thought they were excellent but decided we liked them even better with store bought cinnamon tortilla ships.
You may feel a little hesitant to try this recipe but I promise you it has been a hit with everyone that has tried it.
If you serve this at a gathering it will be a hit! Move over Willy Wonka!
---


Jeanne Wolfley
Monthly Newsletter Contributer since 2008