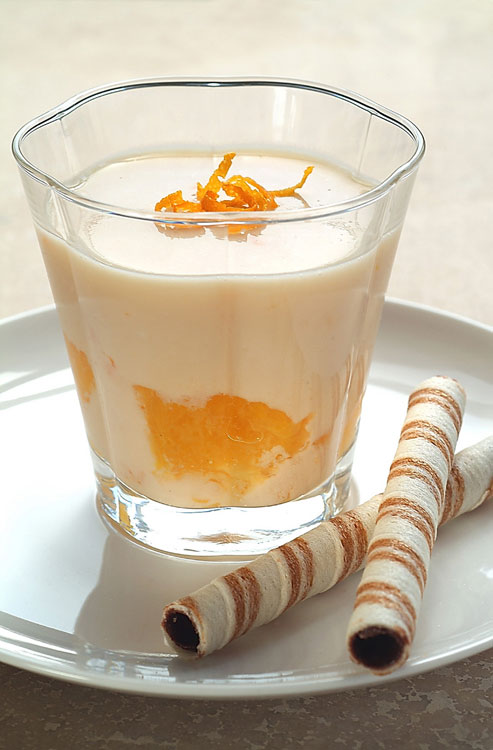 Yogurt hasnít been an American favorite for all that long. I know itís hard to believe because we consume so much of it. In fact, itís almost up there with peanut butter and jelly.
Yogurtís arrival into this country was really quite cleaver. So the story goes, as immigrants were being processed into America, U.S. Customs Officers would check passenger and examine the contents of their baggage. It was not uncommon to find little jars of an uncommon substance, where upon opening the jars and obtaining a good whiff the Customs Officer would throw the pungent smelling stuff into the trash.
Yogurt has been a long time staple in many countries. As people immigrated to the United States, they naturally wanted to have access to yogurt as it was used in many of the dishes from their homeland.
An enterprising woman of Turkish-Armenian descent came up with the perfect solution. Before leaving to come to this great country, she took clean white handkerchiefs and dipped them into a bowl of yogurt and then hung them out to dry. She folded them and secured them with her other linen and had no difficulty going through Customs. She then dipped the hankies into warm milk and restarted the bacterial culture resulting in yogurt.
Yogurt is the Turkish word for milk that has been curdled with a lactic starter, also known as milk acid. Lactic acid is much easier to digest than other milk products. Hence, some people who are allergic to milk can often tolerate yogurt.
The Astounding Health Benefits of Yogurt
Yogurt has always been known for its ability to help sooth or, in some cases, heal ulcers. Recently, yogurt has been hailed as an effective way to replenish the healthy bacterial flora in the digestive tract.
However, not all yogurts are created equal. Some of the yummy yogurts that you buy for your children have hardly any bacterium that is beneficial to your intestinal health. Check the package to see if the product you are purchasing has active cultures and no additives. These cultures are probiotics and help to restore normal, healthy flora into your digestive tract.
Making Your Own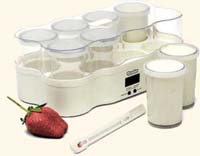 Making your own yogurt is not difficult and is especially easy when you use an
electric yogurt maker
. Home Cookín sells a great yogurt maker at an exceptionally good price.
I really enjoy making and eating yogurt. I use
Agave as a sweetener
which also adds to the yogurtís health benefits.
Agave is the only sweetening agent that I think tastes better than sugar and it is safe for diabetics. Take a little time and read up on its health benefits. Agave can be substituted for sugar in your baking as well.
Let me share with you my favorite yogurt recipe.
Healthy Vanilla Yogurt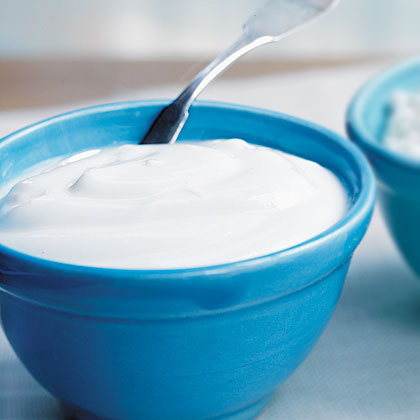 4 Ĺ cups low fat milk
Ĺ cup plus 2 Tbsp nonfat dry milk
2 Tbsp White Mexican Vanilla
3 heaping Tbsp of
Agave sweetener
Ĺ cup plus 2 Tbsp plain yogurt (Check the culture content to make sure it has Lactobacillus, Acidophilus, Streptococcus thermophilus or Bifidobacterium or other healthy cultures).
Heat the milk in a saucepan over medium heat, just until it is forming little bubbles and is getting ready to boil (about 185 degrees F). Remove from heat and stir in the Agave and Vanilla then cool.
When the liquid has cooled to 110 degrees, whisk in the dry milk and yogurt until the ingredients are totally incorporated.
Then follow the instructions that come with your yogurt maker. Yogurt takes 8 to 10 hours to cultivate depending on the recipe.
Remember you can add whatever fruit or flavoring you want to before you serve it up. This yogurt tastes yummy and is so good for you. And, by the way, if you eat a lot of yogurt making your own is definitely cost effective.
Have fun with this and Bon Appetite!
---
* DVO welcomes your kitchen hints and cooking or nutrition questions! Email us and we'll post your hints and Q/A's in upcoming newsletters! *