Springtime Spaghetti Salad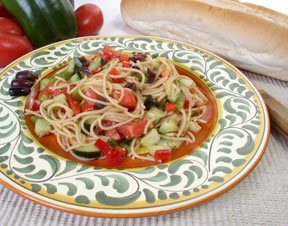 8 oz spaghetti cooked and cut into 2" pieces
1 Tablespoon olive oil
2 cups frozen corn
2 medium fresh diced tomatoes
6 strips of bacon (cooked and crumbled)
2 cups frozen peas or soybeans
½ cup chopped green onion, scallions or red onion
¼ cup of chopped parsley
Dressing
1 cup of olive oil
3 Tablespoons lemon juice
2 tablespoons red wine vinegar
1 teaspoon salt
½ teaspoon pepper
1 Tablespoon sugar
In a large bowl, add cooked, cut spaghetti and toss with olive oil. Add vegetables and bacon. In a small bowl, whisk salad dressing ingredients. Add dressing to the salad. Serve immediately or refrigerate for later.
Chicken Tetrazzini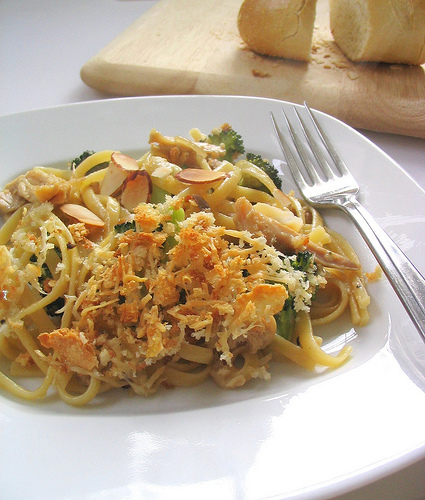 6 Tablespoons of butter
3 cups of chicken broth
5 Tablespoons flour
1 cup whipping cream
1 teaspoon salt
3 cups cooked chicken (grilled)
½ teaspoon pepper
½ cup grated Parmesan cheese
5-6 dashes Tabasco sauce
1 cup mushrooms
¼ cup fresh parsley
1 small jar pimentos (optional)
1 pound cooked and cut spaghetti
In a sauce pan, melt butter and add flour, salt and pepper; stir and slowly add chicken broth. Bring to a boil and cook until thickened (about 2-3 minutes); remove from heat and stir in cream. Mix the chicken, mushrooms, pimentos and spaghetti with half of the sauce. Pour into 9 x 13" baking pan that has been sprayed with cooking oil. Then add the remaining sauce over noodles and sprinkle with parmesan cheese.
Bake at 350 degrees for 30 – 40 minutes until heated through and bubbly.
Fruity Spaghetti Salad
2 eggs
1 cup powdered sugar
½ teaspoon salt
½ cup lemon juice
1 can (20 ounce pineapple tidbits)
1 small can mandarin oranges
3 medium sized tart apples
2 cups small marshmallows
1 8 oz carton of cool whip
1 small carton of vanilla yogurt
¼ cup of chopped walnuts
Maraschino cherries (optional)
1 pound cooked and cut spaghetti
In a sauce pan, combine sugar, eggs, lemon juice and salt; cook and stir over medium heat until mixture thickens. Cool completely.
In a large bowl, add the cooked, cold, cut spaghetti. Stir in apples and toss. Stir in sauce and refrigerate overnight. Fold in cool whip and garnish with nuts and cherries just prior to serving.
Now that's using your noodle!!!
---
* DVO welcomes your kitchen hints and cooking or nutrition questions! Email us and we'll post your hints and Q/A's in upcoming newsletters! *