All-Bran, All Day!
By Bethany Booth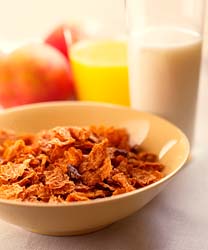 We all understand that eating bran is a great way to add some much-needed fiber into our daily diets but anyone who thought they had to suffer through the same bowl of bran cereal and cold milk each morning is in for a brantastic surprise!

Not only does Kellogg's All-Bran cereal come in a satisfying array of choices, from All-Bran Extra Fiber to All-Bran Yogurt Bites, there are endless recipes to help incorporate that daily serving of fiber-filled bran in tasty ways; and not just for breakfast!

How about switching out that bowl of cold cereal in the morning for some incredible banana pancakes, or shall we say…brancakes.

Cottage Cheese & Banana Pancakes

3 eggs, separated
1 cup (8 oz.) cottage cheese, drained
½ teaspoon salt
1/3 cup all-purpose flour
½ cup original bran cereal
½ cup diced bananas
¼ cup butter

In a small bowl, beat egg whites until stiff but not dry.

In another bowl, beat cottage cheese, egg and egg yolks until nearly smooth. Gradually beat in flour and bran cereal. Stir in diced banana. Fold in egg whites.

Using about ¼ cup batter for each pancake, cook on greased griddle preheated to 375 F, turning once. Serve with butter, bananas and syrup.

The crunch of bran cereal truly compliments this fresh, fruity salad. It is the ideal light and crunchy lunch for a hot summer day.




Bran & Broccoli Mango Salad

4 cups coarsely chopped broccoli
2 ½ cups seeded, chopped mangoes or nectarines
½ cups slivered red onion
½ cup ranch salad dressing
2 tablespoons orange juice
1 teaspoon grated orange peel
1/4 teaspoon hot pepper sauce
1 cup original bran cereal

In a large bowl, toss together broccoli, fruit and onion.
In a small bowl, stir together salad dressing, orange juice, orange peel and pepper sauce.
Drizzle over broccoli mixture. Toss to coat. Cover and refrigerate for 30 minutes to 2 hours.
When ready to serve, gently stir in cereal.


For a healthy, fiber-filled dinner, try this delicious bran-baked fish.

Bran-Baked Perch

1 ¾ cups original bran cereal
½ teaspoon garlic powder
¼ teaspoon basil leaves
½ teaspoon grated lemon peel
2 teaspoons grated parmesan cheese
2 tablespoons margarine or butter, melted
½ cup plain low fat yogurt
1/4 teaspoon salt
1/8 teaspoon pepper
2 tablespoons lemon juice
2 tablespoons ketchup
1 pound frozen or fresh perch fillets, thawed and drained
1 tablespoon chopped parsley

In a food processor or blender, crush cereal into fine crumbs. Add garlic powder, basil, lemon peel, cheese and margarine. Place in shallow pan or plate. Set aside.
In small bowl, combine yogurt, salt, pepper, lemon juice and ketchup.
Coat fish with yogurt mixture then, cereal mixture, covering completely.
Place in a single layer on a shallow baking pan coated with cooking spray or lined with foil.
Bake at 375 F for about 10 minutes. Turn fish. Bake 10 minutes longer or until fish flakes. Serve hot. Garnish with parsley.


Let's not forget dessert (I know I certainly never could), These tempting cookies are classic chocolate chip with a healthy little twist.

Chocolate Chip Bran Cookies

2 1/3 cups all-purpose flour
1 teaspoon baking soda
¼ teaspoon salt
¾ cup butter or margarine, softened
¾ cup sugar
¾ cup packed brown sugar
2 eggs
1 teaspoon vanilla
¼ cup hot water
¾ cup original bran cereal
½ cup chopped walnuts
1 1/2 cups semi-sweet chocolate chips

Sift together flour, soda and salt. Set aside.
In a large bowl, beat together


Enjoy the benefits of bran all day long!





---
* DVO welcomes your kitchen hints and cooking or nutrition questions! Email us and we'll post your hints and Q/A's in upcoming newsletters! *