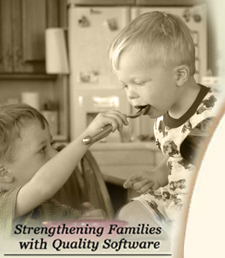 ---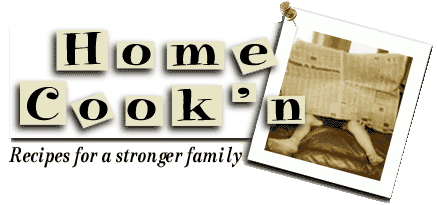 Love Dad a "Brunch"
By Camille Rhoades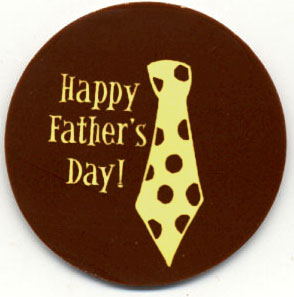 In the effort to juggle our families on Fatherís Day and Motherís day my husband and I came up with what we thought was a compromise a few years ago. From that ďcompromiseĒ came a wonderful tradition.
We started having a brunch with my husbandís family on those days and after the first one it was quickly made a favorite on the family celebration books. Now, regardless of schedule or other family plans, the brunch has become much more popular then the barbeques we always did before.
For us the menu includes lots of fresh fruit, my husbandís famous French toast (famous around this house anyway), some breakfast meat, and anything else Dad may request. For your family you could include any of your favorites. As long as you have good food and family you canít beat this Fatherís Day celebration.
Regardless of what is one the menu make sure that the special Dad knows it is all for him on his special day. Here are a few tips for pulling off a great brunch.
Dress it up! A pretty table cloth and a nice centerpiece on the table can make it look really nice. Dadís like pretty things too so buy some flowers and maybe set some fun pictures around the center of the table. Open the curtain and let the June sun shine in and brighten the party up.

Choose a menu that will be easy to prepare. Below are some of our absolute favorite recipes. You can try them or dream up your own menu. Just be sure that you keep dad in mind. If he life chocolate, make chocolate chip pancakes. If he loves steak, try steak and eggs for breakfast!

Keep it a secret. Try to cook quietly and don't create a mess around the house. When you are ready then bring your dad to the table and surprise him.

Involve the whole family in planning and preparation. Make it fun and exciting for everyone.

Take family photos to commemorate the moment. Take lots of photos of everyone cooking and eating. You could even put them in a little scrapbook afterwards as a Fatherís Day gift.

Set the mood for the meal. For some families that means fine china and for some it means bright plates and tableware. Whatever your family style is, have fun and be comfortable.
Use your own favorite recipes or feel free to try ours. These are all things that my husband and I love to prepare and love to eat even more!

Dustyís Famous French Toast
Makes 6 Slices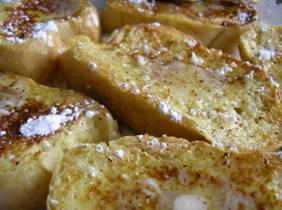 2 eggs
1/2 cup milk
1 tsp. vanilla
3 Tbsp. all purpose flour
1/8 tsp salt
3 tsp. butter
6 slices thick sliced french bread
1 Tbsp. powdered sugar
On the side: Butter and pancake syrup.

Beat the eggs in a large shallow bowl. Add the milk, flour, and salt to the eggs. Beat the mixture with an electric mixer. Be sure all the flour is well combined. Heat a laarge skillet over medium heat. When the surface is hot, add about 1 tsp butter. Dip the bread one slice at a time into the batter, be sure to coat each side well. Drop the bread into the hot pan, as many as will fit comfortably at one time. Cook for 2-3 minutes per side or until surface is golden.

Cut slices diagonally in two, arrange halves on plate, overlapping. Sprinkle with powdered sugar. Serve butter and syrup on the side.


Sausage Fondue
I donít know why we call it this, but we do and it is a family hit! It is what Mom makes every Christmas morning and my husband tries to get me to sneak it in to the menu whenever he can.

8 slices bread (may use extra to make it go further)
2 cups grated cheese
1 Ĺ lbs link sausage, browned
2 ľ cups milk
ľ tsp dry mustard OR 2 squirts of mustard
4 eggs
1 can cream of mushroom soup (can use cream of chicken if needed)
Ĺ cup milk

Break bread into pieces and put them in pan. Cover with cheese and then sausage. Mix 2 ľ cups milk with mustard and eggs. Pour mixture on top. Cover and let set over night in fridge.

In the morning, mix soup and Ĺ cup milk and pour over the top. Bake at 350į for 1 Ĺ hours.

Serves 10


Yogurt Dip for Fresh Fruit
As easy as this is, it is delicious on fruit!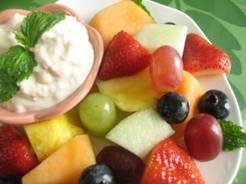 2 cups yogurt (any flavor works, but lemon, vanilla, and strawberry are the most versatile)
2 cups Cool Whip

You can obviously make this in any amount as long as it is about equal parts. Just put both in the bowl and mix it up and them dip your fruit. It is great on apples, bananas, pineapple, strawberries, grapes, cantaloupe. There really isnít a fruit I donít love it on.

*Tip: To keep fruit like apples from browning after cut sprits or rinse them in lemon juice or lemon-lime soda. This will keep it looking and tasting great!

Serves 6


Just enjoy the Fathers in your life. That is the best part of this day Ė alright, the great food doesnít hurt either! This year I hope you will give this a shot and start Dadís day off on a wonderfully delicious foot. I would love to hear stories and see pictures of all your Fatherís Day brunch celebrations too. Hopefully your family will love this tradition as much as mine.




---
* DVO welcomes your kitchen hints and cooking or nutrition questions! Email us and we'll post your hints and Q/A's in upcoming newsletters! *
---
Join the Cook'n Club!An unbeatable value with exclusive benefits for members only.
Enjoy articles like this and many other benefits when you join the Cook'n Club.
---