Ten Simple Steps for Reducing Sugar
By Camille Rhoades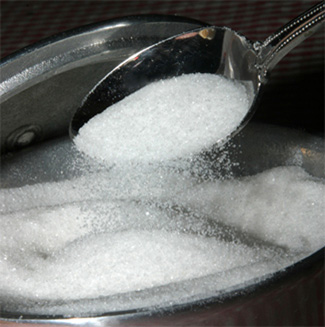 We all love our sweets, that is for sure. My children have taught me that from the very beginning we have some programming that tells us the sweet equals better.

To most of us a life without our sweet pleasures sounds absurd, but how do we keep over doing it and creating health problems? By making wise decisions in our everyday diets we can cut out unnecessary sugars we may not have even known we were eating.

Below are ten simple tips for reducing these sugars in our diet:

1. Don't add it to foods. This sounds pretty basic, but it really is the way to immediately reduce your sugar intake. Food like cereal, coffee, and tea are places we donít think twice about dropping a teaspoon or two of sugar. By cutting that out you can really decrease the amount of sugar you are consuming.

2. Be careful about substitute claims. Brown sugar, turbinado sugar, raw sugar, and many forms of syrups and honeys are all sugars. As far as your body knows it is the same thing. Be smart what you substitute with and be sure it is really a good choice.

3. Cut processed carbohydrates. I know, easier said than done. Take it from a real bread-lover! But most processed carbs -- breads, bagels, most pastas and snacks -- are loaded with flour and other ingredients that convert to sugar in the body almost as fast as pure glucose. Then that sugar gets stored as triglycerides, which is a fancy way of saying fat.

4. Beware of "fat-free" snacks. We have really been led to believe that ďfat-freeĒ means we wonít get fat if we eat it. This is not actually the case. Most foods make up for the reduced fat by adding sugar. If you read the label you will notice that most fat free versions of a food have more carbs than their regular equivalent.

5. Shop for color. The more natural color you have in your cart and, in turn, on your plate, the more likely you are to be getting a good variety of fresh vegetables and low-glycemic fruits such as berries and cherries.

6. Read, Read, Read. Educate yourself and read labels! Before you can really alter your diet you need to know what you are looking for and where to find it. Educate yourself and then keep a watchful eye and then you can make the best choices. After a while you will be a pro and it wonít require as much effort.

7. Beware of artificial sweeteners. Unfortunately, they can increase cravings for sugar and carbohydrates. If you are looking for a substitute look at natural options. As mentioned in other articles in this newsletter, agave nectar is a natural sweetener that is lower on the glycemic index, but offers the natural benefits that artificials lack. Education is the key! Learn what works for you.

8. Do the math. Look at the label where it says "total sugars" and divide the number of grams by four. That's the number of teaspoons of sugar you are ingesting. This may be a bit shocking, but hopefully make you see simple places that you can cut back.

9. Limit fruit. Donít cut it out just cut it back! Fruit has sugar, but it also has fiber and good nutrients. Two to three servings of fruit a day is plenty. Then make sure you are eating enough vegetables to get all the best benefits of your produce department.

10. Cut out fruit juice and soda. Obviously soda is packed with loads of sugar or artificial sweeteners, but juice? Yes! It is all the sugar with none of the fiber and less nutrients than you would get from the whole fruit.



---
* DVO welcomes your kitchen hints and cooking or nutrition questions! Email us and we'll post your hints and Q/A's in upcoming newsletters! *