Start Your Day Right With Protein and Fiber
By Calli Rhoades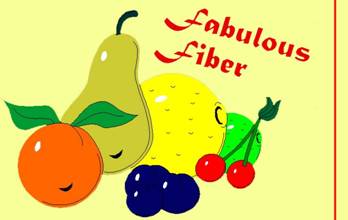 Chances are, you have heard that breakfast is good for you. My mom always used to quiz us with the question, "What is the worst thing you can have for breakfast?" Being the clever kids we were, we would always challenge her with answers like, "a candy bar and a Coke," or "cookies and ice cream." Her answer was always the same, "Nothing is the worst thing you can eat for breakfast!"

As silly as this exchange was, she was absolutely right. Starting your day off with nothing is far worse than starting it off with the "wrong things." When you start your day, your tank is empty. You are hungry from the night without food, your body's nutrient resources are depleted, and your energy is lacking. We cannot expect our bodies to perform well with no fuel, just as we cannot expect our cars to complete the road trip if we don't take the time to fill them up before heading out on the road.

With all that being said, there are obviously some choices that are better than others. By choosing foods that are high in fiber and protein, you can ensure a strong start to your day. Protein and fiber satisfy your hunger and will keep you feeling full until lunch time. Sugary cereals and syrups will digest quickly, leaving you hungry earlier in the day. This leads to snacking and heavier choices for lunch and dinner.

Although all food gives you energy, protein-rich foods keep you going longer because protein slows your body's absorption of carbohydrates. Protein also tempers blood sugar fluctuations, preventing spikes and crashes which can leave you hungry and tired. Fiber stabilizes your blood sugar, keeping your energy level even, and adds bulk to fill you up.

To get a jump start on adding more protein and fiber to your breakfast, here are some ideas of protein and fiber-rich foods. So find a few foods you like on the list, add them into your breakfast routine, and enjoy a breakfast with some staying power!


High Fiber Foods
Fruits



Pears

Figs

Blueberries

Apples (with skin)

Strawberries

Peaches, dried

Orange

Apricots, dried

Raisins



Grains, Cereal, and Pasta



Spaghetti, whole-wheat

Bran flakes

Oatmeal

Bread, rye

Bread, whole-wheat

Bread, mixed-grain

Bread, cracked-wheat


Legumes, Nuts & Seeds



Lentils

Black beans

Lima beans

Baked beans, canned

Almonds

Pistachio nuts

Peanuts

Cashews



Vegetables



Peas

Artichoke, cooked

Brussels sprouts

Turnip greens,

Potato, baked with skin

Corn

Popcorn, air-popped

Tomato paste

Carrot


High Protein Foods
Beef



Hamburger patty

Steak

Most cuts of beef


Chicken



Chicken breast

Chicken thigh

Drumstick

Wing

Chicken meat, cooked



Fish



Most fish filets or steaks

Tuna


Pork



Pork chop

Pork loin or tenderloin

Ham

Ground pork

Bacon

Canadian-style bacon (back bacon)



Eggs & Dairy



Egg, large

Milk, 1 cup

Cottage cheese

Yogurt, 1 cup

Soft cheeses (Mozzarella, Brie, etc.)

Medium cheeses (Cheddar, Swiss)

Hard cheeses (Parmesan)






Nuts & Seeds



Peanut butter

Almonds

Peanuts

Cashews

Pecans

Sunflower seeds

Pumpkin seeds

Flax seeds



Beans (including soy)



Tofu

Soy milk

Most beans (black, pinto, lentils, etc)

Soy beans

Split peas


---
* DVO welcomes your kitchen hints and cooking or nutrition questions! Email us and we'll post your hints and Q/A's in upcoming newsletters! *
---
Join the Cook'n Club!An unbeatable value with exclusive benefits for members only.
Enjoy articles like this and many other benefits when you join the Cook'n Club.
---