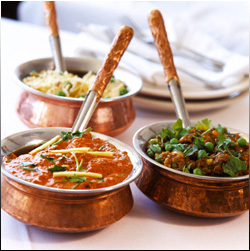 Besides many other benefits of marinating meat, the most basic and obvious benefit is to give it your own special taste. This is true from kitchen to kitchen, but also from country to country and culture to culture as groups use the ingredients most available to them in order to create flavorful foods. We are lucky enough now to live in a time when those traditions can be shared worldwide.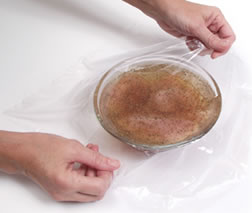 In virtually every part of the world grilling is used in one form or another. And where there is grilling, there is seasoning and marinating. Some groups use grilling as a recreational form of cooking and some use it as a means of survival. Regardless of where you stand on that huge spectrum there are great secrets to be shared with one another. Ingredients and information are now more available than ever and as such, we are able to pass along these traditions, techniques, and recipes.
Let's take a look at some of the world's regions and recipes from those regions. Each region offers new flavors just begging to be tried in your kitchen.
---
The Orient
In the Orient, for instance, ingredients such as soy sauce, ginger, sesame, and lemon-grass are common components to marinades. This seems fitting since these ingredients are common in other food from this region and these things are geographically available.
Oriental Marinade
4 green onions, sliced
1 cup soy sauce
3 tablespoon sesame oil
1 tablespoon sugar
1 tablespoon fresh ginger, chopped
4 cloves garlic, minced
Combine all ingredients and mix well until sugar is dissolved.
---
Indonesia, Singapore, and Malaysia
Here you will find some of the world's most complex marinades and spice mixtures. Tandoori spices and Tikka spices are the seasonings for Indian grilled and barbecued meats. These strong, rich flavors are a wonderful addition to American seasonings. Most common in this region is the use of pastes rather than liquid marinades. Ginger, chilies, galangal, lemongrass, kaffir lime leaves, shrimp paste, and coconut milk are made into fragrant pastes and ground into meats and fish. You are also very likely to find marinades and pastes with dairy bases, such as yogurt, in this region.
Indian Yogurt Marinade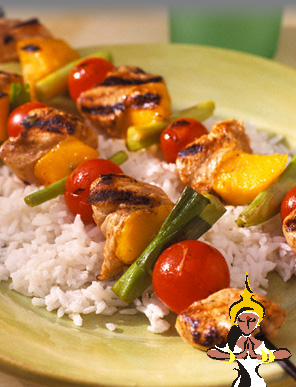 2 cups non-fat yogurt
1 ½ Tb ginger, minced
4 garlic cloves, minced
2 jalapeno chilies or other hot chili; seeded and minced
¼ cup lemon juice
2 bay leaves
2 t paprika
1 ½ t ground cumin
1 ½ t ground coriander
1 t turmeric
½ t ground cinnamon
½ t black pepper
1/8 t ground cardamom
1 t salt, or to taste
1 red food coloring (optional)
Drain the yogurt in a yogurt funnel or a cheesecloth-lined colander for 2 hours. Place the ginger, garlic, and chilies in a bowl and whisk in the yogurt, lemon juice, bay leaves and spices. Add the salt.
Marinate seafood for 2-3 hours, poultry for 6 hours, and meat overnight, turning once or twice. Remove and discard the bay leaves before serving.
Makes enough for 1-2 pounds seafood, poultry, or meat. It is particularly well suited to lamb, chicken, and shrimp. Also makes a great dressing for grain or pasta salads.
---
South America
In sharp contrast to the powerful mixture of strong spices found in Indonesia and India, we have South America. The limited availability of spices has created a wonderfully simple method of tenderizing and seasoning meats. Argentineans, for example, don't even bother with marinades for most meats: the seasonings are limited to sea salt and the perfume of wood smoke. Brazilian churrascos have become very popular in the United States as these simple, but delicious marinades and rubs are prepared on a variety of meats, poultry, and fish.
Traditional Churrasco
2 pounds beef tenderloin
1 Tb kosher salt
1 clove garlic, minced
½ cup hot water
Preheat grill. Cut tenderloin into about six pieces. Reduce heat and place tenderloin pieces on the grill. As the meat starts to cook, dissolve the salt in the water and add the garlic.
Start
basting
the meat with the garlic and salt mixture. Keep basting throughout until the meat is done.
Almost any kind of meat can be used for this recipe. If you wish you can place the pieces on a rotisserie.
---
So whether it's new recipe from a friend's kitchen or something from around the world, get out and play with some delicious new marinades and add some new flavor to your life.