Cooking en Papillote
I know what your thinking - Cooking en Papillote sounds difficult. In fact it is quit the opposite, cooking en papillote simply means to wrap food in parchment paper and cook briefly. This can be turned into a dinner preparation that the whole family can participate in and even customize their own dish.

A serving sized portion of food is placed inside a "bag" of parchment paper and then cooked in its own juices. It's almost like an oven steaming technique. This method produces food that is very moist and surrounded in its own natural sweetness. This cooking method is also fast and healthful. Food cooks in about 15 minutes and requires little or no added fat. It is also a fun dinner to prepare because each bag will poof up and look like a fat pillow during the cooking. Bags can then be placed on a plate and food eaten directly out of the bag. In turn this cooking method provides minimum clean up for a fun and delicious meal. The how to of papillote can be hard to explain. Pictures work much better to explain the method. The Food Network provides the following on their website.



First choose a piece of parchment paper, about 14- x 18-inch. Fold it in half and use scissors to cut it into a heart-like shape.





Lay the parchment open, and brush it lightly with butter or oil.







Position your food in the center of one of the sides of the heart. Fold the other half of the paper over, and starting at the V of the paper, fold about an inch back to make a very tight narrow fold. Continue to make tight, triangular shaped folds along the edge of the paper, about ever 3/4 inch. Run your thumb over each fold, to make sure that the edges are tightly sealed. Continue folding over the edges, around the heart until you come to the tip of the heart. Twist off the ends of the paper to seal if off.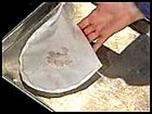 Bake right away or refrigerate until ready to cook.






Chicken Papillote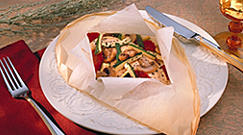 ¾ cup sun-dried tomatoes (re-hydrated according to package directions)
4 boneless, skinless chicken breast halves
1 tsp dried basil or rosemary, crumbled
Salt and pepper
1 medium zucchini, cut in julienne strips
1 cup fresh sliced mushrooms
4 tsp butter

Preheat oven to 400°F.

Cut 4 15 inch pieces of parchment. From each sheet cut a large heart and unfold. Arrange one-fourth of sun-dried tomatoes on one-half of each heart near fold. Place one chicken breast half over tomatoes on each heart. Sprinkle chicken with basil, salt and pepper. Top with remaining vegetables and butter. Fold over other half of each heart to enclose ingredients. Starting at top of each heart, make small overlapping folds to seal edges together. Twist the last fold at the bottom of heart several times to make a tight seal; place parchment packages on a large cookie sheet. Bake 20 to 25 minutes. Place parchment packages on dinner plates. Carefully cut an "X" in top of each package to allow steam to escape.



* DVO welcomes your kitchen hints and cooking or nutrition questions! Email us and we'll post your hints and Q/A's in upcoming newsletters! *