Kitchen Must Haves
While meandering through the grocery store most of us are looking for the same things: TASTY, CONVIENENT, and NUTRIOUS food. Combining these three elements does not have to be time consuming or take a master chef.


Tasty ingredients can include herb and spice blends to use on plain meats and vegetables. Prepared gravies and pre-made dressings can change a simple dish into a one of a kind meal.


Look for convenience. You will not be thought of as a lesser cook if you pick up a bag of pre-cut salad greens or frozen vegetables. In the past years there has been an explosion of convenience products, and home cooks should take advantage of what these products have to offer.


Quick meals can be combined with good nutrition. All you have to do is remember a few simple rules: limit sodium and fats, and in each meal include a variety of ingredients - dairy, protein, whole grains, and fruits/ veggies.

Grains and Pasta


When shopping for grains and pasta try different varieties… like quinoa, has anyone ever heard of quinoa? The same pasta dish over and over can become boring. Try your lasagna recipe with penne pasta or substitute brown rice in your stir fry. You can bring new life to an old recipe. Use as many whole grain cereals and breads as you can. The fiber in these products will help to fill you up and offer many health benefits. Low fat and whole grain tortillas can be used for a quick wrap sandwich on mini pizza

Kitchen Keepers

Whole grain cereals - both hot and cold

A wide variety of pasta

Whole grain sandwich rolls and buns

Rice/couscous mixes

Pita bread and tortillas

Bakery baguettes

Fruits and Veggies


I use to struggle when shopping for fruits and vegetables. I was always afraid that I would buy too much and I would end up with molding squash in my refrigerator, or squishy apples. However I have learned that all I need to do is shop smart and prepare the fruits and veggies that I buy to be used at my convenience. Bagged salads come in many different portion sizes and are easy to use. DOLE Caesar Salad mix is both convenient and tasty. Keep individual serving sizes of pre-cut fruits and veggies in your refrigerator to be used in bagged lunches or as a quick snack. A bowl of fresh fruit on the kitchen table can be inspiring for snacking children. Purchase a variety of canned fruits and veggies that are packed in water or light syrup. Stock your freezer with bags of frozen fruit which can be used in smoothies or as desert toppers. Frozen vegetables are great to add to lunch and dinner, and require little preparation. Also be sure to have a variety of tomato products handy. Tomato sauce and flavored diced tomatoes are a quick addition to pasta, soups, and chili.

Kitchen Keepers

Pre-packaged salads

Canned fruits/veggies

Variety of canned tomatoes

Fresh fruits

Dried fruits- raisins, cranberries, apricots all keep well and make quick snacks

Potatoes

Baby carrots

Broccoli

Seasonal vegetables

100% Fruit juices

Dairy
When shopping for dairy products remember to save calories and fat by choosing fat free milk and reduced fat cheeses and sour cream. Stock up on fruit flavored low-fat yogurts and parfaits. These can be eaten with fresh fruit, granola, or even angel food cake. Most kids love yogurt, and its heath benefits are great. I always keep a carton of cottage cheese handy. It can be topped with slivered almonds, fresh fruit, or even used as a chip/cracker dip. Shredded cheeses can be used as a quick addition to salads, soups, potatoes, pasta, rice and almost any kind of meal.

Kitchen Keepers


Fat free or 1% milk

Eggs

Shredded and block cheese

Yogurt

Cottage cheese

Sour cream and cream cheese

Poultry, Meat, and Fish
Don't get stuck in the chicken rut. Go beyond the safety of chicken breasts and shop for a variety of fish, pork, and beef. Meat prices can vary widely so when you find a sale don't be afraid to stock up. Buy meats, poultry, and fish in quantities and freeze them. For example, you can lightly wrap individual chicken breasts in waxed paper and then put as many as you can in one freezer bag. That way you can take out just the amount you need. I like to go as far as preparing the meat for specific meals - cut round steak into strips then freeze for easy stir fry. Be sure to label all freezer bags and watch out for freezer burn. When you are at the grocery store select lean meats; more fat does not mean more flavor. Canned tuna and salmon packed in water are versatile choices to have in your cupboard. Pick up sliced deli meats like ham and turkey for sandwiches.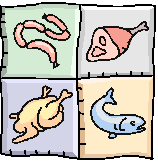 Kitchen Keepers

Lean ground beef

Chicken

Deli meat

Pork (chops and tenderloin)

Frozen fish fillets

Frozen shrimp

Pre-seasoned meats

Pre-cooked beef and chicken



* DVO welcomes your kitchen hints and cooking or nutrition questions! Email us and we'll post your hints and Q/A's in upcoming newsletters! *