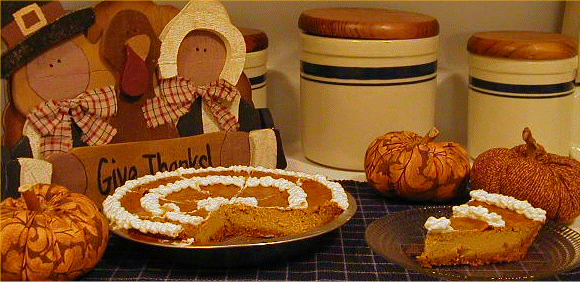 Holiday Pumpkin Desserts
North American Indians used to cook whole pumpkins in fire ashes. They scooped out the hot fleshy meat and drizzled it with maple syrup for supper. Yes, long before European explorers sought to conquer the Incas and Aztecs, American natives were dishing up this harvest-time favorite. Centuries of use definitely give this squash-legend a repertoire of recipe namesakes, the most popular being pumpkin pie. However, the marriage of cream cheese and pumpkin as found in culinary treats like Pumpkin Cheese Roll or Pumpkin Cheesecake is one union I'd never want to annul. And then there's the ease of tantalizing Pumpkin Squares-it's to die for! Perk up your holiday table with a luscious Pumpkin Chiffon Pie, which is refreshingly different. If you haven't served one of these pumpkin delights in a while, do it this year. You may just start a new "centuries-old" tradition! Happy Thanksgiving! --Desi @ DVO

Pumpkin Cheese Roll
Pumpkin Squares
Pumpkin Chiffon Pie
Pumpkin Cheesecake

For additional pumpkin recipes, insert your Cook'n CD and search for "pumpkin."

?? Do you have any fabulous recipes to share with other Cook'n readers? Email your recipes to us. Include any preparation or serving hints, tell us about you and your family, and send us a picture. We'd love to hear from you...and who knows...perhaps you will be the star of the next newsletter!