The Happy Heart Cookbook
by Frayda and Harris Faigel
---
---
NOTE: You must have Cook'n installed to use this download!
---
The Happy Heart Cookbook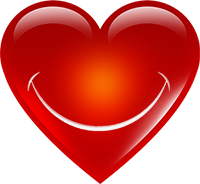 Cholesterol is vital to life, but too much cholesterol can block vital arteries and lead to heart attacks and early death.
Where does the cholesterol that builds up come from and cause trouble? It results from a combination of factors, but one of the most important is eating foods high in cholesterol and fat. Changing what you cook and how you cook it makes a difference that can save your life.
Dedication: The second edition of THE HAPPY HEART COOKBOOK is dedicated to all those who need to control their cholesterol and for whom exercise and pills are not enough.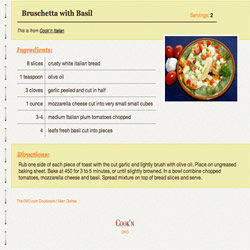 New Cook'n theme included.
Recipes Included:
Additives
Algerian Zucchini Soup
Angel Food Cake
Anti-Oxidants
Apple Cake
Apple Crumb Pudding
Apple Pie
Apricot Chicken
Artichoke Bits
Artichokes in Orange Sauce
Arugula and Tangerine Salad
Avocado Cheese Dip
Baked Bay Scallops
Baked Beans
Baked Eggplant
Baked 'French Fries'
Baked Shrimp
Baked Stuffed Eggplant
Baked Stuffed Potatoes
Baked Stuffed Snapper
Baked Stuffed Tilapia
Balancing Beef, Pork, Fish, and Poultry
Balsamic Beets
Barbecued Swordfish Nicoise
Barbecued Veal
Bechamel
Beef and Barley Soup
Beef and Cabbage Borscht
Beef and Spinach Rice
Beef Bourguignon
Beef Stew
Beef Stroganoff
Beef Teriyaki
Beef with Pea Pods and Oyster Sauce
Beet Borscht
Beet Salad
Biscuits
Blackberry Crisp
Blender Mayonnaise
Blueberry Muffins
Blueberry Pie
Blueberry Pineapple Trifle
Bolognese Sauce
Braised Beef in Red Wine Sauce
Braised Beef Shanks
Braised Beef Short Ribs
Braised Lamb Shanks
Braised Lamb Shanks with White Beans
Braised Lamb with Lemon
Braised Veal Shoulder
Bran Muffins
Breaded Veal Cutlets
Breakfast
Broccoli Casserole
Broiled Halibut
Broiled Scrod
Brunswick Stew
Bulgar Pilaf
Butterflied Leg of Lamb
Cabbage Kiev
Cabbage Slaw
Caponata
Caraway Pork
Carbohydrates
Catelonian Fish Soup
Caviar Dip
Cheese Blintzes
Cheese Noodle Pudding
Cherry Pie
Chevered Celery
Chicken a la Roma
Chicken Almondine
Chicken Budapest
Chicken Cacciatore
Chicken Canape
Chicken Casserole
Chicken Florentine
Chicken in Wine Sauce
Chicken La Scala
Chicken Livers Caruso
Chicken Marengo
Chicken Salad
Chicken Salad
Chicken Soup
Chickpea Salad
Chickpeas, Chard, and Tomatoes
Chili
Chinese Cooking
Chocolate Boiled Frosting
Chocolate Buttermilk Cake
Chocolate Cake
Chocolate Chip Walnut Banana Bread
Chocolate Frosting
Chocolate Rum Wafers
Chocolate Sandies
Cioppino
Citrus Chicken
Clam Dip
Clam Sauce for Pasta
Club Sandwich
Cooking Oils
Corn Salad
Cornbread
Corned Beef Omelette Sandwich
Cornflake Walnut Crust
Cottage Cheese Dip
Crabmeat Pie
Creamed Turnips
Creamy Garlic Dip
Creole Sauce
Crusty Turkey Cutlets
Cucumber Salad
Date Nut Bread
Delicatessen
Diet is a Problem
Dill Cream
Dinner
Dipping Oil for Bread
Drunken Chicken
Duck with Blueberry Sauce
Earlier and Earlier
Eating Out Italian
Eggplant Dip
Eggplant Parmigiana
Eggs
Fiber
Fish Cocktail
Fish Kabobs
Flounder Filets in Wine and Herb Sauce
Flounder Romano
Flounder Toscano
Flourless Banana Cake
Flourless Brownies
Fondue
Free of Fat or Sugar
French Dressing
French Dressing
French Dressing
French Onion Soup
French Toast
Frittata for Two
Frozen Banana Mousse
Fruit Cobbler
Fruit Compote
Frying
Garden Salad
Garlic French Dressing
Garlic Lemon Shrimp
Garlic Sea Scallops
Gazpacho
Glazed Rolled Pork Roast
Glazed Sweet Potatoes
Good Fat Bad Fat
Goulash
Graham Cracker Crust
Gravlax
Gravlax
Green Beans with Pimiento and Black Olives
Grilled Chicken Tenders Athena
Grilled Halibut with Green Olives
Grilled Hanger Steak
Grilled Polenta
Ground Meat
Halibut with Shrimp and Mushrooms
Hawaiian Chicken Jubilee
Health and Food
Heart Attacks: How Early is Early
Herb Dressing
Herbed Chicken
Herring Salad
Home Fried Potatoes
Honey Cake
Honey Glazed Chicken
Honey Glazed Lamb Meatballs
Hummus (Garbanzo Bean Dip)
Hushpuppies
Italian Braised Pork Ribs
Italian Cabbage Soup
Italian Dressing
Kalamata Olives and Tomatoes
Kasha Varnitchkes (Groats and Noodles)
Kidney Bean and Zucchini Salad
Langostinos Bourguignon
Lasagna
Lemon Crisps
Lemon Frosting
Lemon Spinach
Lima Bake
Lima Brisket
Lime-Glazed Swordfish
London Broil
Low Cholesterol and Fads
Low Cholesterol Eating
Lunch
Lunch
Macaroni Tuna
Madrileno Cheese Stuffed Eggplant
Making Changes
Mandarin Orange Cheese Cake
Maple Lemon Carrots
Marinated Cucumbers
Marinated Mushrooms
Marinated Mushrooms
Meatloaf
Meatloaf Sandwich
Meats
Menu
Milk
Minestrone
Mongolian Yoghurt Dip
Monkfish Fish Salad
Moroccan Salad
Mushrooms and Peas
Mushroom-Stuffed Chicken Tenders Madeira
Mussels Dijon
Natural' Foods
New England Fish Chowder
Noodle Kugel
Noodles a la Grecque
Oatmeal Raisin Chocolate Chip Cookies
Omega-
Fatty Acids
Omelet for Two
Omelette Mushroom Sauce
Omelette Tomato Sauce
Onion Rings Valenciana
Onion Soup Dip
Oriental Chicken Wings
Osso Bucco
Other Foods
Other Foods
Oven Barbecued Chicken
Oven Fried Chicken
Oven Fried Tilapia Filet
Oven Roasted Pork Barbecue
Pan Stuffing
Pancakes
Pan-Roasted Salmon
Parsnip and Potato Puree
Party Time
Party Times
Pasta
Pasta with Mussels
Pasta with Roasted Sausage
Pea Soup
Pear Cobbler
Pecan Pie
Pecan Squares
Persian Lamb Stew
Personal Size Pizza
Pesto Genovese
Petit Sirah-Braised Veal Chops
Pickled Shrimp
Pie Crust
Pie Crust
Pineapple Chiffon Pie
Pineapple Cranberry Sorbet
Plum and Apricot Tzimmes
Poached Chicken with Quinoa
Popcorn Cauliflower
Portuguese Shellfish and Pork Stew Ribatejeno
Portuguese Steamed Clams
Potato Crusted Cod
Potato Kugel
Potato Kugel
Potato Pancakes
Potato Salad
Poultry
Pumpkin Pie
Quick Marinara Sauce
Quick Pasta with Tomato "Gravy"
Ratatouille
Remoulade
Rice Cancun
Risotto Milanese
Roast Beef Tenderloin
Roasted Beets
Roasted Cod
Roasted Tomato Pizza
Roasted Tomato Soup
Rolled Fillet of Sole in White Wine Sauce
Rolled Veal
Rosemary Pork Chops
Rosemary Sauce
Salmon Croquettes
Salmon in Mushroom Sauce
Salmon Loaf
Salmon Steaks
Sardine Canape
Scalloped Potatoes
Scallops and Shrimp in White Bean Sauce
Scallops en Brochette
Scrod with Capers and Roasted Tomatoes
Sea Scallops St. Tropez
Sherried Veal
Shish Kabob
Shish Kabob
Shrimp and Chickpeas Nicoise
Sloppy Joe
Smoked Salmon Canape
Snacks
Sole Newburg
Special Hash
Speedee Eateries
Spiced Lamb Riblets
Spiced Turkey Loaf
Spicy Black Bean Dip
Spinach Borscht
Spinach Pie
Spinach Salad
Steak with Faro
Steamed Broccoli
Steamed Brussels Sprouts
Strawberry Mousse
Strawberry Pie
Stuffed Acorn Squash
Stuffed Cabbage
Stuffed Cornish Hens
Stuffed Flank Steak
Stuffed Mushrooms
Stuffed Peppers
Stuffed Romaine
Summer Garden Sandwich
Sweet and Sour Brisket
Sweet and Sour Meatballs
Sweet Onion Pasta Sauce
Sweet Potato Crusted Flounder
Sweet Potato Soup
The Happy Heart Cookbook
Tilapia Provencale
Tilapia with Mushrooms
Toasted Chicken
Tomato Bisque
Tomato Salad
Tomato Shrimp
Tomatoes Rockefeller
Trout in White Wine Sauce
Trout with Orange Relish
Tuna Basque
Tuna Casserole
Tuna Creole
Tuna Pate
Tuna Sauce for Pasta
Tuna Steaks with Horseradish Sauce
Tuna Stuffed Portabella Mushrooms
Tuna Tetrazzini
Tunakraut
Turkey Chili
Turkey Ragu
Turkey Scallopine
Turkey Soup
Tuscan Bread Soup
Vanilla Frosting
Vareniki
Veal Cacciatore
Veal Marsala
Veal Scallopine
Vegetable Soup
Vegetables and Fruits
Vegetarian Garden Tomato Soup
Vegetarian Kale and Bean Soup
Vitamin Overdose
Vitamins
Walnut Sugar Cookies
Westerner
Whipped "Cream"
Whipped Cauliflower
White Bean Dip
White Cake
Wiener Schnitzel
Zucchini Lasagna
---
---
Cook'n Is Several Products in One!