What's for Breakfast
Jana Schofield
---
---
NOTE: You must have Cook'n installed to use this download!
---
What's for Breakfast?
I love breakfast! It has always been my favorite meal. When I was young, my mother always had a hot breakfast prepared for us before we left for school. Probably because of this early habit, I have never skipped "the most important meal of the day." There wasn't much variety back then, but the only thing I got tired of was mushy oatmeal. In fact, it was years after I got married, before I could bring myself to make it. Oatmeal has become one of my favorites now. Not only is it healthy, but there are so many delicious, creative ways to fix it.
I have to admit, it has been a fun project as I have gathered so many yummy, creative (yet easy), breakfast recipes and this book only took me seven years!!!
Over the past 10 years there have been many studies published on the importance of breakfast. Studies have found that breakfast is actually the most important meal of the day. Even an unhealthy breakfast is bet- ter than none. Our bodies are in a state of fast when we get up in the morning. They need to be rehydrated and fueled to give us energy...that is why it is called breakfast...breaking the fast that our bodies have been in from the night before. Breakfast also provides brain power. A study presented at the Learning Connection Summit in October 2012, demonstrated that brain scans of children who eat breakfast show more activity than scans of children who skip breakfast. Studies have also shown that children who eat breakfast are more likely to have better grades, as well as behavior.
Time is probably one of the main reasons many don't have breakfast, but it doesn't have to be time consuming. By planning and preparing ahead, you can have a good, healthy breakfast in no time at all.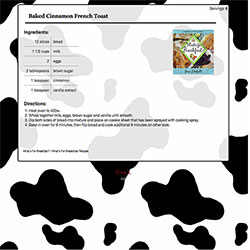 New Cook'n theme included.
---
Recipes Included:
Ambrosia Rice
Apple Cider Syrup
Apple Cinnamon Rolls
Apple Cinnamon Squares
Apple Crisp Pancakes
Apple French Toast
Apple Nut Muffins
Apple Oatmeal Muffins
Apple Pecan Pancakes
Apple Pie Oatmeal
Apple Puff
Apple Raisin Frittata
Apple Walnut Crepes
Apple, Pear and Pomegranate Toss
Apple-Grape Juice
Apple-nana Sauce
Apples 'n' Oats Custard
Applesauce Spice Wheat Muffins
Appleskivers
Bacon and Apple Panini
Bacon and Egg Pockets
Baked Caramel French Toast
Baked Cinnamon French Toast
Baked Egg Muffins
Baked Eggs and Cheese
Baked Fruit Omelet
Baked Oatmeal
Baked Potato Hash Browns
Baked Sausage and Eggs
Banana Chip Pancakes
Banana Nut Bread
Banana Nut Muffins
Banana Nut Pancakes
Banana Nutella Pancakes
Banana Oat Smoothie
Banana Pecan Waffles
Banana Split Waffles
Berry Baked Omelet
Berry Banana Oat Casserole
Berry Cobbler
Berry Cream Syrup
Berry Smoothie
Blackberry Sauce
Blender Wheat Pancakes
Blueberry Baked Oatmeal
Blueberry Banana Muffins
Blueberry Bread Pudding
Blueberry Breakfast Bars
Blueberry Brunch Casserole
Blueberry Cream Cheese Blintz
Blueberry Crepes
Blueberry Syrup
Breakfast Brunch Strata
Breakfast Cereal
Breakfast Chimichangas
Breakfast Crumb Pie
Breakfast Fruit Parfait
Breakfast Hashbrowns
Breakfast Panini
Breakfast Pizza
Breakfast Pockets
Breakfast Quiche
Breakfast Scramble
Breakfast Skillet
Broiled Pineapple Rings
Brown Sugar 'n' Maple Oatmeal
Buttermilk Blender Pancakes
Buttermilk Pancakes
Cantaloupe and Watermelon
Caramel Apple Crepes
Caramel Apple Pancakes
Caramel Apple Puff
Caramel Sauce
Caramel Vanilla Syrup
Cheesy Ham and Potato Strata
Cheesy Scrambled Eggs
Chewy Whole Wheat Cereal
Chocolate Covered Strawberry Pie
Chocolate Orange Scones
Cinnamon Apples
Cinnamon French Toast Sticks
Cinnamon Pop Overs
Cinnamon Roll Biscuits
Cinnamon Roll Cake
Cinnamon Roll Pancakes
Cinnamon Roll Souffle
Cinnamon Rolls
Cinnamon Sugar Muffins
Cinnamon Toast
Citrus Blueberry Muffins
Citrus Splash
Coconut Crunch French Toast
Coconut Syrup
Cordon Bleu Breakfast Strudel
Cornbread
Country Omelet
Country Scrambled Eggs
Cracked Wheat Cereal
Craisin-Rice Pudding
Cran-Apple Baked Oatmeal
Cran-Apple Oatmeal
Cranberry Orange Compote
Cranberry Orange Scones
Creamed Eggs
Creamy Farina (Cream of Wheat)
Creamy Fruit Salad
Creamy Scrambled Eggs and Chives
Creme Brulee Casserole
Creme Vanilla Fruit Bowl
Crispy Potatoes
Dutch Baby
Ebelskivers
Egg and Bacon Souffle
Egg and Cheese Quesadillas
Egg and Ham Souffle
Egg Cheese Muffins
Egg Ham and Cheese Muffins
Egg Pastry Cups
Eggadilla
Eggs and Ham
Eggs Au Gratin
Eggs Benedict
Eggs Florentine
Eggs in a Hole
Eggs Over Easy
Eggs Sunny Side Up
English Muffins
French Banana Crepes
French Butter Syrup
French Toast
French Toast Casserole
French Waffle Cake
Fresh Fruit Smoothie
Fresh Potato Hash Browns
Fresh Strawberry French Toast
Fried Eggs
Fruit and Pecan Rice Bowl
Fruit Compote
Fruit Parfait
Fruit Salsa
Fruit Spread
Fruit Topping
Fruit Tray with Honey Yogurt Dip
Garden Frittata
German Apple Bake
German Chocolate Oatmeal
German Oven Pancakes
German Pancake Muffins
German Pancakes
Glazed Blueberry Scones
Goldenrod Eggs
Grapefruit Bowl
Green Chili Egg Bake
Green Eggs and Ham
Grilled Reuben Sandwich
Ham and Potato Casserole
Ham and Zucchini Frittata
Ham 'n' Cheese Omelet Roll
Hashbrown Quiche
Hawaiian Delight
Holiday French Toast
Hollandaise Sauce
Honey Lemon Fruit
Hot Chocolate
Instant Oatmeal
Kiwi Fruit Medley
Lemon Poppy Seed Bread
Maple Cream Cheese Spread
Maple Granola Pancakes
Maple Nut Granola
Maple Pancake Sausage Sandwiches
Maple Sausage Loaf
Maple Syrup
Marinated Fruit Bowl
Melon Medley
Microwave Oatmeal
Mixed Berries
Mixed Fruit Bowl
Mixed Fruits and Fruit Dressing
Monte Carlo Sandwich
Muffins
Multi Grain Pancakes
Norwegian Pancakes
Nutty Chocolate Chunk Muffins
Oat Bran Muffins
Oatmeal Pancakes
Oatmeal Strawberry Porridge
Omelet Bar
Orange Breakfast Pudding
Orange Glazed Biscuits
Orange Julius
Orange Nut Muffins
Orange Stuffed French Toast
Orange-Pineapple Salad
Pancakes and Cocoa
PBJ Waffles
Peach Cobbler
Peach Sauce
Peach Shake
Peach Smoothie
Peach Topping
Peaches and Cream
Peaches and Cream Crepes
Peaches and Cream Over Night Oatmeal
Peanut Butter Syrup
Pineapple Banana Refresher
Pineapple Blueberry Fruit Salad
Pita Pocket Egg Sandwich
Poached Eggs
Poached Fried Egg
Pop Tarts
Potato Bacon Quiche
Potato Ham and Egg Bake
Potato Pancake
Potatoes and Bacon
Potatoes O'Brien
Pumpkin Pancakes
Pumpkin Pie Cereal
Pumpkin Streusel Muffins
Quiche Lorraine
Quick and Easy Baking Powder Biscuits
Quick Bread French Toast
Raspberry Butter
Raspberry Cheese Blintz
Raspberry Cheesecake Pancakes
Raspberry Cream Muffins
Raspberry Cup
Raspberry Muffins
Raspberry Puree
Raspberry Scones
Raspberry Stuffed French Toast
Razzleberry Pancake Pie
Rice Pudding Custard
Rise and Shine Casserole
Sausage Balls
Sausage Biscuits and Gravy
Sausage Rolls
Scrambled Eggs
Sliced Fresh Peaches
Slow Cooker Oats N Spice
Sour Cream Pancakes
Sour Dough Pancakes
Sourdough Starter
Spicy Egg Burritos
Spinach Frittata
Spinach Omelet
Steak and Egg Wrap
Sticky Buns
Strawberries and Cream
Strawberries and Kiwi
Strawberry Banana Smoothie
Strawberry Chocolate Muffins
Strawberry Crepes
Strawberry Orange Compote
Strawberry Stuffed French Toast
Stuffed French Toast
Sunrise Oatmeal
Sweet Potato Pancakes
Swiss Oats 'n' Fruit
Three Cheese Ham Puff
Tropical Fruit Salad
Tropical Parfait
Tropical Smoothie
Turkey Sausage
Turkey Sausage Wrap
Two Minute Scrambled Eggs
Vanilla Syrup
Veggie Brunch Casserole
Veggie Omelet
Waffles
Whole Grain Waffle/Pancake Mix
Whole Grain Waffles
Whole Wheat Waffles
Zucchini Bread
---
---
Cook'n Is Several Products in One!