500 Fast and Fabulous
Five Star 5 Ingredient Recipes
Gwen McKee and Barbara Moseley
---
---
NOTE: You must have Cook'n installed to use this download!
---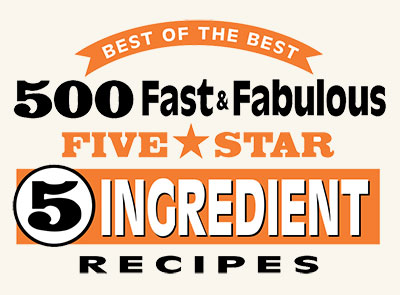 These five-star recipes were specifically selected and perfected by renowned cookbook authors and editors Gwen McKee and Barbara Moseley as the 500 Best of the Best 5-ingredient recipes to be found anywhere.
The outstanding recipes in this book will make you realize how delicious and easy 5-ingredient recipes can be. Big flavor with few ingredients: Ten-Minute Santa Fe Soup, Creamy Sherbet Margarita, Shrimp Scampi Pasta in a Flash and the Best Baby Backs Evah!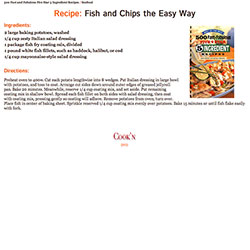 New Cook'n theme included.
---
Recipes Included:
Fresh off the Cob Corn
5-Minute Dip
A Cool Pear Salad
A Dozen Pretty Popovers
A Pan Full of Loaded Nachos
A Small Meatloaf
A Touch of Gold Carrot Salad
A Touch of Orange Pound Cake
A Very Fine Pilaf
After Dinner Creme Liqueur
All Together Light Bacon and Eggs
Almond Chocolate Cream Angel Cake
Almond Handle Cookies
Almond Stardust Meringues
Ambrosia Cake
Anchors Away Soup
Apple Cinnamon Roll Coffee Cake
Apple Sausage Wagon Wheel Pie
Apricot Nectar Cake
Asparagus Salad
Autumn Soup
Baby Spinach Soup
Bacon and Tomato Omelet
Bagel Pepperoni Pizzas
Bailey's Marshmallow Pie
Baked Alaska
Baked Apples with Praline Topping
Baked Butter Beans 'n Tomatoes
Baked Oriental Chicken
Baked Pimento and Cheese
Baked Potato Soup
Banana Candlestick Salad
Banana Popsicles
Bananas in Kahlua Sauce
Barbecue Stuffed Potatoes
Barbecued Chicken Sandwiches
Barbecued Italian Green Beans
Basil Cream Tomatoes
Beer-Battered Catfish
Best Baby Backs Evah!
Best Ever Tamale Bake
Big-On-Vanilla Butter Pound Cake
Bing-O Salad
Black Beans, Chicken, and Rice
Black-Eyed Pea Soup
Blender Orange Creamsicle
Blue Cheese Ball
Blueberry Muffins
Blueberry Parfaits
Blueberry Pound Cake
BPB's (Baking Powder Biscuits)
Breaded Baked Tilapia
Breaded Salmon Dijon
Breakfast Burritos Ole!
Brian's Favorite Sloppy Joes
Brickle Sugar Cookies
Brie with Marmalade
Broccoli Cheese Casserole
Broccoli Puff Casserole
Broccoli Vermicelli
Brown Sugar Pecan Bites
Butter Bean and Ham Soup
Butter Oats Medallions
Butter Pecan Coconut Cake
Buttercream Frosting
Buttery Blender Hollandaise
Buttery Italian Noodles
Buttery Lime Basted Catfish
Buttery Shrimp Scampi
Cabbage and Corned Beef
Cajun Shrimp Boil
Camembert and Pear Salad
Can-tastic Salsa Soup
Caramel-Coated Marshmallows
Champagne Sorbet
Cheddar Baked Potatoes
Cheddar Pecan Biscuits
Cheese 'n Crackers Bean Casserole
Cheesecake Stuffed Strawberry Bites
Cheesy Baked Vidalias
Cheesy Broccoli Soup
Cheesy Chicken Crescents
Cheesy Chicken Nachos
Cheesy Potato Hot Dish
Cheesy Tamale Dip
Cheesy White Sauce for Baked Potatoes
Cheezy Chicken
Cherry Cheese Pastries
Cherry Nut Crisp
Cherry Pie Roll Ups
Chicken and Artichokes
Chicken and Rice Casserole
Chicken and Rice Medley
Chicken Chili Quick
Chicken Croquettes
Chicken in the Ritz
Chicken with Lime Butter
Chili Corn Chip Pie
Chili in Minutes
Chili-Cheese Hotty
Chocolate Banana Sandwich Supreme
Chocolate Chip Caramel Yummies
Chocolate Chip Cinnamon Breakfast Ring
Chocolate Chip Easies
Chocolate Clouds
Chocolate Coconut Pound Cake
Chocolate Crackle Cookies
Chocolate Nut Meringue Cookies
Chocolate Peanut Butter Bars
Chocolate Rice Krispie Treats
Chocolate Waffles on a Stick
Chocolate-Coated Strawberries
Chris Sikorskis's Blueberry Pie
Cinnamon Apple Crumble
Classic Cheese Straws
Classic Chicken Casserole
Classic Creme Brulee
Classic Seven Minute Frosting
Coca-Cola Brisket
Cocoa-Coconut Drops
Coffee Toffee Ice Cream Dessert
Colorful Stir-Fry Chicken
Colorful Summer Saute
Convention Cooking
Cookout Baked Beans
Cool as a Cucumber Soup
Cool Banana Shake
Cool Red Pepper Soup
Corn 'n Green Chiles Casserole
Corned Beef Hash
Corn-On-The-Cob Salad
Country Style Cajun Ribs
Crab Roll-Um Bites
Crais-y Chicken Salad Stack
Cran-Cherry-Sauced Pork Tenderloin
Cream Cheese Danish
Cream Cheese Delights
Cream of Tomato Soup Quickie
Creamy Broccoli Dip
Creamy Candy Bar Pie
Creamy Chocolate Fudge
Creamy Cucumber Salad
Creamy Dalmation Dip
Creamy Delicious Chicken Breasts
Creamy Mustard Dressing
Creamy Oyster Stew
Creamy Peanut Butter Fudge
Creamy Pineapple Cake
Creamy Pineapple Pie
Creamy Sherbet Margaritas
Crisp Catfish and Veggie Strips
Crisp Criss-Cross Cheese Wafers
Crocked Cajun Roast
Crockpot Apple Butter
Crockpot Coca-Cola Ribs
Crunchy Catfish Fillets
Crunchy Cheesy Potatoes
Cuke-&-Cado Salad
Curried Pumpkin Seeds
Curried Ramen and Rice
Cut-Out Butter Cookies
Dainty Mint Chip Kisses
Dainty Pineapple Sandwiches for a Crowd
Dandy Garlic Chicken
Dark and Lovely Blueberry Jam
Deep-Fried Eggplant
Delicious Blueberry Dessert
Delmonico Delicious Sauce
Dinner in a Pumpkin Shell
Disappearing Cream Puffs
Divinity
Dotted Swiss Muffins
Drunken Crockpot Roast
Dunkin' Devil Dip
Easy Breezy Microwave Fudge
Easy Caesar Salad
Easy Cheesy Chicken
Easy Chicken Cordon Bleu
Easy Chicken Tortilla Soup
Easy Corn Pudding
Easy Egg Custard Rolls
Easy Eggs Florentine
Easy French Toast
Easy Halibut Bake
Easy Homemade Kahlua
Easy Italian Eggplant Parmigiana
Easy Pastel Cookies
Easy Sausage Cornbread
Eclair Cake
Enchilada Soup
Equivalents
Extra Special Baked Beans
Fabulous Frosted Angel Cake
Fabulous Rosemary Pork Chops
Farmer's Pie
Fast and Fabulous Crusty Chicken for Two
Fast Steaks au Poivre
Favorite Apricot Side Dish
Fish and Chips the Easy Way
Fish Dressed for Dinner
Fish Fillet Dogs
Five Minute Fish Amandine
Five-Minute Chocolate Trifle
Flavorful Broccoli and Corn Casserole
Flavorful Garlic Mashed Potatoes
Fluffy Fruit Salad
Frangelico Smoothie
Frankfurter Burgers
French Fried Hot Dog
French Onion Dip Potatoes
French Stuffed Flounder
French Vanilla Custard
Fresh Broccoli Salad
Fresh Raspberry Refrigerator Cake
Fresh Veggie Salad
Fried Beer-Battered Chicken Strips
Fried Buttermilk Chicken
Fried Field Corn
Fried Green Tomatoes
Fried Liver and Onions in Gravy
Fried Round Steak
Frosted Fruit Salad
Frosted Grape Salad
Fruit and Nut Cheese Puffs
Fruit Coleslaw
Fun Pretzel Rolos
Funny Cake
Game Day Appetizer
Garlic Bread...With Peanut Butter?
Garlic Cheddar Cheese Drop Biscuits
German Chocolate Caramel Brownies
Get-Started-In-The-Mornin' Power Drink
Gingery Almond Chicken Spread
Glazed Ham Steak
Golden Fried Shrimp
Good As Mama's Chicken Pie
Good Ole Basic Fried Okra
Good Ole Throw Together
Got It Made Pasta Salad
Gotta-Try-It Hominy Casserol
Greek Squash and Onion
Green Chile Baked Breakfast Casserole
Green Onion Bites
Green Tea Punch with a Punch
Grilled Bacon-Wrapped Fish with Herbs
Grilled Cabbage Packets
Grilled Fruit Toss
Grilled Salmon with Cilantro Cream
Grilled Sausage Bites
Grilled Spicy Skewered Shrimp
Grilled Teriyaki Chicken
Grilled Tex-Mex Cheeseburger
Grilled Tilapia Packets
Grilled Turkey Burgers
Gwen's Baked Apples
Ham and Asparagus Roll Ups
Ham and Cheese Fold Over Pizzas
Ham and Pasta Toss
Ham and Red Eye Gravy
Ham and Swiss Mmmmelts
Hazelnut Heaven Bars
Hearty Lentil Soup
Heath Apple Salad
Heavenly Deviled Eggs
Heavenly Pineapple Whipped Cream Cake
Hidden Valley Chicken Strips
Hint of Lemon Pound Cake
Holly's Snowball Surprise
Homemade Cocktail Sauce
Homemade Spiced Crackers
Honey Baked Chicken Cubes
Honey Glazed Chicken Legs
Honey Mustard Chicken
Hot Chile Cups
Hot Soppin' Shrimp
Impressive Chocolate Cheesecake Flan
Island Fish Fillets
Italian Almond Cookies
Italian Chicken
Italian Salmon
Jazzy Jezebel
Jean's Supreme Cake
Just Like Heath Bars
Krispie Cream Pie
Last Minute Ham Casserole
Late-Night Breakfast Supper
Leeky Creamy Potato Soup
Lemon Baked Chicken
Lemon Broiled Honey Dijon Chicken
Lemon Chewies
Lemon Ice Box Pie
Lemonade Chicken
Lemon-y Good Orange Roughy
Lemony Sauce to Liven-Up Vegetables
Lemony Sweet Ham
Light and Creamy Peanut Butter Pie
Light and Lovely Pineapple Apricot Salad
Lite Angelic Chocolate Cake
Lovely Lamb in French Ginger Marinade
Lovely Lime Luscious
Lumpless Aroma Roast Gravy
Luscious Lemon Cake
Mac 'n Cheese Soup
Make Your Own Creamy Caramels
Malted Milk Ball Pie
Marinated Roasted Red Pepper Salad
Marinated Turkey Breast
Marmalade BBQ Chicken
Marshmallow Breakfast Rolls
Marshmallow Cheesecake Pie
Marvelous Mini Crab Cakes
Measurements
Meatball Quesadillas
Mediterranean Broccoli
Melinda's Crab Dip
Melinda's Crockpot Tequila Pork
Mexi Meal in a Pan
Mexi Mix
Mexi-Broccoli Rice Casserole
Mexi-Cajun Guacamole
Mexican Chicken
Mexican Macaroni and Cheese
Mexi-Stuffed Peppers
Mexi-Veggie Bake
Micro Nacho Potatoes
Minestrone Plus Stew
Mini Cheesecakes
Mini Orange Cheesecakes
Mocha Icing
Moist and Delicious Chess Cake
Moist and Delicious Cornbread Muffins
Monkey Bread Breakfast
Moose Tracks
Muenster Chicken Bake
Nacho Dogs
No Bake Chocolate Cream Cheese Fudge
No Bake Strawberry Dessert
Nutty Cocoa Disks
Nutty Fudge Icing
Nutty Sugar Cookies
Oatmeal Apple Crisp
Oh So Good Peanut Butter Cookies
Oh-Zo Delicious Pasta
Old Fashioned Stuffed Bell Peppers
Old Favorite Lemon Jell-O Cake
Old Timey Corn Fritters
Old-Fashioned Vinegar Cookies
Ole Buttermilk Pie
One-Pot Hamburger and Fries
Oreo Chip Muffin Cheesecake
Oreo Fudge Squares
Oreo Ice Cream Dessert
Oriental Chicken Wings
Outstanding Green Bean Casserole
Outstanding Olive Spread
Outstanding Spinach Dip
Oven to Crockpot
Oven-Baked Blender Pancakes
Oven-Baked Chuck Steak
Pan Sizes for Baking
Parmesan Flounder Fillets
Parmesan Onion Dip
Parmesan Tasties
Peachy Brulee
Peachy Chicken
Peachy Cream
Peachy Mustard Pork Chops
Peanut Butter Cornflake Candy
Peanut Butter Ice Cream Balls
Peanut Chicken Tenders
Pecan Sandies
Pecan Wild Rice Supreme
Peppery Jelly Ribs
Peppery Sausage Cheese Balls
Perfect Peach Delight
Perfect Pimento Cheese Spread
Perfectly Cooked Melt-In-Your-Mouth Rib-Eyes
Pimento Cheese Pizza
Pineapple Cheese Ball
Pineapple Cherry Cake
Piza Tizzas
Pizza Muffin Cups
Pizza-licious Casserole
Pork Chops and Gravy
Pork Steak with Noodles
Poseidon Salad
Potato Chip Cookies
Potato Crusted Fish Fillets
Potato Crusted Pork Cutlets
Potato Tacos
Potatoes Done Light
Potatoes in Buttery Cream Sauce
Pralines in Minutes
Pretty and Popular Cucumber Rounds
Pretty French Salad
Pretty Poppy Seed Salad
Prize-Winning Carrot Salad
Proud-To-Take Pound Cake
Pull-A-Part Parmesan Wedges
Quick Alfredo Pizza
Quick and Delicious Lasagna
Quick and Easy Coca-Cola Chicken
Quick and Easy Tartar Sauce
Quick Homemade Mashed Potatoes for Two
Ranch Broiled Fish
Ravioli Rockefeller
Really Creamy Fettuccini
Really Easy Mocha Chocolate Pie
Really 'Rific Rice
Red Bean Rally
Red Cabbage and Apple Braise
Red Haired Angel
Red Top Meatloaf
Red, White, and Broccoli Salad
Refreshing Orange-Pineapple Sherbet
Rich Chocolate Mousse
Roast Beef Hash
Roquefort Grapes
Rotini Shrimp Salad
Rotisserie Grilled Fish
Round Steak and Mushroom Bake
Salmon Steaks Made Easy
Saucy Eggplant Mozzarella
Saucy Squash Dressing
Sausage Stars
Savannah's Salsa
Savory Baked Chicken
Savory Cashew Chicken
Scrumptious Skewered Shrimp
Scrumptious Strawberry Pie
Sea Scamp Shrimp Spread
Seafoam Salad
Sesame Chicken Nuggets
Sesame Sensations
S'ghetti Bake
Shamrock Cookies
Shawn's Margaritas
Shrimp Cocktail Mold
Shrimp Linguine
Shrimp Quesadillas
Shrimp Scampi Pasta in a Flash
Silly Shape Sesame Crackers
Simple Fish Chowder
Simple Salmon Croquettes
Simply Delicious Goulash
Simply Southern Peach Cobbler
Skillet Chicken Prosciutto
Slow Cooked Turkey and Stuffing
Smothered Quail with Pan Gravy
Snappy Red Snapper
Soft Creamy Scrambles
Souper Good Chicken-In-A-Biscuit Crackers
Souper Scrumptious Pork Chops
Sour Cream Apple Cake
Sour Cream Candy
Sour Cream Potatoes
Southern Breakfast Casserole
Southern Pole Beans
Southern Red Rice
Southwestern Chicken Quiche
Speedy Herbed Chicken
Spice Pumpkin Cupcakes
Spicy Fried Drumsticks
Spicy Oven Fried Chicken
Spicy Sausage Jambalaya
Spinach and Strawberry Salad
Spinach Salad with Apple and Toasted Pecans
Spinach-Stuffed Tomatoes
Spruced-Up Blueberry Muffins
Spruced-Up Canned Veggies
Stove-Top Baked Apples
Substitutions
Summertime Lemon Pies
Sunburned Potato Bites
Sunday Best Aroma Roast
Sunday Squash Casserole
Sunflower Lentil Salad
Sunny Squash Soup
Super Delicious Chocolate Icing
Superb Baked Mac and Cheese
Superb Strawberry Shortcake
Surprise Cheeseburgers
Surprise Pecan Pie
Sweet and Sour Swedish Meatballs
Sweet Apple Glazed Pork Roast
Sweet Bottoms
Sweet Cabbage Slaw
Sweet Georgia Brown
Sweet Orange Beets
Sweet Potato Praline Casserole
Sweet Potato Skillet
Sweet Potato Sunset
Sweet Tomato Pudding
Swiss Onion Soup in a Flash
Taco-Flavored Grilled Cheese Sandwiches
Tailgate Macaroni Salad
Tangy Brown Barbecue Sauce
Tangy Frankies
Tangy Tequila Chicken Fettucine
Tastes Great Potatoes
Tasty, Good-For-You Sesame Carrots
Ten-Minute Santa Fe Soup
Tennessee Sawmill Gravy
Teriyaki Steak
Tex Mex Chops
Texicali Dip
Thanksgiving Gobbler Cookies
The Best Pecan Log Roll
The Real Deal Pound Cake
The Ultimate Margarita Pie
The Ultimate Potato Skins
The Very Best Eggnogg
Throw-It-In-The-Pot Gumbo Soup
Time-Tested Rocky Road
Tiny Key Lime Pies
Tiny Tasty Reubens
Toasty Apple Cinnamon Bread
Toasty Dog Wedges
Toffee Bars
Tomato Gravy
Tomato Salmon Stacks
Toucan Corn Chowder
Touch of Bourbon Butter Cookies
Touch of Green Waldorf Salad
Trees and Butterflies
Tri-Colored Pasta Salad
Tropical Cream Pie
Truly Southern Cornbread
Tuna Alfredo
Turkey Tortillas
Two Pizzas in a Skillet
United Nations Salad Dressing
Vanilla Chiffon Pudding
Vegetable Beef V-Soup
Vegetable Chili Made Easy
Vegetable Pasta Toss
Verdi Tortellini
Whipped Shortbread
White Barbecue Sauce
White Chocolate Frosting
White Chocolate Pudding Cheesecake
Worcesterbutter Sauce
Zesty Baked Halibut
---
---
Cook'n Is Several Products in One!