FREE - Holiday Cookbook
by Current
---
---
NOTE: You must have Cook'n installed to use this download!
---
235 holiday recipes
Analyze the nutritional value of recipes
Quickly Search recipes in seconds
Create weekly menus & generate shopping lists
Satisfy dietary needs easily
New Cook'n Theme included.
Save time and money by using Cook'n
The Holiday Cookbook
Over 20 years ago, Miriam Loo founded the Current Test Kitchen and developed hundreds of delicious dishes. In the tradition of good taste and healthy living, she offers some of her personally tested favorites in this special Cook'n cookbook.
Memories are made every Thanksgiving and Christmas around the dinner table. Current's Holiday Cookbook will help you relive those memories and create new ones with its scores of recipe for every part of a holiday dinner, from the sides and salads to the main dishes and desserts.
These home-tested recipes will call a crowd every time you break them out!
All the specialties of Current's Kitchen are now just a click away! Get Cook'n and get cookin' today!
New Holiday Theme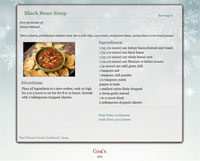 ---
Recipe Included with this Cookbook:
Almond Shortbreads
Apple Coleslaw
Apple Stuffed Acorn Squash
Apricot Chutney
Apricot Refrigerator Cake
Artichokes Vinaigrette
Assembling The Cottage
Assembling The Decoration
Assembling The Sleigh And Reindeer
Baked Plum Pudding With Sauce
Basic Uncooked Vanilla Fondant
Bavarian Mint Coffee Mix
Bean Soup Mix
Borscht Salad
Braised Cucumber With Dilled Sour Cream
Brandied Fruit
Bread Wreath or Birdseed Wreath
Broccoli Spears With Lemon Butter
Broccoli With Lemon Sauce
Brown Sugar Peanut Brittle
Bubble Bread
Building The Workshop
Butter Crescents
Butterscotch Fudge
Calypso Coffee Mix
Candied Citrus Peel
Candied Cranberries
Candied Sweet Potatoes Or Yams
Candies And Sweets For Decorating
Caramel Popcorn And Peanuts
Caramel-Nut Apple Pie
Carrots And Mushrooms
Celery Supreme
Cheese and Herb Bread Mix
Cheese Tartlets
Cherry Oatmeal Cookies
Chewy Caramels
Chicken In The Snow
Chicken Or Turkey Hash
Chocolate Cherry Cordial Muffins
Chocolate Chip Coating
Chocolate Cinnamon Cutouts
Chocolate Cream Cups
Chocolate Cream Fudge
Chocolate Snow Top Cookies
Chocolate Torte
Christmas Stollen
Coconut Creme
Coconut-Pumpkin Loaf
Coffee Cream Fudge
Coffee Torte
Cold Fish Mousse With Salsa Verde
Corn, Cheese And Chili Pie
Cornish Hens With Tarragon Stuffing
Crab And Sweet Corn Soup
Crab Quiche
Cranberry Pork Chops
Cranberry Pudding
Cranberry Upside Down Cake With Creme Chantilly
Cranberry-Orange-Nut Bread
Cream And Mayonnaise Dressing
Cream Of Mushroom Soup
Creamy Mocha Fudge
Creating Santa's Sleigh And Reindeer
Creating The Peppermint Workshop
Creating The Rainbow Workshop
Crunchy Munchies
Danish Aebelskiver
Date Kisses
Date Swirls
Date-Nut Bread
Date-Nut Pudding
Decorating Grandma's House
Decorating The Church
Decorating The Cottage
Decorating The Roof
Decorating The Sleigh And Reindeer
Decorating With Icing
Deluxe Blue Cheese Dressing
Dinner Muffins
Dressing For Turkey (used with Roast Turkey)
Easy Christmas Tree Bread
Easy Hollandaise Sauce
Easy Rumtopf
Escargots In Butter Sauce
Fast Fudge
Favorite Holiday Bread
Festive Caramel Popcorn And Nuts
Festive Fruit and Nuts
Flank Steak Strognoff
Florentine Lace Cookies
French Breakfast Puffs
Frozen French Mints
Fruit-Nut Confections
Fruited Florentine Pot Roast
Fruity Lollipops
Ginger Cookies
Ginger-Pumpkin Dessert
Gingerbread
Gingerbread Boy Cake Pan
Glazed Almond Cake
Golden Muffins
Golden Ruffle Cookies
Grand Opera Fudge
Grasshopper Dessert Souffle
Great Big Pancake
Green Bean Casserole
Gus Gingham's Hearts
Ham-Spinach Roll With Tarragon-Wine Sauce
Hard Sauce (used with Baked Plum Pudding)
Heavenly Hash
Herb Bouquets
Herb Casserole Bread
Herbed Vinegar
Holiday Almond Cakes
Holiday Chutney
Holiday Delite
Holiday Fruit Cookies
Holiday Wreaths And Trees
Holly Green Salad
Homemade Pork Sausage
Homespun Lunch Box
Honey Baked Ham
Honey Mustard Dressing
Honeyed Chocolate Sauce
Hot Buttered Rum Batter
Hot Cranberry Punch
Hot Fish Mousse With Sauce Duglere
Hot Fudge Sauce
Hot Spiced Apple juice
Hot Tuna Buns
How To Wrap And Decorate
Icing Glaze
Italian Stuffed Mushrooms
Kugelhopf
Land And Sea On A Bun
Layered Fudgies
Lemon Ice With Raspberry Puree
Lemon Sauce
Lemon Sauce For Steamed Plum Pudding
Light and Tasty Cheese Spread
Little Wreaths (Berlinerkranser)
Making Chocolate Curls
Making Chocolate Leaves
Making Gingerbread Shapes
Making Graham Cracker Houses
Making Snow-Topped Trees
Making Tray Scenes
Maple Honey Popcorn
Maple-Nut Sea Foam
Maple-Walnut Topping
Marinated Vegetable Salad
Mayonnaise Muffins
Melt-Away Snowballs
Meringue Bars
Mexican Candy
Mexican Snack Mix
Mint Chocolate Kisses
Mint Frosted Nuts
Mixed Herb Vinegar
Mocha-Brandy Nut Balls
Molded Avocado-Grapefruit Salad
Molded Cranberry Salad
Molded Pineapple Cheese
Mushroom And Sausage Pie
Mushroom Roll With Lemon Sauce
Mushroom Tart
Mustard Sauce
No Fuss Peanut Butter Fudge
North Pole Granola
Nut Brittle
Oats 'n' Straw
Old-Fashioned Tomato Soup
Onion Stuffed Mushrooms
Orange Blossom Bowl
Orange Cake
Orin's Divinity
Other Flavors (Fudge)
Party Goulash
Peanut Brittle Bowl
Peanut Caramel Rolls
Pecan Tarts
Peppermint Schnapps
Pet Treats
Picnic Assortment
Pineapple-Nut Cookies
Plum Pudding Cake Mix
Pork Chops Veracruz
Pralines
Preparing The Walls And Roof
Quick Mincemeat Turnovers
Rainbow Bombe
Raisin Bread
Raspberry Port Jelly
Red And Green Aspic Mold
Red Onion And Sliced Orange Salad
Refrigerator Biscuits
Reindeer Nibbles
Roast Turkey
Royal Iced Nuts
Rum Cream
Salsa Verde (used with Cold Fish Mousse)
Sangria Citrus Jelly
Sauce Duglere (used with Hot FishMousse)
Savory Cheese Stuffed Mushrooms
Scandinavian Fruit Soup
Sesame Wreath
Shrimp In Port Cream
Sloppy Joes
Smoky Barbecue Sauce
Snowy Almond Cookies
Spice Bags
Spiced Tea Mix
Spicy Butter Sauce
Spinach And Celery Mix
Steamed Holiday Pudding
Steamed Plum Pudding
Striped Honey Taffy
Sugarless Fruit Spreads
Swedish Coffee Ring
Sweet Treats
Tart Dressing (used with Winter Fruit Salad)
Tea Cookies In Two Parts
Three Filling Circle Sandwich
Toasting Coconut
Tomato Aspic
Tomato Orange Salsa
Tuna Pate
Turkey Or Chicken Veloute
What To Save
White Angel Cake With Almond Topping
Winter Fruit Salad
Yam And Apple Casserole
Your Nativity Bake Set
Zucchini Flan
---
I love your Cook'n software. I am already using it and everyone is enjoying the meals. I am 100% satisfied and looking forward to your new cookbook titles.
Deirdre Crevier
Cook'n Is Several Products in One!