Cast Iron 2


Covered Wagon Cookin'

Appetizers
by David Herzog
---

List Price:
$15.00
Your Price:
$11.00
You Save: 20%
---
NOTE: You must have Cook'n installed to use this download!
---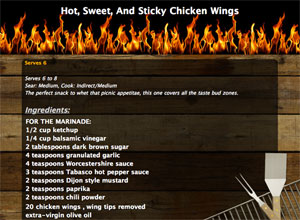 Dave Herzog has written another book we titled Cast Iron2 "Covered Wagon" Cookin' Appetizers It is stuffed full of appetizer recipes you can prepare and cook while camping, at home, or where ever you feel like cooking in your Dutch oven. With over 180 appetizer recipes you'll be able to prepare tasty and delightful appetizers to serve your guests, friends, and family before the big meal arrives.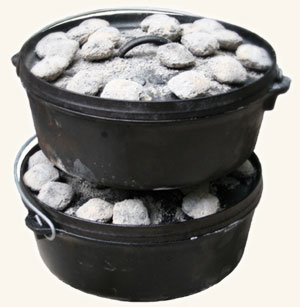 Some recipes include:
Stuffed grape leaves
Jalapeno Poppers
Ceveche (8 different types)
Pate's and Spreads (over 12)
and much, much more!
Introduction from the Author
In between writing a book on Dutch oven cooking and attending and participating in DOGs (Dutch Oven Gatherings) which are once a month or more often, I have noticed that at multi-day events there are small meals focused around appetizers, but only a few dishes presented. After asking several Dutch oven folks why they think there are not many appetizer type dishes, most have said, "There are not many recipes or ideas for simple appetizers in cook books". That being said gave me the idea of putting together a Dutch Oven Appetizer or "Bit a Bite" book so cooks have recipes and ideas for small snacks before a DOG potluck or other Dutch oven events.
We all love appetizers at a party and often there is one or two cooks at a DOG who make a little something to share with everyone before the meal. An appetizer while at campground makes the atmosphere of the meal more fun and in some cases more formal, but in that fun way we all love camping. Why not have an appetizer course before a meal when you're camping with friends? We all make a main course and occasionally toss in a salad and dessert. An appetizer course at the camp ground keeps the little ones from pulling on waists or other clothing while looking for a little to eat before the meal. And for some of us grownups, it makes the cooking and meal preparation a little easier to have a nibble to enjoy.
With my love of cooking and especially in my loved black pots, I have found and tried many recipes and assembled them in one book for you to enjoy and share with your friends. Remember cooking in a camp Dutch oven does not have to be only done outdoors. Most Camp Dutch Ovens can be easily used in a home oven and also on top of the gas stove with a lid trivet over the burner to help stabilize the pot. Flat (or legless) Dutch ovens can not only be used indoors but used outdoors as well by using a lid trivet for legs and a length of chain for the lip of the lid to hold charcoal on the lid for baking purposes. I hope you enjoy this book as much as I enjoyed writing it!

---
Recipe Included with this Cookbook:
_Baking Temperature Chart for Camp Dutch Ovens
_Beef Roast Cooking Temperatures
_Cast Iron Basics
_Cooking Measurements
_Introduction
_Measurement Conversion Chart
Aebleskivers
Appetizer Sized Beef Quesadillas
Appetizer Sized Cheese Quesadillas
Appetizer Sized Chicken Quesadillas
Appetizer Sized Pork Carnitas Quesadillas
Apple Fritters For A Crowd
Bacon And Bleu Cheese Stuffed Dates
Bacon Stuffed Dutch Oven Mushrooms
Bacon Wrapped Bread Sticks
Bacon Wrapped Chestnuts
Bacon Wrapped Scallops
Bacon Wrapped Shrimp Skewers
Baked Brie In Puffed Pastry
Baked Cheese Olives
Bearnaise Sauce
Bison Meatballs with Sage Onion Gravy, modern
Black Bean and Mango Salad
Block Party Bean Cassarole
Buttermilk Ranch Style Dressing
Caesar Chicken Pasta Salad
California Rolls - American-Style Sushi Rolls
Carole's Potato Cakes
Ceviche Sabroso
Chex Hot & Spicy Party Mix
Chex Party Mix #1
Chex Party Mix #2
Chicken Stuffed Puffs
Chipotle Pepper Mayonnaise
Corn Salsa
Cowboy Caviar
Crab Rangoon
Crab Stuffed Dutch Oven Mushrooms
Creamy Mushroom Soup
Creme Fraiche
Dave's Crab And Avocado Ceviche
Dave's Devilish Eggs
Dave's Guacamole
Dave's Jalapeno Poppers
Dave's Steamed Pork Buns (Chai Bau)
Debbie's Pot Stickers
Deep-Fried Cheese Curds
Dutch Oven Roasted Garlic
Easy Smoked Salmon Pate
Easy Tuna Ceviche
Fresh Mini Flour Tortillas
Fresh Onion Dip
Garlic French Fries
Grandmother's Aebleskivers
Gyro Meat Balls And Tzatziki Sauce
Ham Pate Spread
Hawaiian Spam Musubi
Hellman's Style Mayonnaise
Hollandaise Sauce
Home-Style Ranch Dressing
Home-Style Ranch Dressing Mix
Honey and Blue Cheese Fondue
Hot Artichoke Cheese Dip
Hot German Potato Salad
Hot Spinach Artichoke Cheese Dip
Italian Red Lentil Soup
Jalapeno Pepper Jelly
Jalapeno Poppers
KFC's Famous Cole Slaw
Kickin' Tuna Salad
Lamb Stuffed Grape Leaves
Liver And Apple Spread
Meat Stuffed Grape Leaves
Mexican Style Ceviche
Mini BLT'S
Mini Corn Tortillas
Mini Stuffed Tomatoes
Mini Weenies in a BBQ Bath
No-Fry Buffalo Style Wangs
Parmesan Cheese Butter
Pheasant Stuffed Jalapeno Poppers
Pico de Gallo
Pretzels
Quick French Onion Soup
Roasted Red Pepper Dip
Salmon Mouse
Scotch Bonnet Marmalade
Scottish Eggs
Simple And Easy Liver Pate
Sizzler's Cheezy Buttered Bread
Smoked Almonds
Soft Pretzels
Southwest Salmon Cakes With Creamy Chipotle Sauce
Spicy Cheese Fondue
Spicy Mud Bug (Crawfish) Cakes
Spicy Orange Dipping Sauce for Shrimp
Spinach Dip
Sue's Blender Salsa
Sugar-free Cranberry Sauce
Swedish Meatballs
Sweet & Sour Pineapple Meatballs
Sweet & Sour Sauce
Taco Seasoned Chex Mix
Tarragon Tuna Pasta Salad
Tempura Batter
Tempura Fry
Teriyaki Chicken Skewers
Teriyaki Chicken Wings
Traditional Rice Stuffed Grape Leaves
Tropical Fruit Salsa
Turkeyhunter's Fry Bread
Ultimate Baked Brie
Wellington's Wieners
Winter Pears
Zucchini Fritters
---
I recently purchased "Secrets From the White House Kitchens" from DVO Cook'n, and wanted to tell you how much I've enjoyed it so far. I've read some of it, and plan to try a couple of the recipes soon. The historic anecdotes and quotations at the beginning of each chapter are a pleasure to read.
Respectfully,
Sandy
-->
Cook'n Is Several Products in One!