7 Color Cuisine
by Marcia Zimmerman
---
List Price: $16.95
Your Price:
$13.56
You Save: 20%
---
NOTE: You must have Cook'n installed to use this download!
---
Over 140 Recipes and food tips
Simple 4-Step System to Shop for Top-Quality Ingredients
Lots of Practical Tips
Partners Dietary Nutrition with Good Tastes
New Cook'n Theme included.
Save time and money by using Cook'n
7 Color Cuisine
Making Healthy, Colorful Foods A Lifestyle for Nutrition & Good Eating
Looking to improve your diet but don't know where to begin? Let the 7-Color Cuisine show you the way. Following this book's simple four-step system--which helps you plan menus, shop for top-quality ingredients, and prepare and savor beautiful, healthful meals--is like having a personal nutrition coach in your kitchen. It's as easy as counting colors. You'll discover how vibrant rainbow hues and warm earthy tones reveal the phytonutrient pedigrees of certain foods. You'll also learn of the valuable healing zoonutrients found in creamy white dairy foods, fish, and poultry.
An easy-to-follow, flexible color-based plan guides you to food selections that taste great and help you look and feel your best. It's the perfect antidote for anyone who views food as the enemy or has never experienced dietary satisfaction. Along with extensive menu plans, shopping guidelines, and lots of practical tips, there are dozens of recipes for taste-tempting dishes that are as nutritionally rich as they are satisfying. Beautiful full-color photos and an extensive product resource list round out this practical guide.
According to the author, "What you eat becomes part of you. Food can satisfy your deepest psychological, neurological, and social being--provided you choose a variety of high-quality and colorful foods and follow the guidelines presented in this book." 7-Color Cuisine, which partners dietary nutrition with good taste, is the perfect addition to any kitchen.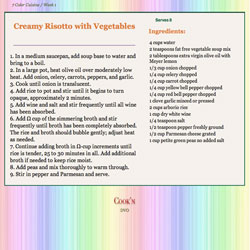 New Cook'n theme included.
---
About the Author

MARCIA ZIMMERMAN, Med. Ed. C.N. is an internationally known author, educator, and consultant to some of the country's leading nutrition and supplement companies. A highly sought-after speaker, Ms. Zimmerman is a recognized expert on the use of dietary modification and supplements to address various health problems. Her 7-Color Cuisine System, which she developed over ten years, has taught countless people how to alleviate physical problems through simple lifestyle changes. Her books, which have been translated into seven languages, include the A.D.D. Nutrition Solution, Eat Your Colors, The Anti-Aging Solution, and 7-Syndrome Healing. Visit Marcia Zimmerman online at www.marciazimmerman.com.
What others are saying...
"Mothers once taught their children to eat a lot of color. Marcia Zimmerman reminds us that the vibrant colors of foods are still needed for vibrant health. Food remains our best medicine."
-Jack Challem
Author of Feed Your Genes Right and The Inflammation Syndrome
"In 7-Color Cuisine Marcia Zimmerman shows that optimal nutrition is as easy as counting your colors. Her color-coded plan guides readers to optimum food choices and teaches how the color of the foods you choose affects wellness. Complete with shopping guides, menu plans, recipes, and useful tips to make your meals delicious and nourishing for both mind and body, this book un- covers the healing nutrients in food and shows how they may be our greatest preventive tool against disease."
-Kristy Erickson
Taste for Life magazine
"7-Color Cuisine is the exception to all books that are available on the selection and preparation of food. With time in short supply for today's working men and women, this book should be re- quired in every home kitchen. I have loaned my copy to several people and wondered if it was going to be returned to me. I want to introduce it as soon as possible to the food and nutrition teach- ers at the local high school. It is the type of book the students will enjoy and find very easy to follow."
-Rita Holgers-Awana, PhD
Recipes and Articles Included:
7 Color Cuisine and the New Food Guide
Pyramid
7 Color Cuisine: Healing the Mind and Body
7 Color Minestrone
7 Color Wheel
A Doctor's Conundrum
Acid-Alkaline Balance
Acknowledgments
Apple and Arugula Salad
Attitudes about Eating
Banana Chocolate Nut Shake
Banana Power Shake
Beef and Cauliflower Stroganoff
Belgian Endive, Kiwi, and Orange Salad
Beverage with Your Meal?
Blackberry Pear Salad with Lime Ginger
Dressing
Blanched Edamame with Slivered Almonds
Blessing Your Food and Companions
Blue, Purple, and Black Health Benefits
Blueberry Oat Muffins
Braised Winter Vegetables
Brazilian Mocha Shake
Breakfast and Lunch Modules
Brown and Wild Rice with Mushrooms
Butternut Squash and Kale Saute
Chicken And Turkey Sausage with Sund
Dried Tomatoes, Purple Cabbage, Red Apples
Chicken Basmati Rice with Garden
Vegetables and Herbs
Cold Pantry
Cold Pantry Shopping List
Condiments and Dipping Sauces
Cooking Essentials
Country Tuna Pie
Couscous and Lentils
Creamy Risotto with Vegetables
Creamy White Health Benefits
Creating Ambience
Daily Menu Modules
Days at a Glance
Days at a Glance
Days at a Glance
Days at a Glance
Dedication
Dietary Supplements
Dining Out
Dry Pantry
Dry Pantry Shopping List
Eating Seven Colors Every Day
Enjoying the Taste of Food
Enjoying Your Meal
Feast First with Your Eyes
Finding Your Motivation
Freezer
Fruit Cup with Yogurt
Fruit Plate for Two
Garlic Mashed Potatoes
Ginger Orange Soup
Golden Chicken Soup
Golden Couscous with Parsley and Green Peas
Green Beans with Almonds and Roasted Red
Bell Peppers
Green Health Benefits
Grilled Rib Eye Stead with Cherry Salsa
Grilled Swordfish with Chipotle Salsa
Herbs and Spices
Hungarian Red Soup
Introduction
Learning from Nature
Leek and Potato Soup
Lime and Ginger Seared Ahi Tuna
Linguini with Vegetable Saute
Macadamia Nut Encrusted Cod
Macadamia Nut Oil Nutrition Facts
Main Course Magic
Main Course Plan
Making your Shopping Lists
Measurement Conversions
Mediterranean Meat Loaf
Menu Plans, Shopping, Lists, and Recipes
Mindfulness: Improving the Assimilation of
Nutrients
Nonorganic Kidney Beans
Orange Glazed Carrots and Parsnips
Orange Health Benefits
Organic Lentils
Pan Seared Wild Pacific Salmon with Tarragon
Aioli
Pantry Makeover
Pecan Crusted Chicken with Mustard Dipping
Sauce
Preface
Purple Borscht Soup with Beef
Purple Passion Shake
Rainbow Chicken Salad
Rainbow Fruit and Nut Salad with
Pomegranate Blueberry Vinaigrette
Raspberry Parfait Shake
Raw Versus Cooked Foods
Red Health Benefits
Red Lentils with Canadian Bacon
Resources
Rolled Oats Nutrition Facts
Sample Shopping List (weekly amounts per
person)
Savory Beef Stew
Scallops with French Sorrel Sauce
Sea Bass with Macadamia Nut Pesto Sauce
Shopping List
Shopping List
Shopping Lists
Shopping Lists
Shrimp with Sun Dried Tomato Sauce
Snacks
Spices and Herbs Shopping List
Split Pea Soup with Ham
Spring Asparagus and Fennel Saute
Spring Halibut Saute with Vegetables and
Linguini
Steamed Asparagus with Tarragon and Lemon
Steamed Brown Rice
Steamed Brown Rice
Steamed Salmon with Tarragon and Lemon
Stir Fried Vegetables with Toasted Cashews
Stir Fry Vegetable Medley
Strawberry Yogurt Breakfast Shake
Summer Vegetable Grill
Super Salad Savvy
Super Salad Savvy Suggestions
Super Salad: Classic Caesar Salad
Super Scrambled Eggs
Tan Health Benefits
Tequila Sole with Avocado Lime Cream
The Classic Entree Plan
The Familiar Planner Format: Week and Day
at a Glance
The Importance of Presentation
The Slow Food Movement
The Tao of Nutrition
Using Condiments and Seasoning
Vanilla Peach Shake
Vegetable Omelet
Wet or Liquid Pantry
Wet Pantry Shopping List
When to Quit Eating
Whole Wheat Toast with Fruit Spread
Why Organic Foods are Better
Wilted Spinach and Orange Salad
Winter White Soup
Yellow Curry Soup
Yellow Health Benefits
Zesty Green Soup
---
---
Cook'n Is Several Products in One!