The
World
Goes
Raw
Cookbook
by Lisa Mann
---

List Price: $12.24
Your Price:
$9.79
You Save: 20%
---
NOTE: You must have Cook'n installed to use this download!
---
Over 100 easy-to-prepare recipes
Detailed glossary of ingredients
Easy-to-follow, step-by-step recipe instructions
Helpful preparation and presentation techniques
Guidelines for successful (un)cooking
Sample international menus
Instructions for growing an indoor garden
New Cook'n Theme included
Save time and money by using Cook'n
The
World
Goes
Raw
Cookbook
An International Collection Of Raw Vegetarian Recipes
People everywhere know that meals prepared without heat can taste great and improve their overall health. Yet many raw cuisine cookbooks seem to lack culinary adventure and exotic tastes, all offering different varieties of the same meals-until now. In The World Goes Raw Cookbook, nutritionist and experienced raw food chef Lisa Mann provides a fresh approach to (un)cooking with recipes that have an international twist.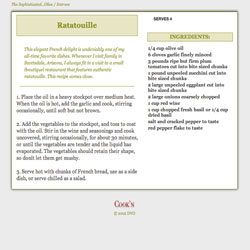 After discussing the health benefits of a raw food diet, The World Goes Raw Cookbook presents helpful guidelines for stocking and organizing your kitchen with the equipment and ingredients that make it easy to prepare delicious raw meals. You'll also find tips for presenting your dishes so that they are as visually appealing as they are delicious, along with easy-to-follow instructions for growing fresh ingredients in your own indoor garden. What follows next are six recipe chapters, each focusing on a different ethnic cuisine. Imagine preparing such delectable dishes as Italian Zucchini Fettuccine, Mexican Tacos with Mole Sauce, Sprouted Chickpea Falafel, Asian Spring Rolls, Caribbean Sweet Potato Stew, and South American- style Black Beans and Rice, not to mention a wealth of sauces, dips, dressings, and delectable desserts. Rounding out the book is an extensive resource section that will guide you to the ingredients and equipment you need to follow this dietary lifestyle.
No one has to sacrifice great cuisine in order to go raw. Whether you are a seasoned raw foodie or are exploring this diet for the first time, the taste-tempting recipes in The World Goes Raw Cookbook can add variety to your life while helping you feel healthier and more energized.
About the Author
Lisa Mann is a raw food teacher and classically trained French chef. She also trained at the Natural Healing Institute of Naturopathy to become a clinical nutritionist. Lisa has extensively traveled the globe in her quest for fun adventures, fantastic foods, and great health. She is the founder of Lisa's Living Well, a company that aims to bring fantastic, easy-to-prepare raw food to the mainstream through classes, retreats, and nutritional con- sultations. When she isn't working, Lisa enjoys spending time with her family, practicing yoga, and hiking.
---
Recipe Included with this Cookbook:
"Ceviche" with Chimichurri
"Conch" Fritters
"Orzo" with Arugula, Peas, and Tomatoes
"Tres Leche" Banana Layer Treat
"Whitefish" Melon
About the Author
Adzuki, Garbanzo, and Kidney Beans
Agave
Allspice and Anise Seed
Almond Butter, Cashew Butter, and Tahini
Almond Cookies
Almond Ginger Dressing
Almonds
Amaranth, Corn, Oat Groats, Quinoa, Rye Berries, and Wheat
Apples and Apricots
Apples, Apricots, and Asian Pears
Arepas with Tomatillo Salsa
Arugula and Avocados
Asian Dipping Sauce
Avocado, Mango, and Melon Salad
Baba Ganoush
Baklava
Banana Dream with Orange Cashew Cream
Banana Mango Cream Pie
Banana Pineapple Sorbet
Bananas and Berries
Basic Italian Marinade
Basic Sprouting Information
Basics for Growing a Kitchen Garden
Basil
Basil
Beet Greens, Beets, and Broccoli
Best Basic Italian Dressing
Black "Bean" Dip
Black "Bean" Soup
Black "Beans" and "Rice"
Blender
Bragg Liquid Aminos
Brazil Nuts
Brazilian Cucumber Salad
Breadsticks with Za'atar Dipping Sauce
Butternut Squash Soup with Sage and Walnut Tapenade
Buying Organic
Cabbage, Carrots, Cauliflower, Celery, Chard, and Cucumbers
Cacao and Carob
Caraway Seeds, Cardamom Spice, Cayenne, Chili Powder, and Chipotle Pepper
Caribbean Lime Dressing
Caribbean Spinach Bisque
Cashew "Cheese"
Cashews
Chef's Knife
Cherries
Cherries, Coconut, and Cranberries
Chilean Tomato Salad
Chilled Avocado Tomato Soup
Chimichurri Dressing
Chives and Cilantro
Chocolate Cherry Biscotti
Chocolate Chili Kisses
Churros
Cilantro Chili Dressing
Cilantro Lime Soup
Cinnamon, Cloves, Coriander, Cumin, and Curry Powder
Classic Middle Eastern Lemon Dressing
Classic Middle Eastern Salad
Cocadas
Coconut Ice Cream with Banana Crumble
Conclusion
Corn Chips
Corn Chowder with "Bacon" Bits
Creamy Cumin and Avocado Dressing
Creamy Italian Dressing
Creamy Oregano Mint Dressing
Cutting Board
Daikon "Scallops" with Green Onion Sauce
Daikon and Dandelion Greens
Daikon Dumplings
Dark Chocolate Almond Mousse
Dates
Dehydrator
Dessert Guidelines
Dill
Dill
Dolmas
Dulse, Hijike, Kelp Noodles, Kombu, Nori, and Wakame
Eggplant and Endive
Equipment
Essential Equipment
Fajitas
Fennel
Fennel and Fenugreek
Fennel and Orange Salad with Honey-Walnut Topping
Figs
Figs
Flax Seeds
Food and Kitchen Equipment
Food Processor
Fresh Figs Drizzled in Honey and Cacao
Garlic and Ginger
Garlic and Ginger
Gazpacho
General Guidelines
Getting Your Kids Involved
Goji Berries
Grapefruits, Grapes, and Guava
Grater
Green Onion Sauce
Guacamole
Halvah Truffles
Hazelnuts and Hemp Seeds
Honey
Honey Pine Nut Tart
How to Core a Pineapple
How To Filet and Marinate a Melon
How to Form the Spring Rolls
How to Form the Sushi
How to Safely Wash Fruits and Vegetables
Hummus
Jicama
Juicer
Kaffir Lime Leaves
Kale and Kohlrabi
Kelp Noodles with Green Curry Sauce
Kiwi
Leeks and Lettuce
Lemon Tahini Dressing
Lemons and Limes
Lentils and Peas
Macadamia Nuts
Mandolin Slicer
Mango
Mango Ice Pops
Mango Salsa
Mango Soup with Sweet Cashew Cream
Mangos and Melons
Marinara Sauce
Marinated Ginger Cabbage
Mexican Corn, Tomato, and Avocado Salad
Mexican Lemon Cumin Dressing
Mexican Slaw
Mint
Mint and Mustard Seeds
Miso
Miso Soup
Mole Sauce
Mushrooms and Mustard Greens
Mustard Sauce
Nama Shoyu and Nutritional Yeast
Nectarines
Nutmeg
Oils and Olives
Onions
Optional Equipment
Oranges
Oregano
Oregano
Organization
Organizations and Learning Centers
Pad Thai
Paprika, Parsley, and Peppercorns
Parsley
Parsnips, Peas, and Peppers
Passion Fruit, Peaches, Pears, Persimmon, Pineapple, and Plums
Peanuts, Pecans, Pine Nuts, Pistachio Nuts, and Pumpkin Seeds
Peeler
Pesto
Pineapple with Ginger Chocolate Fondue
Pizza with Roasted Red Bell Peppers and Sun-Dried Tomatoes
Pomegranate Honey Vinaigrette
Presentation
Prunes
Quinoa Salad
Radicchio
Radicchio Bruschetta
Raisins
Recommended Reading
Rice Wrappers and Tamari
Rosemary
Rosemary
Roti with Curried Pea and Sweet Potato Filling
Rustic Tomato Salad
Sage
Sage and Sea Salt
Salad Guidelines
Salsa
Sample Shopping List
Scallions, Shallots, Spinach, Squash, and Sweet Potatoes
Seaweed Salad
Sesame Miso Dressing
Sesame Seeds and Sunflower Seeds
Sicilian Salad
Skordalia
Sopa de Ajo
Soup Guidelines
South American Marinade
Spinach and Dandelion Tart
Spinach Salad with Jicama and Pineapple
Spiralizer
Spring Rolls
Sprouted Chickpea Falafel
Sprouting and Garden Supplies
Sprouts
Starting a Kitchen Garden
Stevia
Strawberries with Balsamic Glaze and Whipped Cream
Stuffed Peppers
Sun Dried Tomato Pesto
Sun-Dried Tomatoes
Sushi
Sweet Ginger Dressing
Sweet Potato Stew
Sweet Sicilian Dressing
Tabouleh
Tacos
Tarragon, Thyme, and Tumeric
Thyme
Tips for Growing and Indoor Kitchen Garden
Tomatillo Salsa
Tomatillos, Tomatoes, and Turnips
Tomato Chili Dressing
Tomato, Pesto, Basil, and Cashew "Cheese" Terrines
Using a Dehydrator
Using a Juicer
Using a Mandolin Slicer
Using a Spiralizer
Vanilla Beans and Vinegar
Vegetables Marinated in Oil and Lemon
Walnuts
Watercress
Whisk
Wilted Spinach Salad
Wilted Spinach Salad with Marinated Eggplant Tapenade
Za'atar
Zucchini
Zucchini "Fettucine"
---
Cook'n Is Several Products in One!