by Lisa Boucher
---
---
NOTE: You must have Cook'n installed to use this download!
---
Over 50 delicious sugar free dessert recipes
Over 30 mouth watering food photos
All recipes use whole foods and natural sweeteners
Helpful information like "Dangers of Refined Sugar" and more...
Video Demonstration from Author
New Cook'n Theme included
Save time and money by using Cook'n

Yes you can! You can have your cake and eat it too!
Personal fitness trainer Lisa Boucher has created over 50 sugar free dessert recipes using all whole foods and natural sweeteners. You'll find cookies, muffins, cakes, brownies and more. All treats are easy to make, simply delicious and completely free of refined sugar. These treats are filled with the wholesome goodness of healthy calories.

Lisa Demos Her Chocolate Peanut Butter Bars:
Dangers of Refined Sugar
Sugar. It is everywhere. Literally. When you read product labels in the grocery store you will find it in everything! It is in the obvious: packaged cookies and other treats, jam, and cakes. It is also found in the not so obvious: crackers, cereal bars, even hot cereals that seem to be a healthy choice, as well as bread that may be whole grain. Surprisingly, sugar is also found in foods that don't really need sweetening, such as packaged meats and bottled sauces. The sweet white granulated powder that we know as refined sugar originally comes from sugar cane or sugar beets that have been whittled down to pure sucrose. Because it is devoid of all vitamins, minerals, proteins, enzymes and other beneficial nutrients, it has a deteriorating effect on the endocrine system, which is responsible for proper cell growth. Once the sugar cane or beets have been stripped, what is left is an unnatural foreign substance, which the human body is not able to handle. Especially in the quantities that the average American now consumes, which is 115 pounds each year (the equivalent of 36 teaspoons of sugar per person, each day), according to Organic Nutrition. (www.organicnutrition.co.uk)
Sugar is pure chemical. Sugar is sweet and seductive to the taste. Sugar is highly addictive. David A. Kessler, author of The End of Overeating, explains that sugar triggers the release of dopamine and endorphins, which fire up the brain's pleasure center and, because of that, the body quickly develops an insatiable desire for more. It is a vicious cycle: The more we eat, the more we want. However, all this sugar consumption doesn't come without danger. According to the Global Healing Center, refined sugar is referred to as "The Sweetest Poison of All". In 1957 dr. William Coda Martin said that if something is ingested and it causes harm or disease to the body it is indeed poison.
Well, I am not a fan of the sweetest poison. I want better for my family. Why on earth would I want to feed something to my family if there is absolutely nothing good about it? I used to use sugar, now I don't.
This is not a cookbook that will replace refined sugar with man-made, chemical sweeteners. I don't agree with them. And I don't like the side affects they can have on your body. This book is all about whole foods and putting as much goodness into each recipe as possible. Eating from nature can actually be delicious! - Lisa Boucher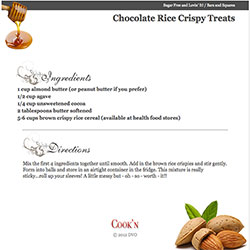 New Sugar Free Theme Included
Table Of Contents
Acknowledgements
Dangers Of Refined Sugar
Losing The Sugar
Benefits Of Nuts
Fats
Grains
Sweeteners
Cookies
Favorite Chocolate Chip Cookies
Vegan Oatmeal Cookies
Peanut Butter And Honey Cookies
Pumpkin Chocolate Chip Cookies
Brownie Drops 16 Thimble Cookies
Zucchini Cookies
No Bake Cookies
Shortbread Cookies
Nutty Marbles
Bars & Squares
Graham Crackers
Marshmallows
Rice Crispy Treats
Chocolate Chip Chewies
Chocolate Peanut Butter Oatmeal Bars
Granola Bars
Almond Butter Brownies
Coconut Brownies
Date Squares
Jam Squares
Chocolate Rice Crispy Treats
Buttertart Squares
Apple Crisp
Muffins
Banana Nut Muffins
Carrot Cake Muffins
Almond Poppy Seed Muffins With Almond Cashew Glaze
Chocolate Yogurt Muffins
Strawberry Shortcake Muffins
Pumpkin Nut Muffins
Bran Apple Muffins
Corn Bread Muffins
Granola Bar Muffins
Blueberry Muffins
Breads And Cakes
Whole Wheat Bread
Pumpkin Bread
Zucchini Bread
Chocolate Zucchini Bread
Banana Bread
Chocolate Buttermilk Cake
Apple Cake
Oatmeal Date Cake
Chocolate Avocado Cupcakes
Cream Cheese Avocado Frosting
Snickerdoodle Crumble Coffee Cake
Coconut Quick Cake
No Bake Pumpkin Pie
Favorites
Holiday Time Popcorn
Chocolate Pudding
Strawberry Jam
Dessert Crepes
---
---
Cook'n Is Several Products in One!