Brunch Anyone?
Almost 120 years ago, long before anyone waited in line to feast on eggs Benedict and French toast, the word brunch appeared in print for the first time in the United States. And we've been serving it up ever since.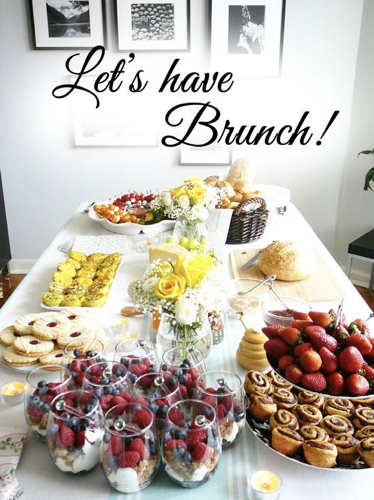 Brunches are a fun, economical, and versatile way to entertain. They make for a memorable occasion and beat the cost of dinner parties ten (dollars) to one. So many occasions lend themselves really well to a brunch. Valentine's Day, Easter, Mother's Day, and Father's Day are a few of the more obvious occasions that come to mind. But any occasion will work: why not a spring-is-on-its-way brunch, or a neighborhood-snow-shoveling brunch, or a we've-got-cabin-fever brunch?
Some food writers consider brunch to be the biggest social phenomenon since sliced bread came on the scene. In fact, the folks who write for Spoon University (www.spoonuniversity.com) validate this love and have done considerable research as to why we all feel this strongly about a meal that is not necessary to our diet.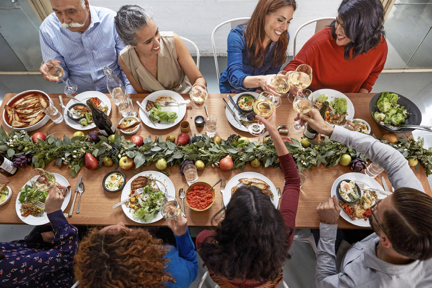 They've found that it all comes down to a simple equation: Food + the company we keep + a good environment = happiness. We can conclude that brunch is not so much about the meal itself (although it is a big deal), but more so about the company we keep and setting in which we're keeping it. And for me, brunch is a good way to creatively and cheerfully enjoy the wintry moments we're in (as opposed to pining for spring).
But back to food. Add to the aforementioned reasons for brunch, all the delicious and easy menu options, and you have the recipe for a perfect gathering. From simple scrambled eggs and bacon with store-bought sweet rolls to a unique layered Crepe Gateau and homemade Almond Danish, the possibilities are endless.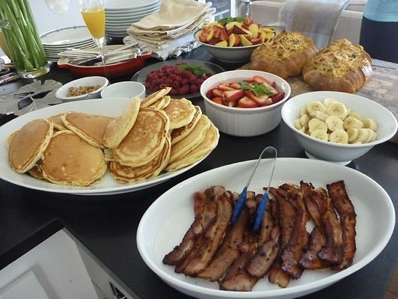 And don't you love how so many of the dishes can be prepared ahead, allowing you to enjoy the party as much as your guests? Really, it's just a matter of advance organization to prevent last-minute flurries. Experienced brunch-givers advise:
It's important to have a timetable in mind and tailor your schedule to allow advance preparation or at least partial preparation.
Keep cooking utensils and appliances in mind also. Make sure you don't have two dishes that require baking at different temperatures if you only have one oven.
And make sure you have ample refrigerator space. A pres-assembled casserole, pitchers of juice and eight fruit cups can take up a lot of space.
Set the table or arrange your buffet the night before and have serving dishes and utensils out, ready to go to work.
Make a list of the cooking times of each dish you are serving. Working backwards from your scheduled serving time, decide when you should start the first dish and proceed accordingly.
It's just a matter of advance organization!
With enough well-thought-out organization this type of gathering can be so much fun. So what d'ya say, "Brunch anyone?" If your answer is "YES!", then give this traditional breakfast casserole (4.4 stars from 316 reviews) a serious look, just to get your menu-planning started.
Make-Ahead Breakfast Casserole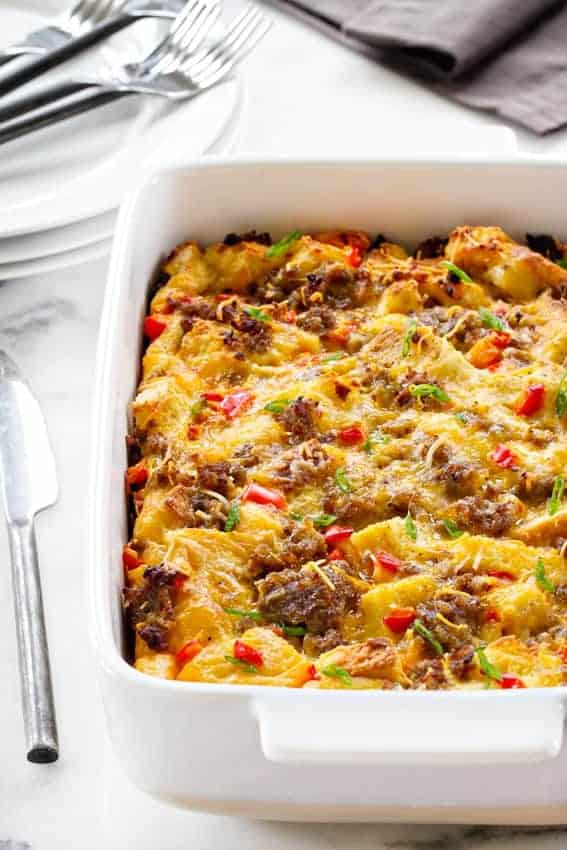 Ingredients:
10
eggs
lightly beaten
3
cups
milk
1
teaspoon
salt
6
cups
toasted, cubed
bread
2
cups
shredded, sharp
Cheddar cheese
1/2
teaspoon
black pepper
1/2
cup
diced yellow, orange, or
green pepper
1 1/2
cups
sliced
green onions
1
cup
halved grape or
cherry tomatoes
1
cup
sliced
mushrooms
1 1/2
cups
baby
spinach leaves
1/2
cup
grated
Parmesan cheese
Directions:
1. Butter a 9 x 13 x 2 inch casserole dish.
2. In large skillet, cook sauté all vegetables over medium heat just until limp and heated through, stirring frequently.
3. In large bowl, whisk together eggs, milk, and salt until thoroughly combined.
4. Evenly distribute half the bread into the prepared casserole dish. Sprinkle with half the cheese, half the black pepper, half the red pepper, and half the sausage. Repeat layers.
5. Pour egg mixture evenly over casserole.
6. Cover and refrigerate overnight, or bake immediately.
7. When you're ready to bake the casserole, preheat oven to 325 F.
8. Mix Panko crumbs and Parmesan cheese together and sprinkle evenly over casserole.
9. Bake uncovered for 55-60 minutes, or until eggs are set. If the top begins to brown too quickly, loosely cover the casserole dish with foil.
NOTE: Cooked and crumbled bacon, cooked sausage or ham can also be added to this dish.
* Chiffonade' is a slicing technique in which leafy green vegetables such as spinach, sorrel, or Swiss chard, or a flat-leaved herb like basil, are cut into long, thin strips.

Recipe formatted with the Cook'n Recipe Software from DVO Enterprises.
Add Recipe to Cook'n
Sources:
www.pinterest.com
www.rachaelraymagazine.com
www.mybakingaddiction.com
www.forknplate.com

Alice Osborne
Weekly Newsletter Contributor since 2006
Email the author! alice@dvo.com