My Favorite Way to Cook Breakfast Sausage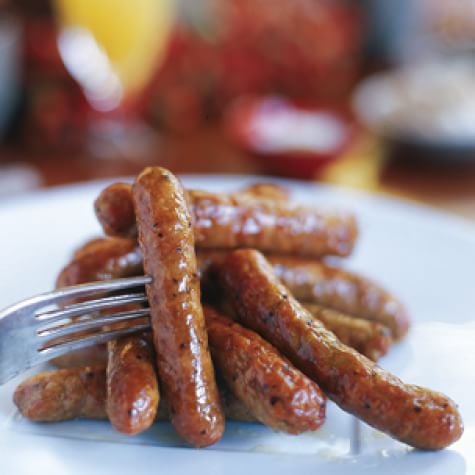 I am not too bad of a cook, but there is one area I really struggle- MEAT. I can never find that balance between cooking something to perfection: not underdone, but not overcooked into a dry, tough nasty mess. Breakfast sausage links are no exception. Pretty much every time I've tried to cook sausage, they end up in a dried, chewy mess by the end of the whole ordeal. I'm a little paranoid ;).
However, I recently decided it was time to actually learn how to cook breakfast sausage- because there really is no point in consuming so many calories if it's like eating old jerky! Obviously there's the basic tried and true method of cooking sausages on the skillet: Heat up a skillet for a couple of minutes on medium heat. There's no need to add excess oil- because the sausage links totally have that covered ;). Once the skillet is heated up, add your sausage links (make sure the skillet is big enough that you are only adding one layer). Cook the links for 12-16 minutes, or until browned all the way through. Be sure to turn them frequently to keep the browning nice and even. (Sometimes sausage can still look a little pink in the middle- just make sure that it reaches 160 degrees with your meat thermometer and it's totally fine!)
If you're not a fan of standing and waiting at the skillet, here's another way you can cook your sausages! (This works best for "fresh" links (skinless) ). Put your sausages into a deep, medium skillet and pour ¼ cup of water into the skillet. The water shouldn't completely cover the sausages. Simmer uncovered on medium-high heat for about 6-7 minutes, or until all the water has evaporated. Reduce the heat to medium-low and continue cooking the sausage links for another 6-7 minutes (or until cooked through).
Now, if you want to avoid the stovetop altogether, there is another way! Your oven :). Simply put your raw sausages on a shallow baking pan or baking sheet and let them cook! (I used a stone, but if you are not using a nonstick pan definitely put down some parchment paper!) You'll have to experiment with your oven to see what works best. Some sources say to cook for 12-15 minutes at 350 degrees (turning once), while others say you'll need to bake for 20-25 minutes at 400 degrees.
I tried this method the other day and it worked beautifully! It was the first time in my marriage I actually made edible breakfast sausage ;). I set the oven to 350, and I feel like the sausage needed a minute or two longer than the recommended "12-15 minutes", so definitely check your sausage and figure out what works best with your oven! I also recommend broiling them for a couple minutes at the end to really get them brown on the outside and give them a tiny bit of crisp ;).
I'm so excited I found a new way to cook my breakfast sausage. I already cook my bacon in the oven, so I'm glad that breakfast sausage can be added to the list of things I can bake! It's so much less messy and turns out perfectly! How do you like to cook your breakfast sausage?
Sources:
http://www.johnsonville.com/products/original-breakfast-links.html
https://www.wikihow.com/Cook-Breakfast-Sausage
https://www.williams-sonoma.com/recipe/baked-breakfast-sausages.html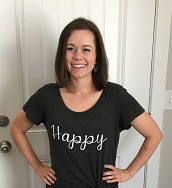 Camille Hoffmann
Weekly Newsletter Contributor since 2014
Email the author! camille@dvo.com