Pecan Streusel Pumpkin Pie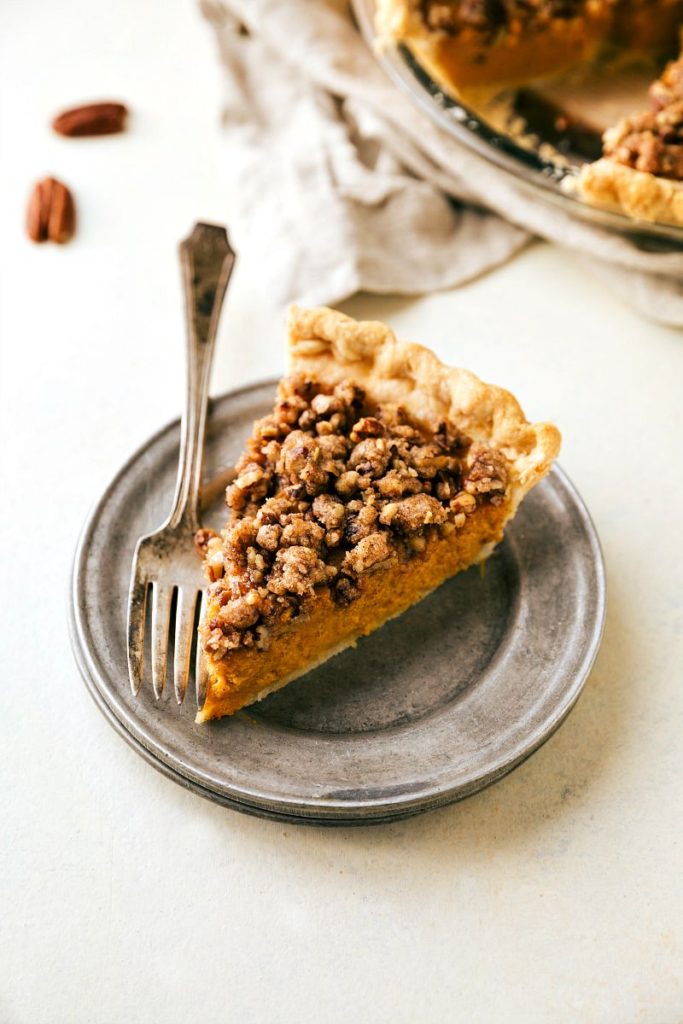 Serves:
6
A simple-to-make pumpkin pie with a delicious sugary-pecan streusel. The (optional) two-ingredient maple whipped topping takes this pie over the top!

Dovetailing Tip: Use the pie crust that you prepared on day 1.

Use 3/4 cup of the pecans you prepared on day 3.
Prep Time:
Cook Time:
Total Time:
Ingredients:
crust

1

and 1/2 cups white

flour

3/4

teaspoon

salt

1/2

tablespoon

white

sugar

6

tablespoons

unsalted

butter

cold

3

tablespoons

shortening

butter-flavored, cold

3 4

tablespoons

3-4 ice cold

water

1

large egg + 1 tablespoon

milk

pumpkin

filling

1

can

(15 ounces)

pumpkin

puree

4

large

eggs

separated, (you will use 1 whole one and 3 yolks)

1

can

(14 ounces) sweetened condensed

milk

1

teaspoon

ground cinnamon

1/2

teaspoon

ground

ginger

1/2

teaspoon

salt

1/2

teaspoon

ground

nutmeg

1

teaspoon

vanilla extract

streusel

3/4

cup

pecans

1/3

cup

brown

sugar

lightly packed

2

tablespoons

flour

1/2

teaspoon

ground cinnamon

2

tablespoons

unsalted

butter

optional maple

whipped cream

1

cup

heavy

whipping cream

3

and 1/2 tablespoons

maple syrup
Directions:
Crust
Toss together the flour, salt, and sugar.
Dice the extremely cold butter into small pieces and add to the bowl along with the cold shortening.
Cut the butter and shortening into the flour with a pastry blender or two knives until the dough forms coarse crumbs.
Very slowly, add in 4 tablespoons of ice cold water -- add 1 tablespoon at a time until the dough can form into a ball.
Stir the mixture a few times with a wooden spoon and then spoon it all onto a large sheet of plastic wrap.
Knead just a few times to get it into a ball and then wrap tightly in the plastic wrap. Chill for at least 30 minutes up to overnight.
Filling
Preheat the oven to 375 degrees F.
Whisk the pumpkin puree with 1 large egg, and 3 egg YOLKS. Once combined whisk in the sweetened condensed milk.
Add in the cinnamon, ginger, salt, nutmeg, and vanilla extract. Whisk until combined.
Roll out the pie dough (I roll the dough in between two sheets of plastic wrap) and fit it into a 9-inch pie pan. Fold the edges up one time and then crimp those edges with your fingers.
In a small bowl, whisk together the egg and milk and brush that over the crust.
Add pie weights to the crust (Or put foil in the bottom and fill it with dried beans or rice). In a small bowl, whisk together the egg and milk and brush that lightly over the edges of the crust.
Bake just the crust for 10 minutes.
Preheat the oven to 425 degrees F.
Remove the pie and pour the filling into the pie pan. Tap a few times to release extra air.
Put in the oven and bake for 15 minutes at 425 degrees F. Then reduce the heat to 350 degrees and cook for another 25-30 minutes.
Streusel
Meanwhile, chop the pecans into small pieces.
Toss the pecans with the brown sugar, flour, and cinnamon.
Finely dice the cold butter and then using a pastry blender (or your hands), cut it in with the other ingredients until a thick streusel is formed.
Remove the pie after cooking for 25-30 minutes and top it evenly with the streusel.
Return to the oven for another 10-15 minutes or until set at the edges and barely jiggles in the middle. (If needed, use a pie shield to keep the crust from browning too much)
Remove from the oven and let cool completely.
Serve the pie chilled or at room temperature.
Optional Maple Whipped Cream
In a bowl of a stand mixer, pour in the cold heavy whipping cream. Whip for 1-2 minutes and then gradually pour in the maple syrup.
Whip until soft peaks form.
Chill until ready to serve.
Generously spoon the maple whipped cream over the pie and enjoy!
Source: chelseasmessyapron.com