Cranberry Jello Salad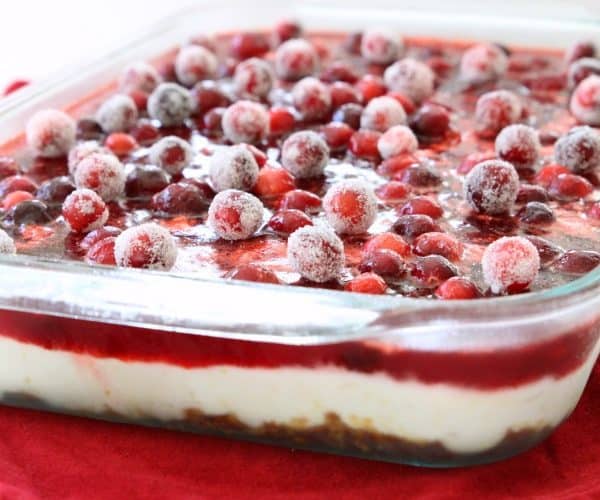 Serves:
8
Cranberry Jello Salad made with 3 festive, delicious layers of pretzels, pudding, cranberries & Jello! Impressive, easy addition to your holiday meal.
Cranberry Jello Salad is a staple to our holiday spread! I love the festive flavors. This version is perfect because it's not too sweet and accompanies ham and turkey beautifully. It's a very versatile recipe too- if you can't find cranberry jello, feel free to use raspberry or cherry instead. You can also use a different flavor of pudding. I like to use white chocolate because of both the delicious flavor and the white color looks so pretty contrasted with the red jello. If you can't find white chocolate pudding mix, you can use french vanilla or even regular vanilla instead.

Dovetailing Tip: Make on additional cup of whipping cream when making the whipping cream for this recipe. Save and use the extra day 5 in the Pecan Cream Pie.

instead of buying canned cranberry sauce you could use the homemade Cranberry Sauce recipe from day 4. If you decide to do that, make sure to make enough to use that day instead of having to make more!
Prep Time:
Cook Time:
Total Time:
Ingredients:
crust:

2

cups

crushed

pretzels

3/4

cup

melted

butter

3

tbsp

sugar

filling:

1 20

can

(20 oz)

crushed pineapple

(not drained!)

1

box

(3oz) white chocolate pudding

mix

2

cups

whipped cream

topping:

1

box

(3oz) cranberry

jello

1

cup

boiling

water

1

can

(14oz) whole berry cranberry

sauce
Directions:
Preheat oven to 400 degrees F. Spray a 9×13 pan with non-stick spray.
Combine crushed pretzels, sugar and melted butter in pan. Gently stir to combine and spread around pan evenly. Bake for 10 minutes and cool completely.
Pour entire can of crushed pineapple (with juice!) into a medium sized mixing bowl. Sprinkle white chocolate pudding mix on top and stir until completely incorporated. Fold in whipped topping.
Transfer mixture to 9×13 pan, spreading on top of baked pretzels, making sure mixture reaches all of the edges. Set pan in fridge to keep cool while you mix the jello.
Combine 1 cup boiling water with box of cranberry jello. Stir until jello is completely dissolved. Add in the entire can of whole berry cranberry sauce and stir until combined. Pour mixture on top of pineapple-whipped topping.Â
Cover salad and refrigerate at least 3-4 hours, until salad is completely cooled and set. Top with sugared sparkling cranberries, if desired. Cut squares to serve. Store leftovers in fridge.
Source: butterwithasideofbread.com