The Perfect Cheesy Roll for Your Holiday Meal
The holidays usually mean one thing for certain- good food is to be found everywhere! And because of this, I'm always on the look-out for extra tasty recipes this time of year; if you're going to bring a recipe to a family gathering or Christmas party, it needs to be one that will impress! Don't worry- I've got you covered ;).
When planning for big meals, one portion of the meal that just can't be underestimated is the bread! My husband's family is German, and they are all about the bread. Often, they choose to go to a restaurant based simply on the bread that is served before the actual meal (i.e. Texas Roadhouse and Macaroni Grill :) ). Though I may not be die-hard fans like they are, I can definitely appreciate some tasty bread! Especially when it's homemade. When I do find a super tasty bread recipe, my husband's family is the true test. I can judge if a bread recipe is worth making again or not based on their reactions- because as I said, they are bread connoisseurs! ;)
And so now let me introduce these delectable Cheesy Garlic Bread Swirls. These rolls were a recipe I've been wanting to try for some time, but just never had the time/energy/right ingredients. Finally my curiosity got the best of me and I went out to buy everything I needed so I could specifically make these bread swirls. They were just calling my name too long ;).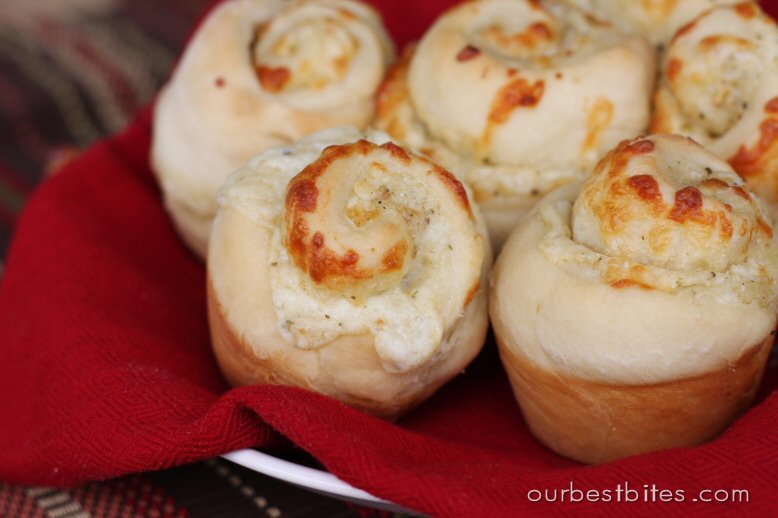 Add Recipe to Cook'n
I first served them to my little family- and my kids LOVED them. They couldn't get enough- which is saying something these days with my little picky eaters! And my husband couldn't stop raving about them- which is always a good sign in my book :). I decided to really put these guys to the test by serving them at my husband's family's Thanksgiving (we held it a little early this year;) ). My husband kept building them up and saying they were the most amazing things ever, and I was a little worried he was building up the recipe a little TOO much- it's always better to have lower expectations when it comes to food, right? :) However, everyone heartily approved- as the empty plate proved:). These are definitely a keeper, and would be a great addition/appetizer to any holiday meal or get together you have going on this month!
Keep in mind, they do require an hour to rise, so plan accordingly! They can also be a little messy to put together, but they are oh so worth it! Floss and cooking spray on the counter can do the trick ;). The picture in the recipe book I got these from showed these rolls as about a muffin-sized roll. However, when I have made these, both times I got rolls that were about as big as a grapefruit or large orange. They are huge! Maybe I just have really effective yeast in my freezer ;), but it's something to think about- your rolls may come out much smaller or much larger than you planned! You can always cut them in half… or just eat the whole thing, because it is the holidays, after all ;).
Hope you and your family enjoy these delectable rolls, and I hope they serve as the perfect compliment to your holiday dishes!
Sources:
http://ourbestbites.com/2009/08/cheesy-garlic-bread-swirls/
http://ourbestbites.com/2008/04/garlic-bread-seasoning.html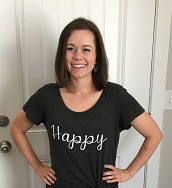 Camille Hoffmann
Weekly Newsletter Contributor since 2014
Email the author! camille@dvo.com