DESSERTS TO DIE FOR
Sting of the Bee (Beinenstich)
What a crazy name! But a great dessert. This is the very one they serve at the Lion House Pantry Restaurant. It comes from the very book they print. It's a trustworthy recipe, not even a copycat.
What I also love is it's wintery look with the raspberry layer it contains. It's a biscuity cake, too. Not just the regular box cake you may think when you hear the word "cake"
Enjoy your sting of the bee, but avoid bees at all cost.
For all you Cook'n® fans, remember to use your capture button! I was going to originally copy the whole entire recipe (which is pretty long) from the book I have, but after doing an internet search, found the exact recipe on the internet. It wasn't formatted for a single-click capture, but with the snag-it tool, I got it in my Cook'n® library in just a few of minutes. Love it!
---
Studio 5 - Sting of the Bee (Beinenstich) Cake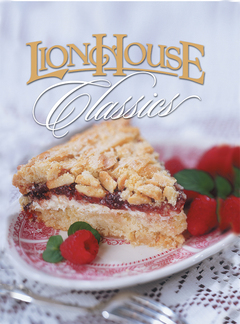 Serving size:

14


Calories per serving:

610




Ingredients:
CAKE
1 cup

butter

(no substitutes)
2/3 cup
sugar
2
eggs
3 cups

flour

, sifted
1

tbsp.

baking powder
1 teaspoon
salt
1/2 cup
milk
TOPPING
1/2 cup

butter

(no substitutes)
1/2 cup
sugar
2

tbsp.

milk
1 cup

almonds

, slivered
2 teaspoons

vanilla
BUTTER CREAM FILLING
1 cup

butter

(no substitutes)
2 cups
powdered sugar
2

eggs

yolks
2 teaspoons

vanilla
1/2 cup
raspberry preserves
Directions:
With mixer, cream butter and sugar until soft, add eggs and mix well. Mix in dry ingredients; slowly add milk. Beat until dough is thick and does not stick when touched.
Prepare 10-inch springform pan: Place parchment or waxed paper on bottom of pan. Attach side of pan; spray side with nonstick cooking spray and lightly dust with flour.
Press dough evenly in springform pan. Sprinkle small amount of flour on top of dough; gently tap dough down with flat bottom of a cup. (Dough should feel firm and press against the sides of pan.) Pour topping on dough and spread evenly.
Cover pan with foil and bake at 375 degrees for 30 minutes. Remove foil and bake for an additional 10-15 minutes until cake looks firm and golden brown. Allow to cool. Split in half horizontally. Fill with Butter Cream Filling and raspberry preserves.
Note: This cake is similar to biscuits in texture.
TOPPING
In medium saucepan, melt butter until almost boiling. Add sugar and bring to a boil, stirring constantly. Slowly add milk, stir carefully as mixture will pop. Return to a boil and add almonds. Bring to a boil once again. Remove from heat and stir in vanilla. Allow to cool to room temperature if made early in the day, or cool in refrigerator until thick and cool to the touch. For best product, topping should be same temperature as dough.
BUTTER CREAM FILLING
Soften butter. Beat in powdered sugar, egg yolks, and vanilla until fluffy. Spread on bottom of split cake. Spread preserves on top of butter cream and replace cake top.

Recipe formatted with the Cook'n Recipe Software from DVO Enterprises.
---
Sources:
http://studio5.ksl.com/?nid=126&sid=7702714
http://bookshelf.deseretbook.com/covers/4291/detail_LHClassics_cover.jpg?1369765892
---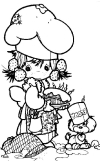 Sydney Hill
Weekly Newsletter Contributer since 2012