DISNEYLAND Cream Cheese-filled Pretzels
Have you heard of these? Have you tried them? Oh wow, they are something not to be forgotten. I hadn't even heard of them until the last time I went to Disneyland. They are only found at a few carts. I got mine in Tomorrow Land, (then I got my next one...because I just had to have another...in California Adventure!).
I was needing one of those cream cheese filled pretzels the other day, so since Disneyland was not an option, I thought I'd do a little Googling to see what I could find.
Stumbling on this recipe, I was hopeful. Making them, I was hopeful. Eating them?...I was ecstatic.
It's been a while so I can't say how close it is, but from what I remember, they taste just like the beloved Disneyland Pretzel. Mine were far from pretty, but the taste is what I cared about (isn't that what really matters?). I did do my own twist on the pretzel recipe (pun intended), but I think it was for the better, and I'll make note of it.
Download both recipes below. Then drag-and-drop the Cream Cheese Filling recipe into the ingredients section of the Disneyland Cream Cheese Pretzels recipe (they'll be linked in your Cook'n).
---
Disneyland Cream Cheese Pretzels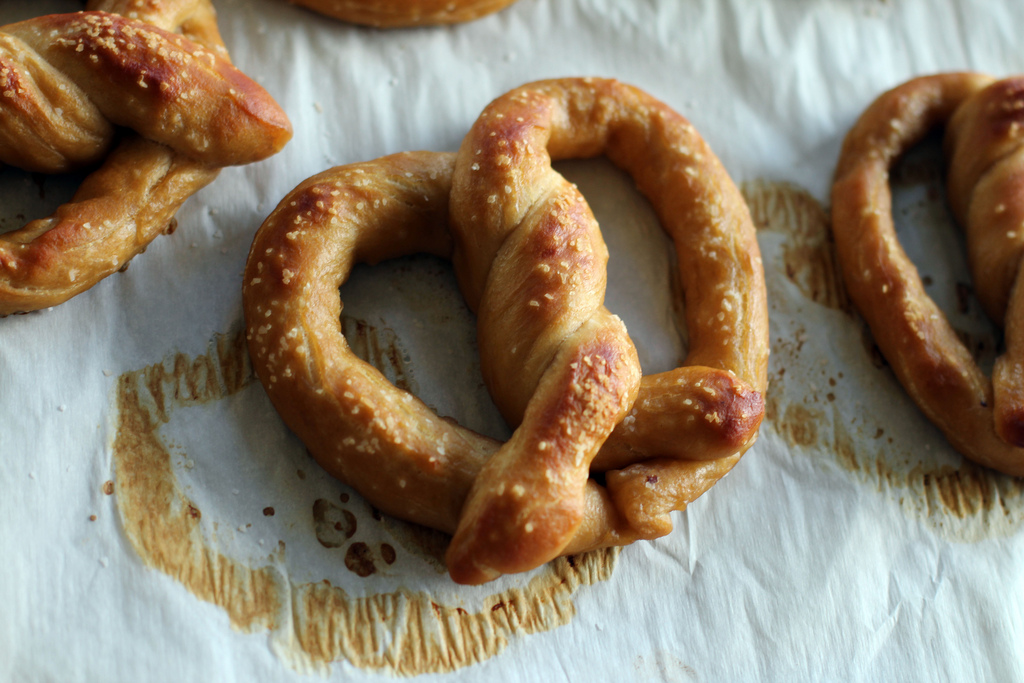 Serving size:

5


Calories per serving:

675




Ingredients:
2 cups

hot

water
1 tablespoon
sugar
1 envelope

(2 1/4 tsp) active dry

yeast
5 cups

all-purpose

flour
1 tablespoon
salt
non-stick

cooking spray
2 tablespoons
baking soda
1

egg

, beaten
Cream Cheese Filling
Directions:
Place hot water and sugar in a small bowl. Stir until sugar has dissolved. Mix in the yeast and let sit 5 minutes. Combine the salt and flour in a large mixing bowl. Pour in the yeast liquid. Mix on low for 30 seconds with an electric mixer fitted with a dough hook. Continue to beat on medium speed until sides pull away from the bowl. If dough is still sticky, add more flour (1 tablespoon at a time).
Transfer to a floured surface and knead until smooth. Place into an oiled bowl and cover with plastic wrap. Put it in a warm area and let rise until doubled. (ends up being about an hour, maybe a little longer) Punch dough down and divide into 16 even pieces. Roll one piece of dough at a time into 18-inch strips. Now roll the strip flat with a rolling pin until it is 1-inch wide. Squeeze a thin strip of icing down the center of the dough strip. Now fold the ends over each other to seal in icing. Twist into pretzel shapes.
Fill a large pot with 2-inches of water. Stir in baking soda and heat on medium-high. Place pretzels into water and poach 1 minute. (Just so you know, the point of this step is so that the pretzel will be chewy). Remove from water and place onto parchment paper-lined baking sheet. Brush pretzels with beaten egg and sprinkle on toppings. Bake at 450 degrees for 12-15 minutes until golden brown. Remove pretzels from oven.
***These pretzels are also delicious when served without the cream cheese filling. See further options below!***

Topping Options:

coarse Kosher salt
crushed graham cracker crumbs (if you do this, crush the grahams with butter so they don't get too toasted in the oven)
cinnamon-sugar (I would use brown sugar)
vanilla icing
toasted almond slices
I made a struesel with 2 Tbsp butter, 1/4 cup sugar, 1/2 cup flour, 2 tsp cinnamon, and a dash of nutmeg. That was my favorite way


Dipping Options: mustard or cheese sauce


Recipe formatted with the Cook'n Recipe Software from DVO Enterprises.
---
Cream Cheese Filling
Serving size:

5


Calories per serving:

256




Ingredients:
8 ounces
cream cheese
1 cup
powdered sugar
1 1/4 teaspoons
mexican vanilla extract
1 pinch
salt
Directions:
Mix with electric mixer until creamy. Spoon filling into a gallon-size freezer bag and snip off the corner to make an icing bag.

Recipe formatted with the Cook'n Recipe Software from DVO Enterprises.
---
Sources:
http://www.thedisneydiner.com/2012/04/disney-world-soft-pretzels-recipe.html
http://themoveablefeasts.wordpress.com/2012/02/13/soft-pretzels-with-a-honey-mustard-dipping-sauce/
---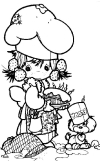 Sydney Hill
Weekly Newsletter Contributer since 2012