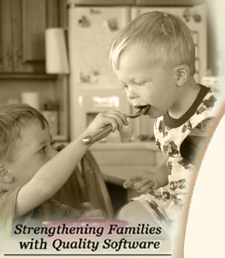 Cook'n Club Home
Subscribe Now!

Cook'n Forum
HomeCook'n Archive
Give-Aways

I have spent the last 2 hours reading your newsletter and wonderful recipes. I have already printed a whole bunch I want to try. I love them because they are using ingredients one has on hand. I love that and just wanted you to know how much we appreciate all your hard work in putting together this newsletter. Thank you very much.

Anna

Volume I - October 15, 2010
Fajitas

Serves: 6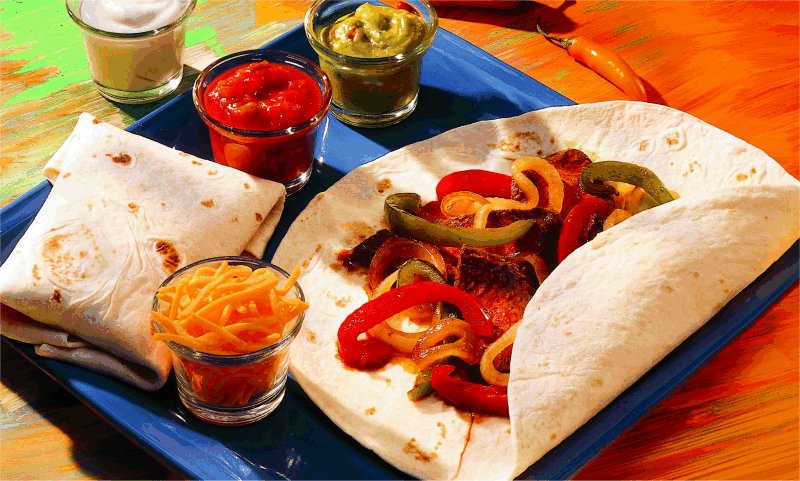 Download this recipe.

Fajita Marinade (see recipe below)
1 1/2 pounds boneless beef sirloin steaks 1 1/2 inches thick
12 flour tortillas (8 to 10 inches in diameter)
2 tablespoons vegetable oil
2 large onions, sliced
2 medium green bell peppers or red, cut into 1/4 inch strips
1 (8-ounce) jar picante sauce (1 cup)
1 cup shredded cheddar cheese or Monterey Jack (4 ounces)
1 1/2 cups guacamole (see recipe) or prepared guacamole
3/4 cup sour cream


1. Make Fajita Marinade in small bowl.

2. Remove fat from beef. Pierce beef with fork in several places. Place beef in resealable plastic food-storage bag or shallow glass or plastic dish. Pour marinade over beef; turn beef to coat with marinade. Cover and refrigerate at least 8 hours but no longer than 24 hours, turning beef occasionally.

3. Heat oven to 325°.

4. Wrap tortillas in aluminum foil. Heat in oven about 15 minutes or until warm. Remove tortillas from oven; keep wrapped.

5. Set oven control to broil.

6. Remove beef from marinade; reserve marinade. Place beef on rack in broiler pan. (For easy cleanup, line broiler pan with aluminum foil before placing beef on rack.) Broil beef with top about 3 inches from heat about 8 minutes or until brown. Turn; brush beef with marinade. Broil 7 to 8 minutes longer for medium-rare to medium. (Also see Recommended Meat Doneness.) Discard any remaining marinade.

7. While beef is broiling, heat oil in 10-inch skillet over medium-high heat. Cook onions and bell peppers in oil 6 to 8 minutes, stirring frequently, until crisp-tender.

8. Cut beef across grain into very thin slices. For each fajita, place a few slices of beef, some of the onion mixture, 1 heaping tablespoonful each picante sauce and cheese, about 2 tablespoons Guacamole and 1 tablespoon sour cream on center of tortilla. Fold 1 end of tortilla up about 1 inch over filling; fold right and left sides over folded end, overlapping. Fold remaining end down.

Lighter Fajitas: For 15 grams of fat and 510 calories per serving, omit vegetable oil and spray skillet with cooking spray; use fat-free tortillas and reduced-fat cheese and sour cream. Omit Guacamole.


FAJITA MARINADE:
Don't limit yourself to using this tasty marinade for only Fajitas (page 234). Meats marinated in this mixture and then cooked also make great salads or sandwiches.

1/4 cup vegetable oil
1/4 cup red wine vinegar
1 teaspoon sugar
1 teaspoon dried oregano leaves
1 teaspoon chili powder
1/2 teaspoon garlic powder
1/2 teaspoon salt
1/4 teaspoon pepper


1. Mix all ingredients in shallow glass or plastic dish or resealable plastic food-storage bag.

2. Add about 1 pound boneless or 2 to 3 pounds bone-in beef, pork or chicken, turning to coat with marinade. Cover dish or seal bag and refrigerate, turning meat occasionally, at least 4 hours but no longer than 24 hours.

3. Remove meat from marinade; reserve marinade. Cook meat as desired, brushing occasionally with marinade.

4. Remaining marinade must be boiled to be served as a sauce (if not boiled, discard marinade). Heat marinade to boiling, stirring constantly; boil and stir 1 minute.


From "Betty Crocker's Complete Cookbook, Everything You Need to Know to Cook Today, 9th Edition." Text Copyright 2000 General Mills, Inc. Used with permission of the publisher, Wiley Publishing, Inc. All Rights Reserved.


---
Contribute to the Cook'n Club!
DVO would love to publish your article, prose, photography and art as well as your cooking, kitchen and nutrition tips, tricks and secrets. Visit the Newsletter Submission / Win Win for All section in our Forum for more information and details.
---
---