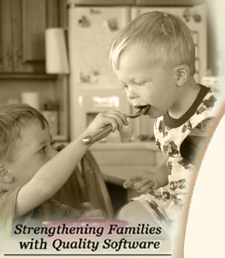 Volume I - October 15, 2010
Ah-h-h-h, Pumpkin!
by Patty Liston

I LOVE pumpkin pie! It is possibly my favorite of all things pie related. So I am of course, in heaven at the thought of fall and the smell of pumpkin pies baking in my oven, in your oven, in the supermarket ovens!
Pumpkin is more than just a pretty pie: it is also a great source of fiber, and contains carotenoids; antioxidants that may help protect against cancer and other diseases. Imagine my surprise when I was reading an article in Good Housekeeping about other ways we can incorporate canned pumpkin into our diets. Here were some of their ideas: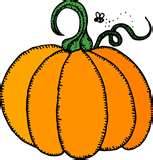 Stir pumpkin and green chiles into homemade chili for a creamier texture with a Mexican twist.


Whip up a smoothie with chilled pumpkin, milk, vanilla yogurt, and a pinch each of sugar and pumpkin pie spice.


Beat 8 ounces light cream cheese and 1 cup pumpkin until smooth; add 1/4 cup sugar and 2 teaspoons pumpkin pie spice, and serve as a dip for fruit and cookies or as a spread for toasted bagels.

If you happen to be a pumpkin purist, here are some tips:



Buy firm, bright-colored pumpkins, free from cuts or nicks. Mini pumpkins have a rich, sweet flavor. Other cooking pumpkins include sugar, cheese, and pie pumpkins. They are often cooked and used for pie filling, but canned solid-pack pumpkin is a very consistent, high-quality product. Jack-o'-lantern pumpkins have string, watery flesh and are best reserved for Halloween decorations.


To Store: Store pumpkins in a cool, dry place up to one month.


To Prepare: Cut pumpkin in half or into quarters; remove the seeds and scrape out the stringy portions. Cut into large pieces.


To Cook: To steam, in a saucepot, heat 1 inch of water to boiling over high heat; add pumpkin pieces and heat to boiling. Reduce heat to medium-high; cover and cook until tender, 25 to 30 minutes. Drain, cool, and peel. If desired, mash with butter, brown sugar, and cinnamon. Or, if using for pie filling, puree in a blender or food processor with knife blade attached. Do not add other ingredients. Place in a paper towel-lined sieve set over a bowl and let drain to remove excess liquid; puree should have the same thickness as solid-pack canned pumpkin. One pound of uncooked pumpkin yields about 1 cup puree.

Beef and Pumpkin Stew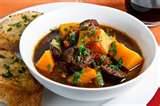 2 pound beef stew meat, cut into 1-inch cubes
2 tablespoons olive oil
1 onion, chopped
4 garlic cloves, crushed
1 ½ cups ½-inch cubed pumpkin
3 large white potatoes, peeled, cubed
3 large carrots, sliced
2 cups beef or vegetable broth
1 (15-ounce) can chopped tomatoes
1 teaspoon sugar
½ teaspoon salt
½ teaspoon black pepper

1. Heat oil in a large saucepan over medium heat. Add beef and cook until browned on all sides. Add onion and garlic and cook until softened, 3 to 4 minutes.

2. Add remaining ingredients and bring to a boil over high heat. Reduce to a simmer, cover, and cook 45 minutes. Cool slightly and serve warm. Add sour cream to top of soup for extra flavor!



Download this recipe.
Pumpkin Gingerbread
12 tablespoons butter, melted, plus extra for pan
2 ½ cups flour, plus more for pan
2 teaspoons baking powder
1 tablespoon ground ginger
1 teaspoon cinnamon
½ teaspoon nutmeg
1 teaspoon salt
1 (15-ounce) can pumpkin puree
1 cup white sugar
1 cup packed dark brown sugar
3 eggs
1. Preheat oven to 375F. Butter and flour two loaf pans.
2. In a large bowl, sift together flour, baking powder, ginger, cinnamon, nutmeg, and salt. In a separate large bowl, whisk together pumpkin, sugars, and eggs. Add flour mixture and stir until just combined.
3. Divide batter evenly between prepared pans and bake 45 to 50 minutes, until a toothpick inserted in the middle comes out clean. Cool 15 minutes, remove from pans, and cool completely before serving.
---
Contribute to the Cook'n Club!
DVO would love to publish your article, prose, photography and art as well as your cooking, kitchen and nutrition tips, tricks and secrets. Visit the Newsletter Submission / Win Win for All section in our Forum for more information and details.
---
---