Preheat oven to 350 degrees. Combine the sweet potatoes, sugar, milk, eggs, and vanilla. Mix until smooth and pour into a greased 2-qt casserole. TOPPING: Measure brown sugar and flour into food processor. Add butter. Pulse until mixture is crumbly (this can be done with a hand mixer, a pastry blender, etc. as well). Sprinkle this topping over potato mixture. Disperse chopped pecans over top of this mixture. Bake 30-40 min. until potatoes are bubbly and/or topping is brown.

Download this recipe.
Another exceptional food at promoting good brain health is
GINGER
.
Ginger is a potent anti-inflammatory, and can preempt the manufacture of inflammatory brain chemicals, and potentially slow down the progression of inflammation related conditions like Alzheimer's disease. A 500 milligram supplement capsule a day is the best dosage, but you can also add one teaspoon of fresh ginger or one half teaspoon of powdered ginger to a meal 2-3 times a week.
Cream of Carrot Soup with Fresh Ginger
Courtesy FoodNetwork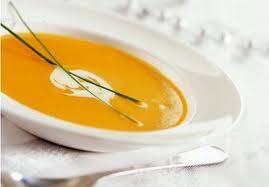 7 cups chicken, or vegetable stock
2 pounds fresh carrots, peeled
3 leeks, sliced in half lengthwise and thoroughly cleaned
1 yam, peeled
4 stalks celery
4 tablespoons butter
1 (3-inch) piece fresh ginger root, peeled and grated
1 teaspoon ground nutmeg
1 teaspoon salt
1 teaspoon freshly ground black pepper
1/2 pint heavy cream (optional)
In a large pot, bring stock to a boil. While stock is heating, chop all vegetables into small pieces (approximately 1/2-inch cubes). In a saute pan, over medium-high heat, melt half of the butter. Saute vegetables with ginger and nutmeg for approximately 15 minutes, or until vegetables are browned. Add remaining butter as needed. Add sauteed vegetables to stock, reduce heat, cover with a lid, and simmer for 30 minutes. Let cool to room temperature and then puree in a blender. Soup should be thick and smooth. If you like your soup velvety smooth, pour through a fine mesh strainer. Add salt and pepper. To serve, reheat, ladle into bowls, then drizzle 1 tablespoon of cream into each bowl. Serve in warmed bowls.

Download this recipe.
And finally, our third entry for brain boosting goodness: Sardines!
Most people that think of fish for their brain boosting omega-3 fatty acids usually think of salmon or mackerel. However, sardines are loaded with them and are also far less likely to be contaminated with mercury than larger fish. They're also budget friendly, and conveniently canned and often require no cooking. Include 3-4 servings of omega-3 rich fish in your meals weekly. HOT TIP: Be sure to trim the skin when cooking other fish, as that will also reduce mercury content.
Norwegian Sardine Pate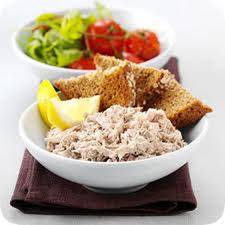 8 oz of cream cheese.
1 ½ tablespoons of lemon juice.
½ teaspoon of salt.
¼ teaspoon of freshly-ground black pepper.
2 cans (3 ¼ oz) of boneless skinless sardines, drained.
1 tablespoon of parsley, chopped.
Dash of hot pepper sauce.
Capers and more chopped parsley, to garnish.
Toast fingers, bread or crackers, to serve with.
Cream together the cream cheese, lemon juice, salt and black pepper. Mash the sardines and beat into the cream cheese mixture with the chopped parsley and hot sauce. Form into a mound. Garnish with capers and parsley. Serve with toast fingers, bread or crackers.
---
Contribute to the Cook'n Club!
DVO would love to publish your article, prose, photography and art as well as your cooking, kitchen and nutrition tips, tricks and secrets. Visit the Newsletter Submission / Win Win for All section in our Forum for more information and details.
---
---