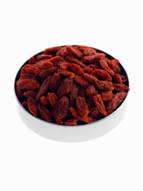 Lots of folks are looking for healthier ways to snack and the health food industry is happy to accommodate them. More and more information is getting out to mainstream cooks about the wonders of Goji berries, and raw sunflower seeds, for instance.
The Goji berry is a fruit with multi-nutrients and is eaten all over the world. Research shows they contain amino acids, vitamin A,B,D,E, minerals and proteins. Amino acids protect against aging and the berry's vitamins help protect liver, provide better eyesight, and nourish the skin and hair. Goji berries help to improve blood circulation, and strengthen the immune and digestive system. They've also been shown to be helpful in reducing insomnia and anxiety. Scientists have found that the Goji berry improves memory and the nervous system. Finally, they've been found to boost energy when eaten daily.
With this information in mind, I went searching for a snack recipe that incorporated the goji berry as well as other healthy ingredients. Here is just one recipe. AND, this healthy treat is super easy to make! All you need is a food processor (or if your handy with a knife then use that!) and a bowl and a container to set them in!
This recipe yields about 12 slices (depending on size of slices) and takes just minutes to whip up.
Cacao, Coconut, and Goji Treats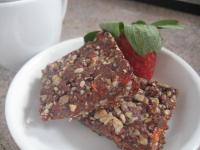 1/2 C grated coconut
1 C goji berries
1 C cacao powder
1 C sunflower seeds
1 C pumpkin seeds
2 1/2 C (liquid) coconut oil (you may need to leave some out to melt for a while or place some in a bowl on top of another bowl filled with warm water)
Extra coconut oil
In your food processor pulse the goji berries, sunflower seeds and pumpkin seeds till they are a quarter of their original size.
Tip this into your bowl and slowly add the melted coconut, cacao, and coconut till it is all combined. Pour into a coconut oil-greased flat dish, flatten the mixture with the back of your knife and set in the fridge or freezer till firm. When its firm cut into slices and then put back in the fridge till completely set (ie. it doesn't fall apart).
Additional Tips
This is really great as a frozen treat on a hot day! And don't hesitate to add a little agave if you want a bit more sweetness.

Download this recipe.
---
(If YOU have a smart idea, won't you share it? Life is so much easier and we accomplish so much more when we pool our resources. And after all, we're all in this together. So email
patty@dvo.com
or
alice@dvo.com
with YOUR The Glorious Asparagus Spear!)
---
Contribute to the Cook'n Club!
DVO would love to publish your article, prose, photography and art as well as your cooking, kitchen and nutrition tips, tricks and secrets. Visit the Newsletter Submission / Win Win for All section in our Forum for more information and details.
---