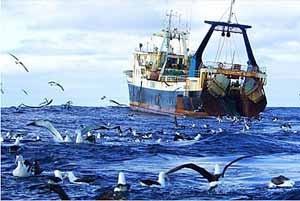 I know that our hearts go out to all of those on the southern shores who are facing the devastation caused by the oil spill. It is sad for all of us to see the loss of business, destruction of the coast line, and the challenges brought to the fragile eco-system living in these beautiful waters.
I am not sure what the outcome will be for the fish industry; there are bound to be repercussions felt, wherever we live. However, there are still fish that thrive along other ocean currents that we will be able to enjoy cooking — and eating — until those incredible fishermen along the Atlantic can get back to work!
Let's keep everyone in our prayers. Wherever we are, here at Cook'n, we believe that all of humanity is one big family. Whenever one of us hurts, we all ache.
Fish Tacos
Sandra Lee
Serves 8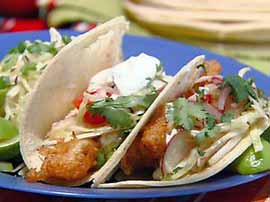 1 1/4 pounds tilapia fillets, about 5
1 cup all-purpose flour
1 teaspoon baking powder
Kosher salt
1 to 1 1/2 cups water
3 cups canola oil
1/4 cup mayonnaise
1/4 cup sour cream
1 tablespoon hot sauce
1 tablespoon lime juice
2 teaspoon garlic, chopped
3 tablespoons chopped fresh cilantro leaves, divided
Freshly ground black pepper
8 corn tortillas
1/2 head green cabbage, shredded
Cut the fish into 1 1/2-inch chunks. (Reserve 1 fillet and refrigerate for the online Round 2 Recipe, Ceviche.)
To make the batter, whisk together the flour, baking powder, and salt in a medium bowl. Whisk in enough water, about 1 to 1 1/2 cups, until the mixture is the consistency of pancake batter.
Heat the oil in a deep skillet over medium heat to 360 degrees F.
When the oil is hot, working in batches, dip the fish pieces into the batter and carefully add them to the hot oil. Cook the fish until golden brown on both sides and the fish is cooked through, about 4 to 6 minutes total. Remove from the pan and drain on to a sheet tray lined with a paper bag or paper towels.
To make the sauce, whisk together the mayonnaise, sour cream, hot sauce, lime juice, garlic, and 2 tablespoons cilantro in a small bowl. Taste and adjust seasoning with salt and pepper.
Wrap the tortillas in a damp towel and microwave on medium for 1 minute to warm. Put about 1/4 cup of the shredded cabbage on each tortilla. Put 3 pieces of the fried fish on top of the cabbage, then top with some sauce. Arrange the tacos on a serving platter and garnish with a sprinkle of cilantro. Serve immediately.

Download this recipe.
Rosemary-Lemon Grilled Ahi
4 servings
Michael Chiarello
For the Marinade:
6 lemons, cut in 1/2
Salt and freshly ground black pepper
2 teaspoons finely chopped garlic
2/3 cup extra-virgin olive oil
1/3 cup fresh rosemary leaves, chopped
For the Skewers:
4 rosemary sprigs (about 6 to 8 inches long) or wood or metal skewers
4 center-cut ahi tuna steaks (about 5 ounces each), cut into blocks 3/4 to 1-inch thick
Salt and freshly ground black pepper
To make the marinade:
Preheat broiler. Place lemons, cut side up, in a small, non-aluminum baking dish and sprinkle with salt and pepper. Roast, about 6 inches below the heat, until very soft, about 20 minutes. The tops will darken and caramelize. Let cool in the baking dish.
Squeeze the lemon pulp and juice and scrape all the cooking juices from the baking dish into a strainer supported over a bowl. Force it through and add garlic. Whisk in rosemary and extra-virgin olive oil. Keeps up to 1 week refrigerated in a tightly sealed container.
Soak rosemary or wooden skewers in water to cover 1 to 2 hours.
Preheat grill or broiler. Skewer 2 tuna pieces lengthwise on each rosemary sprig and brush with marinade. Season with salt and pepper and grill, turning once or twice, to medium rare, 8 to 10 minutes, depending on heat. Serve immediately.

Download this recipe.
Baked Ziti with Shrimp and Feta Cheese
4-6 servings
2 Tbsp olive oil plus enough for coating your baking dish
1 onion, sliced thin
2 large cloves garlic, sliced thin
3 cups drained chopped canned plum tomatoes
2 tsp minced fresh oregano, or 1 tsp dried & crumbled
1/2 tsp dried red pepper flakes
salt & freshly ground pepper to taste
2 Tbsp minced fresh basil ( I need a dry substitute)
1 lb large shrimp, shelled & deveined
1/4 cup minced fresh parsley leaves
3/4 lb ziti, cooked & drained according to package directions
1/2 lb feta cheese, crumbled
Preheat oven to 400F. In a large saucepan set over moderate heat, heat oil until hot, and add the onion and cook it, stirring occasionally for 4 minutes. Add the garlic and cook for 3 to 4 minutes more, or until the onion and garlic are golden in color.
Now add the tomatoes, oregano, red pepper flakes and salt and pepper to taste and simmer the tomatoes for 6 to 8 minutes, or until lightly thickened. Add the basil and shrimp and cook, stirring gently, for 1 to 2 minutes, or until the shrimp are just turning pink.
Place cooked pasta in a large bowl, gently stir in shrimp and tomato mixture, 2 tablespoons of the parsley and half of the feta cheese. Transfer to an oiled 3 quart shallow baking dish and sprinkle with the remaining feta cheese and parsley. Cover loosely with foil, place in the oven and bake for 20 minutes, or until bubbling. Run under the broiler until golden.

Download this recipe.
Patty Liston
---
Contribute to the Cook'n Club!
DVO would love to publish your article, prose, photography and art as well as your cooking, kitchen and nutrition tips, tricks and secrets. Visit the Newsletter Submission / Win Win for All section in our Forum for more information and details.
---
---