There are a LOT of good reasons to eat less meat, and designating one day a week for a meat-free meal can help us achieve this goal. Let's look at just three of the many reasons for this (what some might think is drastic) move:

It's healthier—meat is linked to all sorts of diseases and chronic ailments.

It trims the grocery budget. You can save about 15% to 20% on your grocery bill this way.

It's good for the planet.
So with this idea in mind, we decided Mondays would be our meat-free day (M is for Meat and M is for Monday. Works for us.) My next step was to find some good meat-free recipes. As you likely know, DVO
Cook'n Software
is the place to start — with their
Cook'n Vegetarian
CD. It has wonderful recipes. And then there are several vegetarian websites out there that offer good advice on how to go about this lifestyle change (even if it is for only one day a week.)
Here I share just a couple that we've found are really good and easy to make as well. After all, if it doesn't taste good, we aren't likely to keep this eating habit up, right? And if you have tips or ideas on how to eat less meat, please share. There's lots of experience and wisdom out there, so pass it around, we'd love to hear from you!
Delectable Vegetable Calzones
Serves 4
Make extras of these filling calzones, and serve them with warm marinara sauce.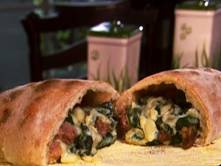 For the filling:
1 medium carrot, sliced
Broccoli florets from 1 large head of broccoli
½ C chopped fresh spinach
1 3/4 cups grated cheese
1/2 cup chopped red bell pepper
1/2 tsp. olive oil
1/2 small yellow onion, chopped
1 garlic clove, minced
1 Tbsp. chopped fresh parsley
1/8 tsp. black pepper
For the dough:
3 cups all-purpose flour
1 tsp. salt
1 tsp. sugar
1 package (or 1/4 oz.) active dry yeast
1 cup boiling water
Preheat the oven to 350ºF and spray a baking sheet with vegetable cooking spray. Bring 2 quarts of water to a boil over medium heat, add the carrot and broccoli, and cook until crisp but tender, about 1 minute. Drain and rinse under cold water. In a large bowl, combine the carrot, broccoli, soy cheese, and red pepper. Mix well.
In a small saucepan, heat the oil over medium heat. Add the onion and garlic and sauté until softened, about 3 minutes. Add to the vegetable mixture. Add the parsley and pepper. Mix well. For the dough, combine the flour, salt, sugar, and yeast in a large bowl. Mix in the boiling water. Divide the dough into 4 balls. Roll each ball into an 8-inch circle. Place the filling evenly over half of each circle, leaving a 1-inch border. Fold the dough over the filling and pinch the edges together to seal. Place on the prepared baking sheet. Prick the tops with a fork. Bake the calzone until golden brown (about 25 minutes). Serve hot.

Download this recipe.
Black Bean Zucchini Quesadilla
Makes 4 Quesadillas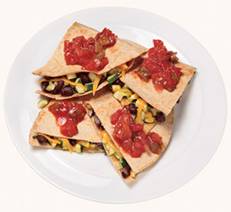 2 pounds zucchini, grated
1½ t salt
30 oz cooked or canned black beans, drained
12 oz Monterey Jack, grated
2 green onions, chopped
1 jalapeño, minced
8 eight-inch flour tortillas
olive oil
Toss zucchini with salt in the colander, and squeeze out excess water. Combine zucchini with beans, cheese, green onions, and jalapeño. Brush one side of each tortilla with oil. Place four tortillas oil side down and spread each with one fourth of the zucchini-bean mixture. Top each one with an oil-side-up tortilla.
To Cook:
Fry: place one quesadilla in a frying pan and cook over medium heat for 3 minutes on each side, until golden. Broil: Place quesadillas on baking sheet and broil about 1-2 minutes per side, until golden. Notes Serve quesadillas with salsa and Spanish rice for a hearty meal.

Download this recipe.
---
Contribute to the Cook'n Club!
DVO would love to publish your article, prose, photography and art as well as your cooking, kitchen and nutrition tips, tricks and secrets. Visit the Newsletter Submission / Win Win for All section in our Forum for more information and details.
---
---