Those who suffer from diabetes or blood sugar issues know that the best favor they can do themselves is to keep their blood sugar under control — it's truly easier to prevent a problem than it is to fix it. That's really my mantra to living a healthy and long life — PREVENTION is the way to go.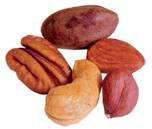 And we all know by now that the surest way to keep our blood sugar under control is to make wise food choices. I've been researching blood sugar issues for a few years now, and I'm continually amazed at the great news and improved hope science offers us.
For instance, were you aware that nuts are one of the best foods to eat to help us maintain our blood sugar levels? Although they tend to be high in fat content, they actually help lower the insulin resistance so that the body becomes more sensitive to it, hence nuts help reduce the blood sugar level of the body. Some of the healthy nuts are almonds, walnuts, peanuts, cashews, pecans, Macadamia nuts and Brazil nuts.
Here are a few more great foods to eat:

Avocado:
it also contains healthy fats and helps in lowering blood sugar level by increasing the insulin sensitivity.

Sweet potatoes
have a positive effect on insulin due to the high fiber content and their powerful antioxidants.

Cinnamon
, a commonly used spice includes natural composites that help increase the effects of insulin. Not only this, it also helps reduce the LDL cholesterol in those people who also suffer from diabetes.

Onion
has a dramatic effect on lowering blood sugar if consumed up to two ounces daily by diabetic people. Due to high antioxidants present in it, they prevent cancer and raise HDL as well.

Garlic
can even raise the insulin production and hence insulin sensitivity too along with promoting healthy cholesterol profile too.
Stress should be put on eating these foods fresh, raw, whole—in natural form. Aren't we blessed to have this knowledge and such a great availability of what I like to call "nature's apothecary."
Now to conclude, here's a wonderful Macadamia nut recipe you should try. We're nuts about it (pun intended!). (For other Macadamia nut recipes, see our Cook'n newsletter for the last week of March.) And for a great
sweet potato recipe
, visit our blog, Cook'n!
Sweet Potato Macadamia Casserole
Serves 6

6 sweet potatoes
Grated rind of 1 orange
Juice of 1 orange
¼ C butter, softened
½ tsp nutmeg
½ tsp ground ginger
Salt and pepper
½ C frozen apple juice concentrate
2 C Macadamia nuts, chopped
1/3 C brown sugar
Bake sweet potatoes in a 350 degree oven until soft (about 40 min). Cool, then scoop out meat and mash well with the butter, orange rind, and orange juice. Add spices and salt and pepper to taste. Spread potato mixture in a generously-buttered shallow glass bake-and-serve dish. With the end of a wooden spoon, make 20 deep indentations in the mixture and place a little apple juice concentrate in each indentation. (Some folks substitute dark or light rum for this step.) Pinch together the top of each hole to seal in the juice concentrate. Top the surface with the chopped nuts and sprinkle all with brown sugar. This can be chilled overnight. Preheat oven to 350 degrees and bake for about 30 min. (longer if casserole has been refrigerated). This is divine!

Download this recipe.
---
Contribute to the Cook'n Club!
DVO would love to publish your article, prose, photography and art as well as your cooking, kitchen and nutrition tips, tricks and secrets. Visit the Newsletter Submission / Win Win for All section in our Forum for more information and details.
---
---