Alice has been flat in bed for the last eight straight days with pneumonia and a vicious sinus infection. She's doing better now, but what a lesson she learned about the role diet plays in staying well. So it's no surprise we have health and sickness-prevention on our minds. If you want to talk less muss and less fuss, talk about staying WELL! Getting sick is not only uncomfortable and hard on the body, it's a waste of time.
So we thought we'd share what we've found regarding foods that boost the immune system and really fight all the junk that floats around during the winter. Let's start with apples:
"Three each day, seven days a week - ruddy apple, ruddy cheek."
That's the last line to the famous "An Apple a Day" rhyme, and it's as valid today as it was when it was written.
The quercetin in apples helps bolster the immune system during vulnerable times. Apples (and red onions, broccoli, and tea) are great sources of quercetin - a flavonoid that has been found to stave off the influenza virus when the body is under stress. In a recent animal study, quercetin did just that: The normal dip in immunity that comes with physical fatigue was pretty much cancelled out by the flavonoid. It's believed quercetin could help power the body through both physical and psychological stress.
Quercetin may not only quash the flu but also stave off health conditions like
cardiovascular disease
,
Alzheimer's
, and
pancreatic cancer
. So get more quercetin with these quick and easy recipes:

Apple Bomb
Courtesy, Alice
Wash and core an apple. Mix almond butter with craisins. Stuff center of apple with almond mixture. Enjoy!
Chunky Apple-Rhubarb Sauce with Dried Cranberries
Courtesy, Eating Well

1 large green apple, such as Granny Smith, peeled and diced
2 cups diced rhubarb (2-3 stalks)
1/4 cup diced red onion
1/2 cup unsweetened apple juice
2 tablespoons dried cranberries
1 tablespoon honey
1 1/4-inch-thick slice ginger, peeled
1 teaspoon balsamic vinegar, or to taste
Combine apple, rhubarb, onion, apple juice, cranberries, honey and ginger in a medium saucepan. Cover and cook over medium heat, stirring occasionally, until the rhubarb is soft and the apple is tender but not mushy, 10 to 12 minutes. Remove from the heat and let stand for 5 minutes. Stir in vinegar. Remove the ginger; serve the sauce warm, at room temperature or chilled.
Nutrition Information:
Per 1/2-cup serving: 76 calories; 0 g fat (0 g sat, 0 g mono); 0 mg cholesterol; 19 g carbohydrate; 1 g protein; 2 g fiber; 5 mg sodium; 273 mg potassium.
Nutrition bonus:
Vitamin C (15% daily value). 1 Carbohydrate Serving
Make-Ahead Tip:
Cover and refrigerate for up to 5 days or freeze for up to 1 month. To reheat, microwave on High for about 2 minutes or warm in a saucepan over low heat.

Download this recipe.
Simple Baked Apples
Courtesy, Yahoo Shine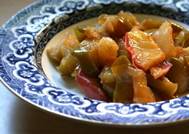 6 apples – washed, peeled, cored, sliced
3 Tbsp whole wheat or oat flour
1/2 tsp ground cinnamon
1/2 tsp ground nutmeg
1/4 tsp ground cloves
1/2 C raisins
1/2 C chopped walnuts
1 C vanilla yogurt thinned with a little milk (so it pours)
Preheat oven to 350° F. Grease a 2 quart casserole dish, or coat with non-stick cooking spray. Place apples in a large bowl. In a small bowl, mix together sugar, flour, cinnamon, nutmeg and cloves. Stir spice mixture into apples until evenly distributed. Fold in raisins and walnuts. Spoon into prepared dish. Pour yogurt evenly over apple mixture.
Bake in preheated oven for 45 to 60 minutes, or until soft and bubbly. Allow to cool slightly before serving. Yield: 12 servings.

Download this recipe.
Cheesy Broccoli-Potato Mash
Courtesy, Eating Well

1 pound Yukon Gold potatoes, cut into wedges
3/4 pound broccoli crowns, chopped (4 cups)
3/4 cup shredded fontina cheese
1/2 cup nonfat milk, heated
1/2 teaspoon salt
Freshly ground pepper to taste
Bring 1 inch of water to a boil in a large pot. Place potatoes in a steamer basket and steam for 10 minutes. Place broccoli on top, cover and steam until the potatoes and broccoli are tender, 6 to 8 minutes more. Transfer the broccoli to a large bowl and coarsely mash with a potato masher. Add the potatoes, cheese, milk, salt and pepper and continue mashing to desired consistency. Serve immediately.
Nutrition Information:
Per serving: 135 calories; 4 g fat (3 g sat, 1 g mono); 16 mg cholesterol; 17 g carbohydrate; 7 g protein; 2 g fiber; 329 mg sodium; 201 mg potassium.
Nutrition bonus:
Vitamin C (100% daily value), Vitamin A (30% dv), Calcium (15% dv). 1 Carbohydrate Servings
Exchanges:
1 starch, 1/2 high fat meat

Download this recipe.
---
Contribute to the Cook'n Club!
DVO would love to publish your article, prose, photography and art as well as your cooking, kitchen and nutrition tips, tricks and secrets. Visit the Newsletter Submission / Win Win for All section in our Forum for more information and details.
---
---