Truly a seasonal treat, winter squash appears in the stores when the leaves start to signal fall. There are several types of squash to choose from, including acorn, Hubbard and butternut. These hard-skinned squash, like a pumpkin, have dense, firm flesh and a hollow center filled with seeds. Scoop the seeds out and roast them in salt and oil for a nutritious treat.
The flesh can be eaten in many ways, included roasted in the oven, pureed and added to soups or pastas, baked into breads, or even grilled. Squash are very high in vitamin A, C, B6, B1, potassium, and folate and also contains fiber. It has been found to contain phytonutrients, which help prevent cancer. And best of all, squash is versatile and tastes great. See what you think of these unique recipes:
Butternut Squash Lasagna
Courtesy, Annie Morris

3 lbs. cubed butternut squash (1/2 inch cubes)
2 heads roasted garlic
1 box of no boil "barilla" lasagna noodles
1 ½ cups parmesan cheese
Bechemal Sauce:
Ό to ½ cup butter
Ό to ½ cup flour
5 cups milk ( I use less butter and then use 2% milk)
1 Tbl. Fresh chopped rosemary or sage
In a saucepan melt butter and whisk in flour on med/low heat. Squeeze and whisk in roasted garlic and then slowly whisk in 5 cups of milk. Whisk in roasted squash and then the rosemary and ½ of the parmesan cheese.
Toss the squash in olive oil/salt and pepper and roast at 425 for 25 min. You can roast the garlic at the same time, but it will take longer than the squash.
Layer the Lasagna however you like ending with cheese on top. Cover with foil and bake at 375 for 35 – 40 min. Uncover and cook until golden brown.

Download this recipe.
Butternut Squash Muffins
Courtesy, Rachel Rappaport

4 eggs
3 1/2 cups flour
2 cups sugar
2 cups cooked butternut squash*, drained and cooled
1 cup light brown sugar
1 cup vegetable oil
1/4 cup apple cider
1 tablespoon fresh ginger, grated
1 teaspoon salt
1 teaspoon vanilla
1 teaspoon cloves
1 teaspoon nutmeg
1 teaspoon baking powder
1/2 teaspoon allspice
Preheat oven to 350. Grease and flour 3 loaf pans or line 3 dozen muffin wells**. In a medium bowl, whisk together flour, allspice, cloves, salt,baking powder and nutmeg. In a large bowl, beat together oil, sugar and brown sugar. Add eggs and mix thoroughly. Stir in squash, apple cider and ginger. Incorporate the flour mixture one cup at a time until thoroughly combined and lump-free. Pour into prepared tins and bake 15-20 minutes for muffins and up to 1 hour for bread. A toothpick insert in the center muffin or bread should come out clean.
Cut in half, brush lightly with oil and roast on a pan for about 1 hour or until soft, remove from skin. We made 2 dozen muffins and one loaf of bread. These are an excellent alternative to the more ubiquitous pumpkin breads and muffins. Not that they aren't good on their own merits but butternut squash has its own subtle flavor that is exceptional in muffins and quick breads and often over looked.

Download this recipe.
Butternut Squash Pasta
Courtesy, Pioneer Valley Growers Assoc.

1 sm. butternut squash
1 3/4 cup all-purpose flour
1 tsp. hazelnut butter
1 pinch black pepper
1 pinch nutmeg
1 pinch garlic powder
Preheat oven to 350°. Cut squash into quarters, remove seeds, and place in a baking dish with 1/2 cup water. Cover and bake for 50-60 minutes or until tender. Let cool. Mash flesh and set aside. In a large bowl, combine 3/4 cup squash with remaining ingredients to form a soft dough. On a floured board, knead until soft and pliable – like bread dough. Place in a bowl, cover with plastic wrap, and let rest for at least 30 minutes. Shape and cook dough as desired

Download this recipe.
Butternut Squash Stew
Courtesy, Flickr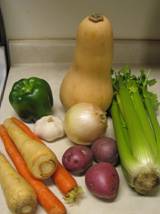 1 roll of breakfast, or sage sausage
1 large butternut squash, peeled, seeded, and cut into 2 inch chunks
2 celery stalks, cut into half inch pieces
2 parsnips, cut into half inch pieces
2 cloves of garlic grated
1 onion, chopped
1 green pepper
2-3 medium potatoes, diced
1 half cup of barley
2 teaspoons of salt
1 teaspoon of pepper
2 cans of vegetable broth, or chicken broth...whatever...
10 cups of water
Brown sausage; add squash, celery, carrots, parsnips, garlic, onions, green pepper, potatoes, broth and water. Cook on high heat. When boiling, reduce to simmer and cook for 45 minutes. Add barley; cook another 45 minutes. Before serving, add salt and pepper to taste; stir.
---
Contribute to the Cook'n Club!
DVO would love to publish your article, prose, photography and art as well as your cooking, kitchen and nutrition tips, tricks and secrets. Visit the Newsletter Submission / Win Win for All section in our Forum for more information and details.
---
---