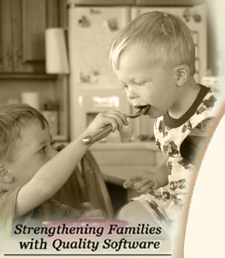 Cook'n Club Home
Subscribe Now!

Cook'n Forum
HomeCook'n Archive
Give-Aways

I have spent the last 2 hours reading your newsletter and wonderful recipes. I have already printed a whole bunch I want to try. I love them because they are using ingredients one has on hand. I love that and just wanted you to know how much we appreciate all your hard work in putting together this newsletter. Thank you very much.

Anna

Volume I - July 25, 2008
Watermelon: Summer's Designated FUN Food
by Alice Osborne
What's more fun than watermelon? Seed-spitting contests, rind-carving, melon-balling, oh the list goes on. Our favorite drink in the entire world is made with straight watermelon: Add as many chunks (seeds and all) into a BlendTec or VitaMix machine as you can cram, press down with the tamper tool, and start blending on low then go to high speed for about 1 minute. No water needed—duh, it's a WATERmelon, after all.
Here are other, creative and DELICIOUS watermelon recipes designed to get us through the long hot days of summer, refreshed, and healthier for it (this fruit is a natural detoxifier and cleanser)!
Watermelon Cooler
Courtesy of Paula Deen of Paula's Home Cooking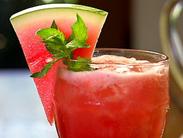 1 1/2 pounds (4 cups) sliced seedless watermelon, rind removed
1 cup lemon sorbet
1 lemon, zested
1 1/2 cups cold water
Watermelon wedges and mint, for garnish
In a food processor, blend watermelon, sorbet, and lemon zest until very smooth. Stir in 1 1/2 cups cold water; cover and refrigerate until very cold. Serve over ice and garnish with watermelon wedges and mint.

Download this recipe.
Watermelon Ice
Courtesy of Emeril Lagasse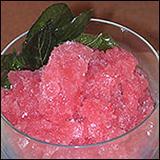 5 cups cubed watermelon
1 cup fresh raspberries
3/4 cup sugar
2 tablespoons creme de cassis or raspberry liqueur
1 tablespoon fresh lemon juice
Mint leaves
In a blender, puree the watermelon, raspberries, sugar, creme de cassis, and lemon juice in batches until smooth. Strain through a fine sieve into a large metal baking pan, pressing down to extract as much juice as possible.
Freeze, stirring every 30 minutes with a fork to break up the forming ice crystals, until firm but not completely frozen, 2 to 3 hours. To serve, scrape with a fork and spoon into footed coupe glasses.
Preheat a fryer to 350 degrees F. Thoroughly dry the mint leaves with paper towels. Place the mint in the fryer and fry for 15 seconds, just to crisp up. Remove and drain on a paper towel-lined plate. Garnish with the mint and serve.

Download this recipe.
Watermelon Ice Cubes
Found on Food Network, from Sara's Secrets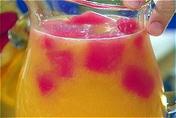 1 large watermelon
Cut watermelon into workable pieces. Remove the seeds and the rind. Puree the watermelon in a blender or food processor. Pour the puree into ice cube trays and freeze.

Download this recipe.
Watermelon Salad with Mint Leaves
Courtesy Paula Deen of Paula's Home Cooking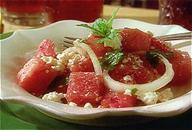 1 (5-pound) watermelon
1 Vidalia or other sweet onion
1/4 cup red wine vinegar
Salt and pepper
1/2 cup extra-virgin olive oil
2 tablespoons chopped fresh mint
4 ounces feta cheese, crumbled
6 whole mint sprigs
Cut the flesh from the melon and cut into bite size pieces, removing and discarding the seeds, and set aside. Peel and slice the onion into rings.
In a small bowl, combine the vinegar, salt, pepper, and whisk until salt is dissolved. Slowly whisk in the olive oil, a few drops at a time. Add in the chopped mint, taste, and adjust seasonings.
In a large bowl, combine the melon, onion, and feta. Pour the dressing over the melon mixture and toss gently until everything is coated and evenly mixed. Garnish with mint sprigs.
To serve, divide salad among individual plates and garnish with mint leaves.

Download this recipe.
Watermelon-Lime Popsicles
Courtesy of Emeril Lagasse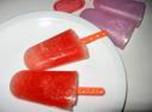 1 quart cubed, seeded watermelon
6 tablespoons sugar
4 tablespoons lime juice
1/2 cup mint
Combine all ingredients in the bowl of a food processor or a blender and puree until very smooth and the sugar is completely dissolved.
Divide the fruit puree among 6 or 8 (5-ounce) paper cups. (Alternatively, the mixture may be frozen in ice cube trays or in icepop molds, if available.)
Stand 1 ice-cream stick or plastic spoon in the center of each cup.
Cut 6 pieces of aluminum foil about 4-inches square. Poke a small hole in the center of each foil square and place 1 square over each cup, pushing the stick or spoon handle through the hole to hold it in a straight upright position.
Stand the cups in the freezer and freeze until set, at least 8 hours or overnight. Remove the pops from the freezer and discard the foil squares.
Gently tear the paper cups away from the fruit pops and serve.

Download this recipe.
Watermelon Spritzy
Courtesy Sandra Lee from Semi-Homemade Cooking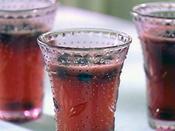 2 cups watermelon, chopped or watermelon puree
2 cups lemon-lime soda, cold
1 tablespoon grenadine
1/2 cup frozen mixed berries, optional, use instead of ice
Fresh mint sprigs, for garnish
Put watermelon, lemon-lime soda, and grenadine into a blender.
Blend for 20 to 30 seconds. Use a strainer to strain into pitcher.
Divide frozen berries between 4 glasses. Pour juice over berries. Garnish with a straw and a sprig of mint.

Download this recipe.
Glazed Pork Chops with Watermelon, Pineapple, & Ginger Relish
Recipe courtesy of Gourmet Magazine

4 3/4-inch-thick pork loin chops, trimmed to leave 1/4-inch fat
Salt and pepper
1/4 teaspoon cayenne or paprika
2 tablespoons olive oil
1 cup pineapple juice
2 tablespoons minced gingerroot
2 tablespoons brown sugar
1 teaspoon cornstarch
1 tablespoon cold water
2 teaspoons Dijon-style mustard
1 cup diced fresh or canned pineapple
1 cup diced watermelon, seeded
2 scallions, thinly sliced
1/2 jalapeno, seeded and finely minced
1 tablespoon finely chopped fresh parsley
2 tablespoons lime juice
Season chops with salt, pepper and cayenne. In skillet heat, oil over moderately high heat until almost smoking. Cook chops until well browned on either side, about 2 - 3 minutes/side. Remove chops to a plate, cover with foil and keep warm. Deglaze skillet with 2/3 cup pineapple juice, stirring to remove browned bits from bottom of pan. Stir in 1 tablespoon of minced gingerroot and brown sugar; bring sauce to a simmer. Return chops and any juices that have collected to skillet, reduce heat and simmer, covered, 6 - 8 minutes until cooked through. Remove chops to a plate, cover with foil; keep warm. If necessary simmer sauce until slightly reduced. Mix together cornstarch and cold water; stir into simmering sauce, continuing to stir until thickened. Reduce heat, stir in mustard and adjust seasoning with salt and pepper.
In a bowl combine pineapple, watermelon, the remaining tablespoon of gingerroot, scallions, jalapeno, parsley, lime juice and the remaining 1/3 cup pineapple juice, mixing well.
Serve the chops warm, glazed with the sauce and garnished with the pineapple and watermelon relish.

Download this recipe.
---
Contribute to the Cook'n Club!
DVO would love to publish your article, prose, photography and art as well as your cooking, kitchen and nutrition tips, tricks and secrets. Visit the Newsletter Submission / Win Win for All section in our Forum for more information and details.
---