We were reading some of the recipes from the Food Network web-site and came across this cobbler recipe. You know, there are some recipes that just scream, "Make Me"! This is one that screamed so loudly, we're making it for dessert tonight
Blueberry and Nectarine Cobbler
From the Food Network Kitchens
When adding juicy summer fruit (like blueberries) to pies and cobblers, you generally need something to help the fruit coalesce into a sauce. We love instant tapioca, as it thickens while fading into the background, letting the fruit shine.
Fruit: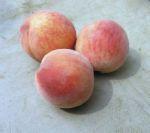 6 ripe nectarines, about 1 pound
2 cups fresh blueberries
1 cup sugar
1 tablespoon instant tapioca
2 tablespoons unsalted butter, diced into small pieces, plus more for the pan
Cobbler Top:
1 1/2 cups all-purpose flour
1/3 cup sugar
2 1/4 teaspoons baking powder
1/2 teaspoon fine salt
6 tablespoons cold unsalted butter, diced into small pieces
1 large egg
1/2 cup heavy cream
Serving suggestions: Vanilla ice cream or whipped cream
Position a rack in the middle of the oven and preheat to 375 degrees F.
For the fruit: Halve the nectarines along their natural seam, but leave skins on. Cut each half into 3 wedges. Toss nectarines with blueberries, sugar, and tapioca and put into a buttered 9-inch round gratin or casserole dish. Dot the top of the fruit with the pieces of butter.
For the cobbler top: Whisk the flour, sugar, baking powder, and salt in a medium bowl. Rub in 2 tablespoons of the butter with your fingertips until no visible pieces remain. Rub in the remaining 4 tablespoons butter just until it is in even, pea-size pieces. Whisk together the egg and cream and stir into the dry ingredients to make a shaggy, loose dough.
Spoon large spoonfuls of dough on top of the fruit in clumps (it should look like rough, old-fashioned cobblestones, hence the name cobbler). Bake until golden brown and a toothpick inserted in the center of the topping comes out clean, about 1 hour. Cool cobbler on a rack, about 20 minutes.
Serve warm or room temperature, with vanilla ice cream or whipped cream, if desired.

Download this recipe.
And if you prefer peaches to nectarines, this one screams also!
Super Easy Peach and Blueberry Cobbler
From Sara's Secrets
Recipe adapted from Gourmet Magazine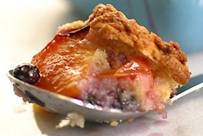 4 1/2 cups frozen sliced peaches
2 cups blueberries, picked over
1/2 cup water
1/2 cup sugar, or to taste
1 tablespoon plus 1 teaspoon cornstarch
1 tablespoon fresh lemon juice
Butter, for the baking dish
1 (7.5-ounce) can refrigerator biscuits, pulled apart
Heavy cream, for brushing the biscuits
Sugar, for sprinkling the biscuits
Vanilla ice cream as an accompaniment, if desired
Arrange a rack in the center of the oven and preheat to 450 degrees F. In a saucepan, combine the peaches, blueberries, water, sugar, cornstarch, and lemon juice and bring to a boil. Lower the heat and let simmer for 5 minutes.
Transfer the fruit mixture to a buttered, shallow 1 1/2-quart baking dish. Arrange the biscuits on top of the fruit mixture, and brush them with the cream and sprinkle with the sugar. Bake the cobbler until the biscuits are browned and the fruit is bubbling, about 15 minutes. Let the cobbler cool slightly and serve with the ice cream.
---
Contribute to the Cook'n Club!
DVO would love to publish your article, prose, photography and art as well as your cooking, kitchen and nutrition tips, tricks and secrets. Visit the Newsletter Submission / Win Win for All section in our Forum for more information and details.
---
---