Real Cuban Bread Recipe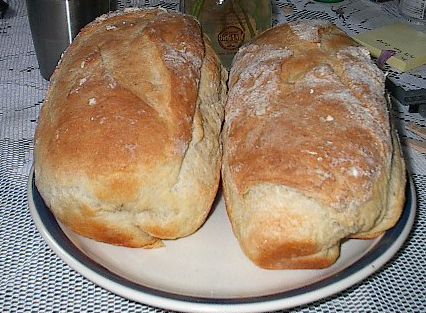 Here is a Cuban bread recipe, the real one that uses lard to give the famous taste you can't find anywhere but at homes of real Cubans.

Dovetailing tips: Double the recipe so you make 2 loaves. One of the loaves, make into a round. Bake this round on a baking sheet. You will use the round for the Cheesy Bacon Pull-Apart Bread for Meal 5.
Yield:
1 loaf
Prep Time:
Cook Time:
Total Time:
Ingredients:
1

tablespoon

yeast

2

teaspoons

sugar

1/4

cup

warm

water

1/4

cup

lard

2

cups

bread flour

2

cups

all-purpose

flour

1

cup

water

2

teaspoons

salt
Directions:
1. Dissolve 1 tablespoon of yeast and 2 teaspoons of sugar in 1/4 cup of warm water. Let the mixture stand in a warm area for about 10 minutes. It should get very foamy and nearly double in size.

2. Heat 1/4 cup of lard in the microwave for about 90 seconds until fully melted. Yes, you have to use lard. No substitutes!

3. Sift together 2 cups of bread flour and 2 cups of all-purpose flour.

4. Pour the yeast mixture into a large mixing bowl. Add 1 cup of warm water and 2 teaspoons of salt.

5. Begin adding the sifted flour and the melted lard to the yeast and water mixture a little bit at a time. You want to add enough flour so that the dough becomes elastic. Usually this means about 3 1/4 cups of your sifted flour.

6. When your dough looks good, knead it for about 10 minutes on a flat surface lightly dusted with flour.

7. Grease up a large bowl and place your kneaded dough ball inside. Roll the dough around so it picks up some grease on all sides.

8. Cover the bowl with a moist kitchen towel and let it rest for in a warm place for about 1 hour, or until you see the dough just about double in size. If your kitchen isn't that warm, you can preheat your oven to 160F, then shut it off and let the dough rest in there.

9. Using a rolling pin, roll out the risen dough on a floured surface. Then roll up the flattened dough into a cylinder. Pinch the ends shut with your fingers and a bit of water.

10. Place the cylinder (seam side down) onto a baking sheet that has been greased and sprinkled with a bit of cornmeal.

11. Allow the bread to rise again for another hour. Drape some plastic wrap over it so it doesn't dry out.

12. Preheat your oven to 450F with a pan of water inside on the lowest rack.

13. Make a shallow cut down the center of the bread, and brush the surface lightly with water.

14. Bake for 5 minutes, then brush again with water.

15. Bake for 12-18 more minutes until lightly browned and crispy!

Source: hispanic-culture-online.com
Add Recipe to Cook'n
---