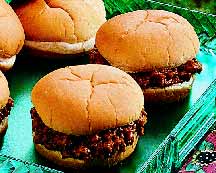 You will know if you have a potluck pleaser if you hear someone say "Who made this?" People enjoy many of the standbys such as baked beans, potato salad and sheet cakes but don't you just love having a dish that stands out from the others. Potluck Pleasers should be potlickin' good!
Greek Chicken
4 chicken breasts
Diced red and green peppers
5 – 6 Roma tomatoes (chopped)
1 Tablespoon lemon juice
2 Tablespoons of parsley
8 ounces feta cheese
¼ Teaspoon oregano
1 Teaspoon olive oil
½ Teaspoon black pepper
1 each (medium size) Zucchini and crock neck squash
Coat a 9x9 inch baking dish with nonstick cooking spray and arrange chicken. Combine all other ingredients on top of chicken. Sprinkle with olive oil and bake for 30 – 40 minutes at 375 degrees. Serve over rice, quinoa or couscous. Don't worry about the amount of vegetable. Just cover the chicken with the vegetables until it looks satisfactory to you.
Zesty Sloppy Joes
2 pounds ground beef
1 small chopped onion
¼ cup chopped green pepper
2 (15 ounce) diced canned tomatoes
¼ cup ketchup
2 Tablespoons brown sugar
1½ Tablespoons vinegar
1 Tablespoon Worcestershire sauce
1 Tablespoon steak sauce
2 cloves of minced garlic
½ Teaspoon Dijon mustard
½ Teaspoon smoked paprika
Brown the meat and drain. Add all ingredients into a crock pot and cook for 2 – 3 hours. If you want to make this dish go farther and also add a nice twist to it, add a can of drained black or pinto beans. This will fill 10 – 12 buns.
Peach Melba Fruit Salad
2 cups of fresh raspberries
4 cups of chopped (diced) peaches
2 Tablespoons of honey
1-1 ½ minced fresh mint
Wash the berries and set them in a large bowl. Add the peeled and diced peaches. Add the minced fresh mint and drizzle with honey. Toss and serve. How easy! There will never be leftovers.
Spring Greens and Strawberry Salad
With Orange Poppy Seed Dressing
Salad:
2 cups romaine lettuce
2 cups watercress leaves
1 cups arugula
3 cups sliced fresh strawberries
Wash and tear greens into a large bowl. Add sliced strawberries and dressing
Dressing:
¼ cup of fresh squeezed orange juice
2 Tablespoons olive oil
2 Teaspoons poppy seeds
½ Teaspoon grated orange rind
In a large bowl combine the greens and the sliced strawberries. Add the dressing, toss and serve.
Spicy Noodle Salad
Make the dressing first since it needs to set for at least a couple of hours.
Dressing:
½ cup soy sauce
1 Tablespoon finely diced ginger
¼ cup white wine vinegar
4 gloves of minced garlic
2 tablespoons Oriental chili sauce
¼ Teaspoon freshly ground pepper
3 Teaspoons sugar
¼ cup canola oil
2 Tablespoons sesame oil
1-2 Teaspoons chili flakes (well crushed)
Combine all the above ingredients and mix well. Refrigerate for several hours or overnight. I only use 1 Teaspoon crushed chili flakes as the chili sauce and ginger also add a bit of heat.
Salad:
12 ounce whole wheat spaghetti (Cooked and drained)
4 green onions, thinly sliced
½ cup of pea pods
½ cup grated carrots
Toss salad ingredients with the dressing and serve. Keeps well in the refrigerator and is served cold.
---
If you have any additional tips that you'd like to add, please post them on the
Cook'n Club Forum
(if you're a
Cook'n Club Member
)...or e-mail them to
Dan@dvo.com
.
---
Join the Cook'n Club!An unbeatable value with exclusive benefits for members only.
Enjoy articles like this and many other benefits when you join the Cook'n Club.