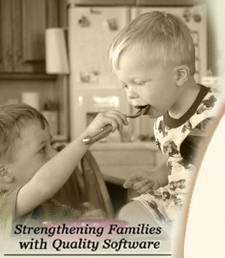 | | |
| --- | --- |
| Volume II | September 3, 2010 |
---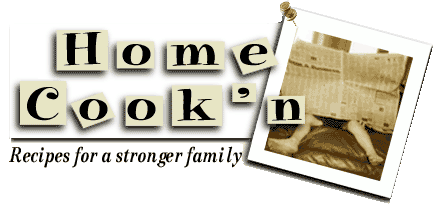 Cook'n Suggestion
Hi Barbara!

I have a suggestion for the Cook'n Club newsletter that the members might be interested in (that is if they haven't figured this one out by themselves).

Too many times I, or a family member would find a recipe that we have tried and liked, but the next time we would like to make it, (because I have a LOT of cookbooks) we would spend a long time looking for it because we forgot which cookbook it was in. So for the longest time I have been trying to come up with a way to group all of the recipes that I or a family member have tried out and have liked into a simple way of locating them for future use without having to print them out and putting them in a binder. I tried creating a new "Cookbook" and then copied a recipe into the new book.

The problem with this however is now there are 2 copies of the same recipe in the program. If I try to move a recipe, now it is no longer in the original cookbook. Maybe I am doing something wrong, but it can be very frustrating. I know....you're going to suggest that I put it under "Categories" but (unless I am just being a klutz) every time I install a new cookbook, it keeps adding new categories and some times I get confused (which at my age is not hard). I don't know if anyone else has come up with this idea, or has discovered an even easier way to do this, but this is how I solved the problem, and it is so simple.

When I (or we as the case may be) find a new recipe, I just rename the recipe. Example: Pink Sauce to !!! Try !!! - Pink Sauce. By adding the 3 exclamation marks before and after the word "Try", (because they are unique to all of the cookbooks), later you can use "Search" for !!! Try !!! and it will come up on the recipe side. Make sure not to change the actual "recipe" name so when it comes up you'll still know what it is. What is nice with this is that the recipe is still in the original cookbook, in the original chapter. Since it is a recipe we plan to use again, I then changed the name from !!! Try !!! - Pink Sauce to !!! Sauces !!! - Pink Sauce.

I have done this with many recipes changing the category name between the exclamation marks to: !!! Chicken !!! !!! Beef !!! !!! Pasta !!! to name a few. Now when I do a search for, lets say !!! Beef !!!, all of the beef recipes that we have liked show up in the recipe column. If you were to do a search just using "!!!", the search results will come up with all of the categories.

This may not be the answer for everyone, but it works for me, and I hope the folks may find it useful.

I am using Cook'n 8.2, but from the preview that I saw, this should also work with Cook'n 9 (Which by the way I am SOOO looking forward to getting).

Rob Gray
---
Hi Rob,
Well that is a creative approach and I am so glad it has worked for you.
I know some of our customers star (*) their recipe titles. One * to try it and two ** if they like it, etc.
I really appreciate you taking the time to write and sharing your ideas. And we are so glad you are part of our Cookn family.
Thanks again!
Barbara
---
Email your thoughts to us. Tell us about you and your family, and send us a picture. We'd love to hear from you...and who knows...perhaps you will be the star of the next newsletter!
---
Join the Cook'n Club!An unbeatable value with exclusive benefits for members only.
Enjoy articles like this and many other benefits when you join the Cook'n Club.
---